Parallels Desktop 15 for Mac
Run Windows on Mac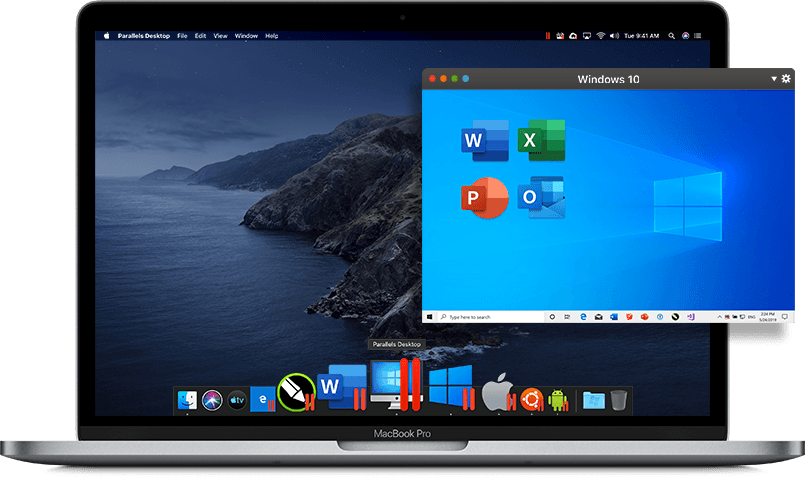 Parallels Desktop 15 for Mac
Run Windows on Mac
Develop & test across multiple OSes in a virtual machine for Mac
Access Microsoft Office for Windows and Internet Explorer
Fast—run Windows apps without slowing down your Mac
Quickly move files, apps and more from a PC to a Mac
Fast, Powerful and Easy
Whether you need to run Windows programs that don't have Mac versions, or you are making the switch from PC to Mac and need to transfer your data, Parallels Desktop has you covered.
Seamless
Use Windows side-by-side with macOS (no restarting required) on your MacBook®, MacBook Pro, iMac®, iMac Pro, Mac mini® or Mac Pro®. Share files and folders, copy and paste images and text & drag and drop files between Mac and Windows applications.
Easy Set-Up
Parallels Desktop automatically detects what you need to get started so you are up and going within minutes! If you need Windows, you'll be prompted to Download and Install Windows 10 OR Choose your existing Windows, Linux, Ubuntu, or Boot Camp® installation.
Lightning Fast
Graphic and resource-hungry Windows applications run effortlessly without slowing down your Mac. Run the most demanding applications such as Adobe® Photoshop®, Visual Studio®, SketchUp® or AutoDesk Revit.
Choose your View
Make Windows invisible while still using its applications in Coherence Mode, or if you're new to Mac, you can set Windows to occupy your entire screen, so it looks just like it would if you were using a Windows PC.
See Parallels Desktop in Action
See some of the most popular features in Parallels Desktop 15.
Over 7 Million Users and Praised by Experts






"Of all the ways to run Windows on a Mac, Parallels Desktop is my favorite because it just works. It's fast, it's reliable, and there's no need to futz about with confusing setting or convoluted setup processes."

Adrian Kingsley-Hughes, ZDNet
"Unlike Apple's Boot Camp, Parallels lets you run both operating systems at the same time."

Larry Magid, Forbes
"Parallels Desktop is the easiest, fastest, and most tightly integrated app for running Windows apps or the Windows desktop in Apple OS X."

Edward Mendelson, PCMag.com
"It's always been astonishing that it's faster to start up a Parallels PC than a real one. On my MacBook Air, I'm up and running in Windows six seconds after I double-click the Parallels icon."

David Pogue, Yahoo Tech
"The latest version of Parallels, the popular Windows virtualization tool for Mac OS X, almost feels like its trolling Apple."

Engadget
"The software has been iterating over a decade and now makes Windows feel like part of the macOS. You can also virtualize Linux, Android, and just about anything that runs on Intel chips including another instance of macOS—great for testing macOS Betas!"

9to5Mac

Up to Date
Optimized for the latest Windows 10 updates and macOS Catalina (10.15).

Ultimate Flexibility
Works with OS X, Windows 10, 8.1, and 7, Linux and Unix, and macOS Server. No more having to choose between PC or Mac.

Touch Bar
Add Windows applications to Touch Bar™ for instant access and customization.

Connect Devices
USB, USB-C, Thunderbolt and FireWire devices connect with Windows. Pair your Bluetooth® devices—including stylus pen and printer—to work with both Windows and macOS.

Retina® Display Support
Smart resizing and independent screen resolutions for separate displays.
One-Click Tuning
Select productivity, games, design, software testing, or development, and Parallels Desktop will optimize your VM settings and performance for you.

Instant Access
Launch and access Windows applications right from the Mac Dock.

Save Disk Space
Get the most out of your Mac with automatic Disk Space optimization.

Office 365 Integration
Allows Word, Excel, or PowerPoint documents in Safari to open in their native Windows Office app.

Works with Boot Camp
Reuse your existing Boot Camp installation. Converting a virtual machine from Boot Camp is easy, just follow our installation assistant at startup.

Volume License Key
Unified volume license key, centralized license management, and advanced security features are available in Parallels Desktop Business Edition.
Travel Mode
Extend battery life while away from a power source.

Bonus with Subscription!


Parallels® Toolbox
Over 30 one-touch tools—clean your drive, take screenshots, download a video, and more—all with just a single click.

Bonus with Subscription!


Remote Access
Remote access to your Mac from any iOS device, Android device, or browser with Parallels Access®.

24/7 Support
Premium 24/7 phone, email, and social support after activation.
Are you a student?
Save with
Student Edition
(Valid student verification required)

Compare Editions
Standard Edition
Download and Install Windows 10 in one click
Retina Support for Windows apps
Ready for macOS Catalina (10.15)
Complementary upgrade to the latest version *
* with Subscription
Pro Edition
All the Standard Edition features PLUS:
Integration With Chef/Ohai/Docker/Vagrant
Network conditioner to simulate speeds and test
Visual Studio plug-In
Debug, dump VM, or start an SSH session from menu
Support for business cloud services
Premium 24/7 phone and email support
Complementary upgrade to the latest version
Business Edition
All the Standard and Pro Edition features PLUS:
Centralized administration and management
Unified Volume License Key for mass deployment
#1 choice of Mac Users to Run Windows On Mac
Run Windows on Mac
Fast, Powerful and Easy.
The most trusted desktop virtualization
software for over 13 years!
The Parallels Desktop 30-day
money-back guarantee ensures
your satisfaction.