Azure VDI: What Happens When You Deliver Virtual Desktops? | Parallels
Azure VDI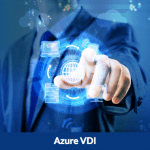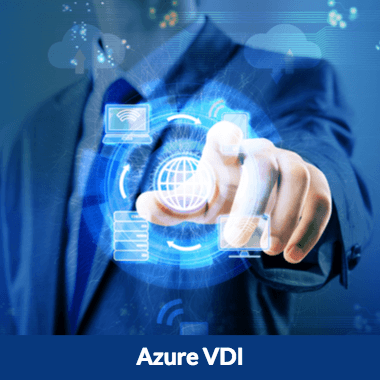 Azure VDI desktops are virtual desktops delivered through the Microsoft Azure cloud platform. Because virtual desktop infrastructure (VDI) is traditionally served from on-premises servers, what exactly do you gain by putting it in the Azure cloud? 
Azure Cloud + VDI 
= The
B
est of 
B
oth 
W
orlds
You're probably familiar with the business benefits of cloud services:  
I

mproved business agility

 

A

nytime/anywhere access

 

Zero capital expenditure (Capex) 

on IT infrastructure

 

E

nterprise-grade security (if run on a reputable platform like Azure) 

 
VDI solutions also have similar qualities. VDI desktops typically run on almost any device. Although it probably doesn't enable as much Capex savings as the cloud, VDI does help businesses realize huge operational expenditure (Opex) savings through much lower endpoint administrative and maintenance costs. Lastly, because VDI centralizes administration of desktops, applications, and data, it makes it easier for admins to secure those digital assets. 
Because VDI and cloud solutions nicely complement each other, a VDI solution deployed in Azure can also mean: 
Greater accessibility

.

 

D

esktops can be accessed anywhere in the world, from any device. 

 
Bigger savings

. Y

ou get savings in both 

Capex and 

Opex

.

 

Stronger security

. A

pplications, desktops, and data are all kept in a central location

,

 with stringent security policies and enterprise-grade security solutions

.

 
Arrival of Windows Virtual Desktop
Previously, the way to deliver virtual desktops through Azure was by using a virtual desktop delivery solution capable of being deployed on that platform, such as Parallels® Remote Application Server (RAS). You would install Parallels RAS on Azure virtual machines and then deliver desktops off of those.  
Now there's another way. Microsoft launched Windows Virtual Desktop (WVD), a solution hosted in Azure that's designed to deliver Windows virtual desktops. WVD can deliver both multi-session (Windows 10) virtual desktops and, if needed, dedicated VDI desktops.  
VDI-based, one-to-one desktops are ideal for workloads that require high computing resources while doing remote work. People working in various industries—including oil/gas, engineering, film, energy, medical, and automotive—who need to use applications even when away from their physical desktops are better served by dedicated VDI desktops than their multi-session counterparts.
Delivering Azure VDI 
D
esktops through Parallels RAS
Parallels RAS already supported the traditional way of delivering VDI virtual desktops through Azure. Now it's getting even better by paving the way to support WVD. By using Parallels RAS, you gain the flexibility of delivering Azure-based VDI virtual desktops whichever way you're comfortable with. 
Looking for a way to deliver Azure VDI desktops? Grab the free 30-day trial of Parallels RAS now. 
References:
Microsoft Ignite presentation | New multi-session virtualization capabilities in Windows 
Microsoft Ignite presentation | Windows Virtual Desktop overview 
Microsoft Ignite presentation | A tour of Windows Virtual Desktop 
IT Pro | What are cloud desktops and how can they benefit my business? 
TechTarget | What is virtual desktop infrastructure?