Managed IT Service Providers-While the cloud revolution has transformed the managed IT service provider (MSP) segment, there are many advantages of embracing the cloud MSPs should consider if they haven't already. Managed IT service providers are challenged by complex hybrid cloud infrastructure deployments, data security concerns, and expensive software solutions.  With Parallels Remote Application Server (RAS), MSPs can make a smooth transition to the cloud and reap the benefits. Parallels RAS has customized cloud solutions that are easy to use and affordable to implement for MSPs.
Managed IT Service Providers Market Overview
Managed IT service providers, or MSPs, are third-party organizations that manage the IT operations of a company as a service.
According to a recent MarketsandMarkets report, the global MSP market was worth $145.33 billion in 2016. This value is expected to reach $242.45 billion by 2021, growing at a CAGR of 10.8% within this period. Statista reports that the global MSP market earned a revenue of $141.3 billion in 2015, with this value expected to reach $229.59 billion by 2020.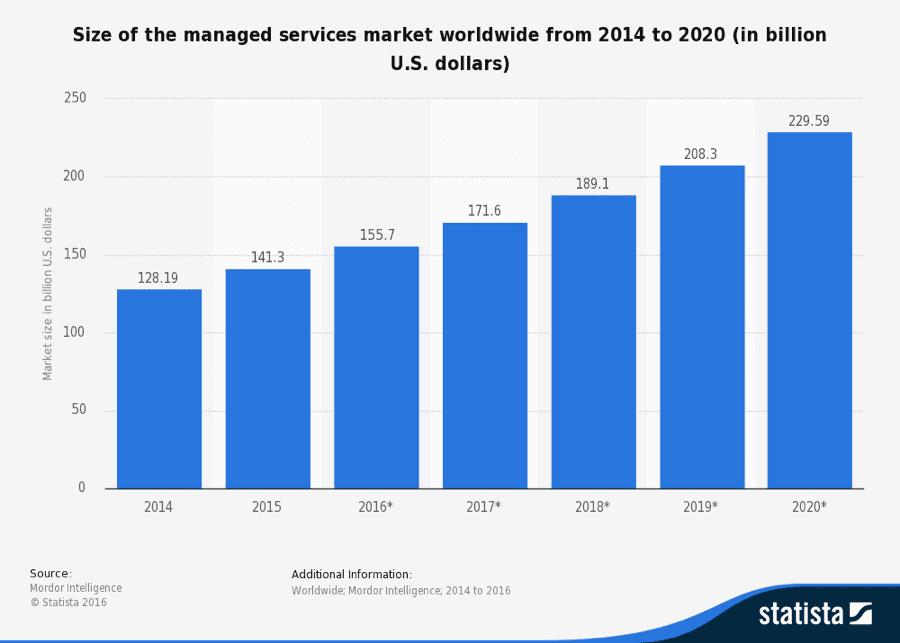 There are two primary reasons for the increase of MSP revenue forecasted by many analysts:
MSPs offer cost-saving benefits to organizations as they increasingly implement resource-optimization measures.
Reduced barriers to the adoption of the cloud cause businesses to enlist the assistance of MSPs.
Only a few years ago, bandwidth requirement and speed/latency issues were the main concerns that prevented IT professionals from adopting a cloud-based IT service. However, with progress in technology, hybrid or public cloud datacenter automation has become efficient and affordable for many businesses.
Due to the nature of their business, MSPs closely monitor technology innovation and proactively adapt to new models. A successful MSP offers the most effective technology to its customers, including complete managed services, from data protection to high availability. In this article, we will focus on the influence of cloud computing in MSP offerings.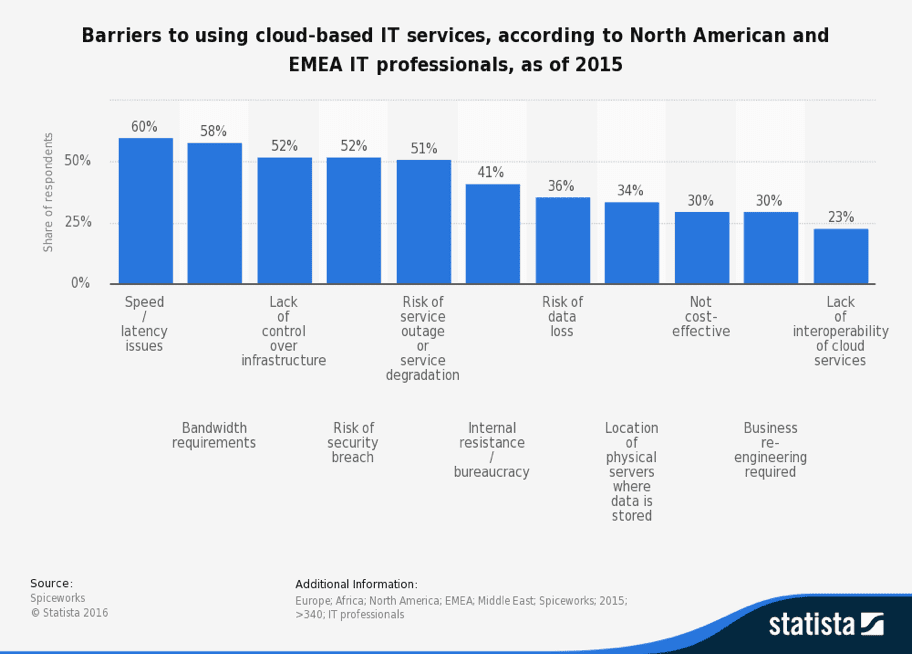 Why Are Managed Services in High Demand?
There was a time in the not-so-distant past when on-premise software was the primary choice for most enterprise organizations. MSPs generated profits by setting up and managing primarily on-premise systems. However, the cloud has turned the on-premise system on its head. MSPs are finding that the days of installing products like Microsoft Exchange are numbered. Times have changed, and MSPs cannot depend on revenue from solely on-premise solutions anymore.
The good news is that MSPs are ready to dive into the cloud, the potential for new opportunities is still there, and they continue to generate revenue.
Virtual Desktop Infrastructure (VDI), application virtualization, and web access are hot topics connected to cloud computing. More and more businesses understand the competitive advantages and are planning to move to virtualization. However, they don't have the technical expertise and experience to build their cloud infrastructure, and they prefer to hire managed IT service providers.
MSPs usually support organizations with four types of services:
Those hosted on the company's private cloud
Those hosted on the MSP's private cloud
Those hosted in a public cloud such as Microsoft Azure
Hybrid hosted
Which service companies should choose depends on  business objectives and the company model.  Although a private cloud are still prevalent, hybrid and public cloud deployments are gaining a larger market share—supported by more affordable and flexible licensing.
How Can MSPs Make Money from the Cloud?
MSPs are generally well suited to take advantage of changes in technology. From hosting virtual desktops to supporting customer migration to cloud computing, there is ample space for MSPs to add value. MSPs have the opportunity to quickly adapt service offerings for the private cloud environment directly in the customer datacenter, host a private cloud environment for the customer, or resell public cloud services such Amazon Web Services (AWS) and Microsoft Azure.
MSPs can also assist organizations during their migration to cloud computing. Defining the business requirements, priorities, needed volumes, and other resources requires ongoing diligence, which MSPs can assist with. Once the guidelines are drafted, MSPs can correctly size the infrastructure and offer customers the best solution at the lowest cost possible.
Another revenue stream can be created by managing applications, desktops, and data in cloud computing environments. Businesses that choose these services can enable employees to work efficiently from anywhere. Leveraging on their expertise, MSPs provide organizations the best computing power available anytime and lower the overall IT cost by implementing best practices.
Why Parallels RAS Is the Right Option for MSPs
The Parallels Managed Service Provider (MSP) Program is tailored specifically to MSPs that are interested in offering their customers SaaS and DaaS services from the private or public cloud. Parallels understands the challenges to provide high-quality IT services to multiple companies of different sizes, diverse verticals, and specialized needs, while retaining high-margin term contracts. Read more
---
References
Managed IT service providers: Managed Services Market worth 242.45 Billion USD by 2021 | marketsandmarkets.com
http://www.marketsandmarkets.com/PressReleases/managed-services.asp
Managed IT service providers: Size of the managed services market worldwide from 2014 to 2020 (in billion U.S. dollars) | statista.com
https://www.statista.com/statistics/590884/worldwide-managed-services-market-size/
Managed IT service providers: 3 Reasons why the managed IT service providers market is flourishing | blog.barracuda.com
https://blog.barracuda.com/2016/03/22/3-reasons-why-the-managed-service-provider-market-is-flourishing/
Managed IT service providers: Top Managed IT service providers Trends and Challenges
| itbusinessedge.com
http://www.itbusinessedge.com/slideshows/top-managed-service-provider-trends-and-challenges-02.html
Managed IT service providers: 10 Benefits of Cloud Managed IT service providers | agileit.com
http://www.agileit.com/news/10-benefits-cloud-managed-service-providers/