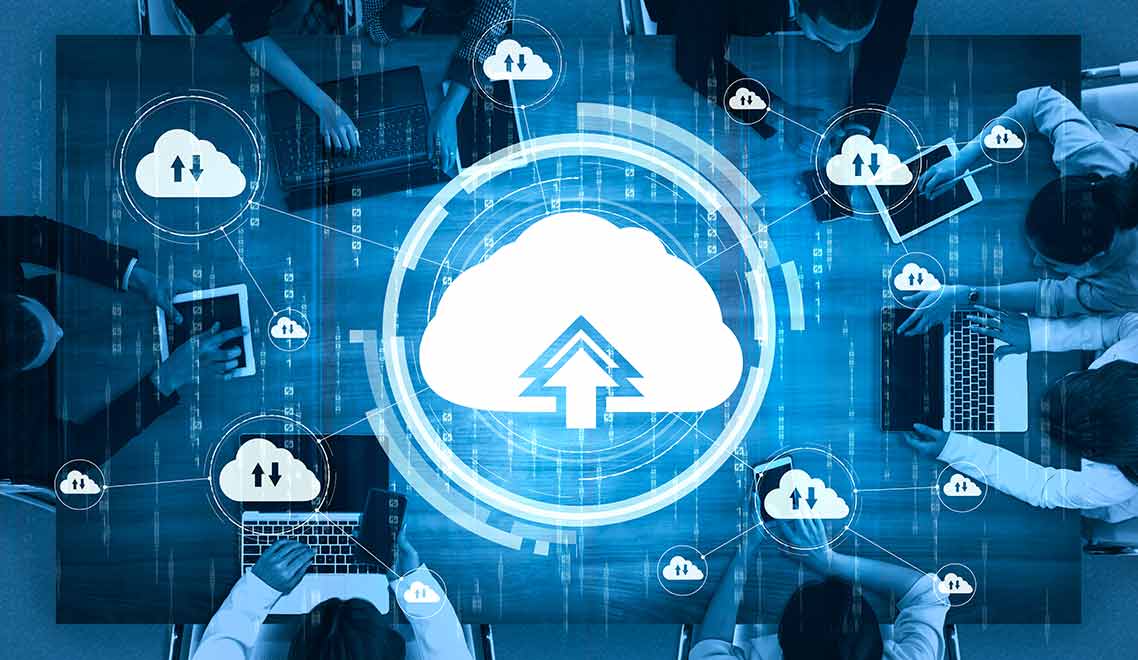 VMware SDDC: Architecture for Private, Public, and Hybrid Clouds
VMware Software-Defined Data Center (SDDC) is considered by many as the next phase in the evolution of cloud computing and virtualization technologies. By enabling a fully automated, zero-downtime virtual desktop infrastructure (VDI) for any hardware and application, VMware SDDC is evolving to replace traditional servers, networks, and storage devices.
What is SDDC?
SDDC refers to a datacenter whose entire infrastructure (server, network, and storage) is virtualized and delivered as a service. In an SDDC environment, a software layer is added to hardware configuration to orchestrate the management of computing, storage, and networking services.
How VMware Implements SDDC
VMware SDDC is a fully integrated stack of hardware and software and consists of four components:
vSphere provides compute virtualization and includes the type-1 VMware ESXi hypervisor. It is ideal for development environments to handle Kubernetes workloads out of the box.
vSAN provides storage virtualization and is used in conjunction with vSphere to manage compute and storage in a single platform.
NSX provides networking and security virtualization and connects and protects the applications residing within the data center.
vRealize provides extra management, automation, self-service, intelligent operation, and financial transparency for both traditional and cloud-based application workloads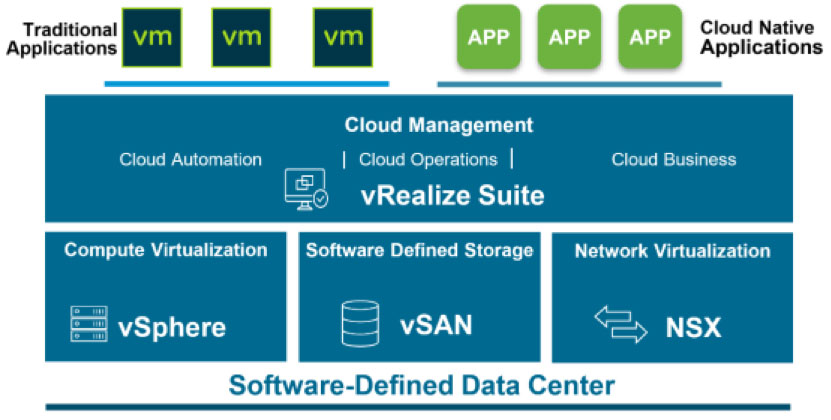 Source: infohub.delltechnologies.com
A VMware SDDC is implemented with several unique factors compared to conventional datacenters. First, the entire SDDC infrastructure is fully virtualized—servers, networking, and storage devices are abstracted via a software platform. By virtualizing the entire infrastructure, SDDC decouples workloads from the resources and simplifies the configuration, management, and consumption of datacenters.
Secondly, SDDC's vRealize automates operations, simplifying governance while providing more business insights through cloud computing capabilities. Unlike traditional datacenters, the cloud management platform is customized and integrated into whole virtualized services to orchestrate provisioning, management, and monitoring of services across the entire SDDC environment.
Benefits of SDDC
When companies outgrow their datacenters and need greater capacities, an SDDC approach can cut costs, gain efficiencies, and increase scale.
Improves efficiency and resiliency
SDDC offers a stable and more flexible platform for any VDI deployment, complete with innovative services such as high-performance computing, big data, and latent-sensitive apps. It automates the provisioning and management of resources; as such, you're in a better position to make any changes to the server, networking, and storage resources.
Extends private, public, and hybrid cloud capabilities
When you virtualize, you turn the server, storage, and networking resources into programmable resources. Consequently, you can manage and control them with a program and link them with other virtualized resources. You're not only limited to the server room, but you can also extend your SDDC to private, public, and even hybrid cloud services.
Automates infrastructure and app delivery
Conventional data centers are siloed, meaning you need to deploy and update applications separately. This is a tedious and time-consuming process. SDDC virtualizes all the resources within the datacenter into a single pool. With such an infrastructure, you can define role-based policies to allow your end-users to access their preferred applications based on their privilege levels.
Enhances security
Defining security for distributed applications is becoming increasingly complex because of a lack of a single point between the traditional datacenters and applications. With SDDC, you can secure information assets by natively applying policies at the virtual machine (VM) level in an application- and data-centric manner.
Challenges of SDDC
There are numerous benefits of SDDC. However, on the opposite side of the spectrum, SDDC does have its challenges.
Inefficient Resource Provisioning
SDDC resource provisioning has long wait times, and the provisioning can sometimes be inefficiently done. There might be cases when storage is over-provisioned and ensuring application performance becomes expensive and time-consuming.
Transitioning Issues
Transitioning to SDDC by changing the existing business practices can be a challenging and drastic change that needs to be adequately planned.
Handling increased workload mobility
SDDC is, in essence, a tightly integrated group of servers, storage, and network tools where virtualized infrastructure plays an active role, thus creating challenges when it comes to ensuring acceptable performance and agility.
Power consumption of datacenter
SDDC requires data centers, and data centers need electricity to run. Hence, the power consumption of the data center and the ability to reliably move workloads from one component to another is a challenge that needs to be managed reliably.
Virtualization of the datacenter
Virtualizing a hardware-driven data center at once can also prove to be troublesome when shifting to SDDC.
How Parallels RAS Integrates with the VMware SDDC Infrastructure
When deciding to set up desktops across private, public, or hybrid clouds, you need to consider many factors such as servers, networking, storage, and virtualization. VMware SDDC can significantly enhance IT performance and efficiency, and Parallels® Remote Application Server (RAS) can help you simplify desktop setup across private, public, or hybrid clouds.
Parallels RAS supports VMware ESXi and VMware vCenter, which offer direct access and control of underlying SDDC resources. As such, you can easily partition hardware and amalgamate applications and minimize costs. When implementing VDI, Parallels RAS can help you manage VMs from different hypervisors under the same SDDC environment.
If you're thinking of integrating a private and public cloud using SDDC to generate a truly hybrid cloud platform,  Parallels RAS is the answer. It can help you seamlessly integrate the entire infrastructure that spans both on-premises and off-premises environments with a standardized orchestration, management, and security framework.
Realize the benefits of VMware SDDC and Parallels RAS!