Windows Virtual Desktop. What's Microsoft Planning with it?
What's Microsoft Planning with Windows Virtual Desktop?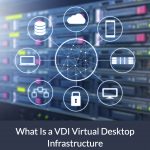 Windows Virtual Desktop has been in the news for quite some time and has a lot of buzz around it. Let's get to know more about it and what the hype is all about. 
What is Windows Virtual Desktop?
Windows Virtual Desktop (WVD) is a service offered by Microsoft. It's designed to let users virtualize different operating systems and programs including Windows 7, Windows 10, Office 365 ProPlus, and several third-party applications. It uses Microsoft Azure to virtualize the products and is said to be an attempt to give Azure a boost. 
How can it help me?
According to Microsoft, the service will deliver remote applications and virtual desktops to any device. It's advertised as the only platform to offer a multi-session Windows 10 experience. 
The offering brings together Azure and Microsoft 365, thus allowing users a chance to enjoy reduced costs and improved scalability. Thanks to the service, multiple users will be able to log into the same machine or Windows.  
The system would also allow users to virtualize individual Microsoft Store apps or entire desktops. Moreover, users will also be able to virtualize Windows 7 after Microsoft ends support for the OS in January 2020. Users will be able to buy an extension for three years without having to pay for Extended Security Updates.  
How can I enjoy Microsoft Virtual Desktop?
Microsoft 365 E3, E5, or F1 customers can get access to WVD for free. Sign up for an Azure account, and you'll be able to enjoy the benefits offered by Microsoft Virtual Desktop.  The company has also authorized Citrix, one of its partners, to sell WVD. Parallels will also include WVD among its offerings.
Parallels RAS Zero-Day Support for Microsoft Windows Virtual Desktop 
Version 16.5 update 3 (v16.5.3) of Parallels® Remote Application Server (RAS) will be released in Q1-19. It will provide zero-day support for WVD functionalities. Here's a summary of the new capabilities:  
Windows 10 multi-session support. Version 16.5.3 paves the way towards supporting Windows 10, which allows for more than one session running (multi-session). Note: Windows 10 multi-session will only be available on Azure in public preview. Parallels RAS can be tested by customers using Azure Cloud Services. Zero-day support will be provided once Windows 10 multi-session moves to general availability.
Improve management capabilities. IT admins will be able to use the Parallels RAS console and PowerShell for Windows 10 multi-session deployments to publish available applications and desktops.
Support for Azure as a hypervisor. We're adding support for Microsoft Azure as a hypervisor. This will add even more abilities regarding provisioning, automation, scaling, and load-balancing to both RDSH and VDI capabilities.
Hybrid deployment. Version 16.5.3 will allow IT admins to provide access to the Azure-only Windows 10 multi-session environment, while also supporting other workloads coming from Azure, other clouds or on-premises. This allows for multi-cloud and hybrid deployment support. 

 
Need more info about Parallels RAS integration with Microsoft WVD? Contact us! 
References:
https://christiaanbrinkhoff.com/2018/09/25/microsoft-announces-windows-virtual-desktop-multi-user-on-only-azure-is-this-the-future-of-the-digital-workspace-what-about-rdmi-get-first-insights-here/ 
https://www.zdnet.com/article/more-details-emerge-on-citrixs-plans-for-microsofts-windows-virtual-desktop/ 
https://azure.microsoft.com/en-us/services/virtual-desktop/ 
https://www.citrix.com/blogs/2018/09/24/citrix-announcements-at-ignite/ 
https://www.zdnet.com/article/microsoft-to-bring-multi-user-virtualization-to-windows-and-office-with-windows-virtual-desktop/