Parallels® Desktop
Pros and Cons of Boot Camp, Boot Camp-Based Virtual Machines, and Parallels Desktop Virtual Machines
Run Windows by Booting Mac from Boot Camp
Performance
Best**
Support for Mac with Apple M1 chip
Run Windows applications on Mac without reboot
Disk space usage*
High
Suspend and Resume, Snapshots and more on a virtual machine
Easy backup
Easy migration to the new Mac
Parallels Desktop Runs Windows on Boot Camp Partition
Performance
OK
Support for Mac with Apple M1 chip
Run Windows applications on Mac without reboot
Disk space usage*
High
Suspend and Resume, Snapshots and more on a virtual machine
***
Easy backup
Easy migration to the new Mac
Parallels Desktop Runs Windows in a VM
Performance
OK
Support for Mac with Apple M1 chip
Run Windows applications on Mac without reboot
Disk space usage*
Low
Suspend and Resume, Snapshots and more on a virtual machine
Easy backup
Easy migration to the new Mac
****
* See disk space information below.
** While Boot Camp provides performance benefits to high-end graphics-intensive applications, most Office workloads don't benefit from using Boot Camp.
*** You can suspend and resume Windows on a Boot Camp partition in Parallels Desktop, but you should not suspend when you reboot your Mac to Boot Camp. Otherwise, the data is lost.
**** Moving a virtual machine from Intel Mac to a Mac with Apple M1 chip is not supported.
Amount of free disk space in Boot Camp not available to Mac applications: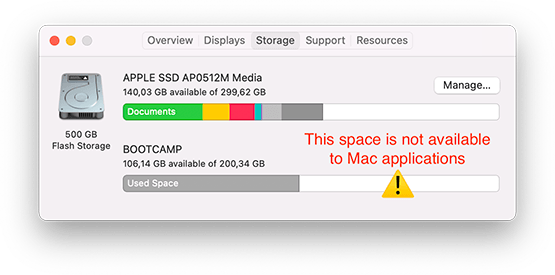 How to import Windows from Boot Camp to a Parallels virtual machine, and then remove Boot Camp to release disk space to Mac applications:
Pre-requisites:
Enough disk space on the Mac disk to import Windows from the Boot Camp partition. Amount of disk space required equates to the occupied disk space in Boot Camp. If there is not enough space, an external disk drive can be used.
Windows and Windows applications may require reactivation, as Parallels Desktop virtual hardware differs from what is available in Boot Camp. Please contact respective support for these applications if needed.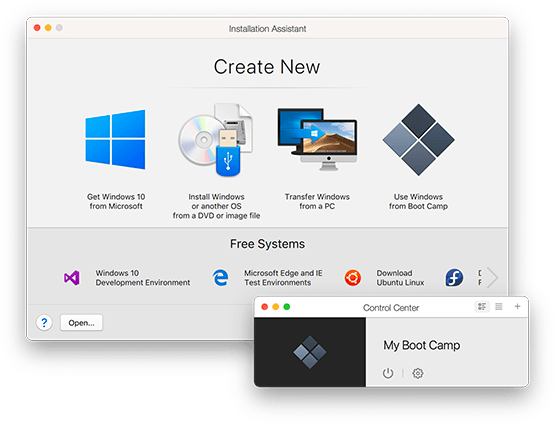 Step 1: Create a Boot Camp-based virtual machine in Parallels Desktop.
You can skip this step if you already use Boot Camp in Parallels Desktop. If you don't, start Parallels Desktop and proceed with "Use Windows from Boot Camp."
You will now have a Boot Camp that you can run side by side with Mac applications without the need to reboot.
Check that all your required Windows applications work in Parallels Desktop.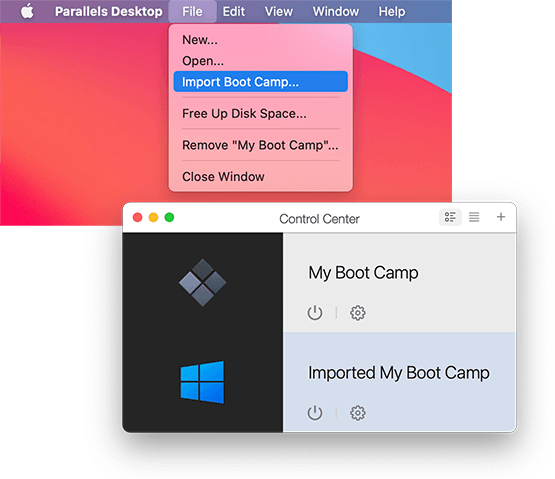 Step 2: Import Windows from Boot Camp.
To import Boot Camp use either the Parallels Desktop application menu or the context menu in Control Center. Select the location to put the virtual machine.
If you have enough disk space on your Mac, you are in luck. If not, you can use an external disk. You will now have imported Boot Camp to your Control Center. It is no longer using you Boot Camp partition.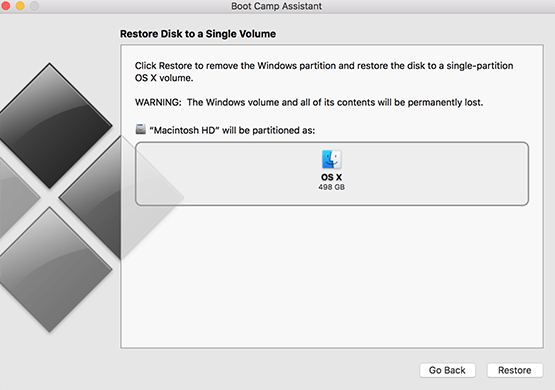 Step 3: Remove Boot Camp partition.
Start the Boot Camp Assistant application available in /Applications/Utilities. You can start it from Finder, Launchpad, or Spotlight. Click "Continue".
You will be asked if you want to restore the disk. There is no way back at this point.
When you're done, you will get Boot Camp partition space back to your Mac applications.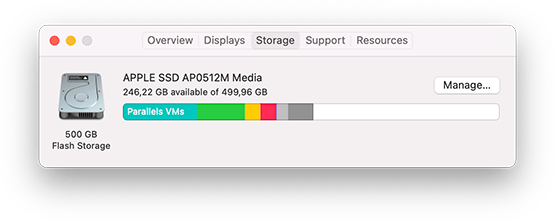 That's everything!
Remove "My Boot Camp" from Control Center as it is no longer required.
Make sure you're not removing the "Imported My Boot Camp".
Rename "Imported My Boot Camp" to something you prefer and back up a virtual machine file.