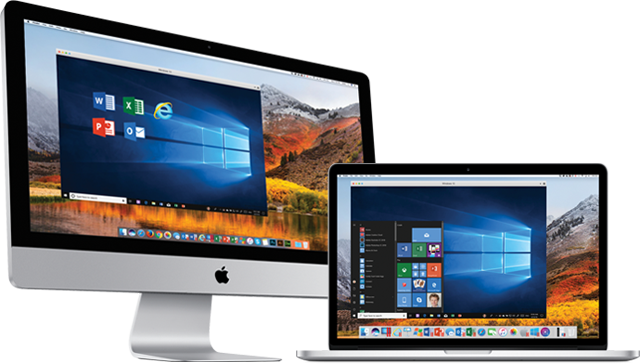 Just Released!
Parallels Desktop
vs VMware Fusion
#1 choice of Mac users for over 10 years running
3x faster VM suspend and resume operations
Save precious disk space with real-time virtual disk optimization
Seamless folder sharing between OS and Windows
Includes Parallels Toolbox
Optimized for macOS Mojave and Windows 10 update
VMware Fusion
Full Microsoft Cortana Integration, your intelligent, digital assistant made available on Mac
Support for popular development, design and test tools including Docker, Jenkins and Chef
(Available in Parallels Desktop for Business & Pro Editions)
Advanced networking tools
(Available in Parallels Desktop for Business & Pro Editions)
Parallels Desktop
All the VMware Fusion benefits PLUS:
Install Windows 10 with a single click
One-click download of Ubuntu, Fedora, CentOS Mint and Debian
Purchase and install Windows 10

FREE

to new customers: 3 months to Parallels Access ($19.99/yr value)
Disk savings for iCloud, Dropbox and Google Drive
Touch Bar and and TouchID Support
Mac native "Share" and "Save to" in Windows
Call with iPhone in IE
"Open in IE" button in Safari
Incremental backup of VMs with Acronis
DirectX 10.1 Support
Start Windows 10 in less than 5 seconds
Real-time virtual disk optimization
Pause Virtual Machine when no apps are running

FREE

Vagrant Provider support
Rollback Mode
(Available in Parallels Desktop for Business & Pro Editions)
Microsoft Visual Studio Plug-in
(Available in Parallels Desktop for Business & Pro Editions)
Subscription ensures you have the latest software
(Available in Parallels Desktop for Business & Pro Editions)
Over 7 Million Users and Praised by Experts






"Of all the ways to run Windows on a Mac, Parallels Desktop is my favorite because it just works. It's fast, it's reliable, and there's no need to futz about with confusing setting or convoluted setup processes."
– Adrian Kingsley-Hughes, ZDNet
"Unlike Apple's Boot Camp, Parallels lets you run both operating systems at the same time."
– Larry Magid, Forbes
"Parallels Desktop is the easiest, fastest, and most tightly integrated app for running Windows apps or the Windows desktop in Apple OS X."
–Edward Mendelson, PCMag.com
"It's always been astonishing that it's faster to start up a Parallels PC than a real one. On my MacBook Air, I'm up and running in Windows six seconds after I double-click the Parallels icon."
– David Pogue, Yahoo Tech
"The latest version of Parallels, the popular Windows virtualization tool for Mac OS X, almost feels like its trolling Apple."
– Engadget
"The software has been iterating over a decade and now makes Windows feel like part of the macOS. You can also virtualize Linux, Android, and just about anything that runs on Intel chips including another instance of macOS—great for testing macOS Betas!"
–9to5Mac
Over 50 New Features!
Watch Video
Super-charged performance. Get more out of your Mac®.
macOS Mojave
Optimized for macOS Mojave (10.14) and Windows 10 updates.
Up to date for Apple's latest operating system release with features including Dark Mode, as well as security and privacy feature updates. Plus, from your Windows applications, seamlessly experience Quick Look and Continuity Camera with your iPhone®.
Free up More Disk Space
Parallels Desktop 14® for Mac makes it easier than ever to get back space on your Mac! Get up to 20 GB back with new disk usage optimization. Automatically reorganize your virtual disk to increase limits for optimal storage savings.
The "Free up Disk Space" notifications display how to archive data and reclaim space—plus, you can utilize Clean Drive in Parallels® Toolbox to save even more space.
Graphics Improvements
Stay up to date with changes to video memory allocation and improved OpenGL support. Launch even more applications and popular CAD programs without slowing down your Mac.
New! Run SketchUp Pro, OriginLab, DIALux 8, DELFTship, CTvox, and more on your Mac with Parallels Desktop 14.
Touch Bar
Get additional support with the Mac Touch Bar™ for Windows and Windows applications such as AutoCAD, Revit, SketchUp, Visual Studio, OneNote, and Visio.
Plus, continue to use the Touch Bar Wizard (introduced in Parallels Desktop 13) for advanced customization options.
Performance Boosts
Up to 35% faster starting Windows and applications
2x performance improvements with AVX512 support
Suspend on APFS formatted disks is up to 30% faster
Start Parallels Desktop up to 80% faster
Snapshots in Parallels Desktop 14 take up to 15% less disk space
The lightest, fastest Parallels Desktop release yet!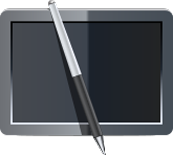 Shared Pressure Sensitivity
Use your stylus pen (or your finger by holding Fn) in both Mac and Windows—without the hassle of connecting or disconnecting devices.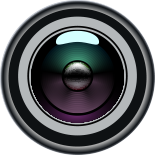 Shared Camera
Use a webcam in Windows, with better FPS rates and higher resolutions available.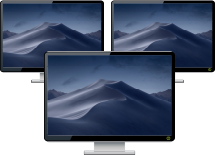 Multi-Monitor
Improved performance and handling of "Use All Displays" in Full Screen.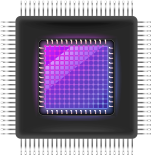 Video Memory
Adjusts the amount of video memory you need automatically.
More Tools Than Ever Before!
Parallels Toolbox is a whole suite of tools for a fraction of the cost of individual apps, packaged in one simple interface and included with Parallels Desktop 14.
Keep your focus with Presentation Mode. Instantly disable those embarrassing pop-ups or bouncing icons.
Clean Drive keeps your computer's storage optimized and free of unimportant data.
Find Duplicates to free up extra space on your computer.
Grab videos from the Internet and watch offline using Download Video.
Take Screenshots or Record a Video with a single click for quick cut-and-paste jobs.
Compare Editions
Standard Edition
Download and Install Windows 10 in one click
Retina Support for Windows apps
Optimized for macOS Mojave (10.14)
Buy NowUpgrade
Pro Edition
All the Standard Edition features PLUS:
Integration With Chef/Ohai/Docker/Vagrant
Network conditioner to simulate speeds and test
Visual Studio plug-In
Debug, dump VM, or start an SSH session from menu
Support for business cloud services
Premium 24/7 phone and email support
Buy NowUpgrade
Business Edition
All the Standard and Pro Edition features PLUS:
Centralized administration and management
Unified volume license key for mass deployment
Buy Now
Frequently Asked Questions
Run Windows On Mac
Fast, powerful, and easy. The most trusted desktop virtualization software for over 12 years!
The Parallels Desktop 30-day money-back guarantee ensures your satisfaction.