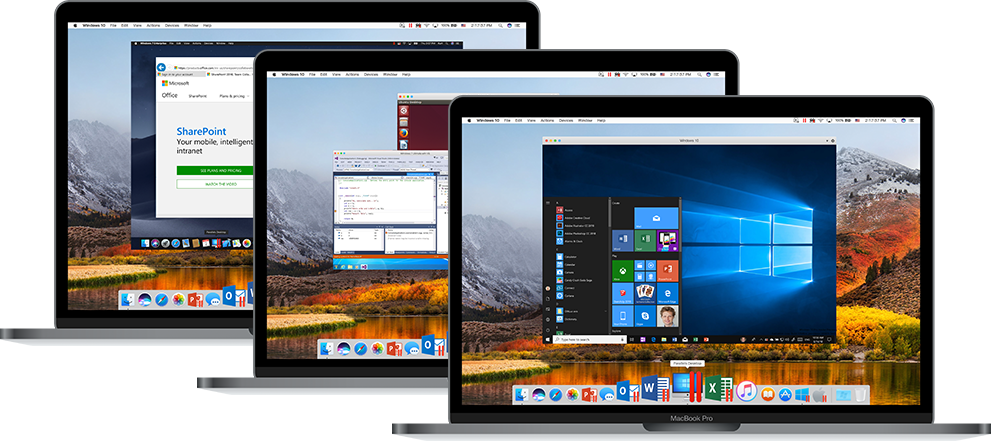 Parallels Desktop
Business Edition
The simplest and most secure way to provide Windows applications to users with Mac computers.
Easy to deploy with a Unified Volume License Key
Manage users and subscriptions with the Parallels License Portal
Built for IT with advanced security features that ensure compliance
Designed for end users in small business, education, and enterprise
Step-by-Step Feature Instruction Video
Windows on Mac for Employees and Students
Parallels Desktop Business Edition brings Windows and Windows applications to employees on Mac, and enables easy integration of Mac® computers into any work environment from education to financial services, technology, consulting, or medical. Optimized for Windows 10 and 7, macOS® Mojave, and Windows 10 Updates.
Powerful Performance
Run business-critical applications without compromise—Microsoft Office, Visual Studio®, Quicken® and QuickBooks™ for Windows, Access, Project, Autodesk Revit® and Inventor, CorelDRAW, ArcGIS, Visio, QuickBooks™, Internet Explorer, Adobe Photoshop®, and more!
Lightning Fast
Graphic and resource hungry Windows applications run effortlessly without slowing down employee's MacBook®, iMac®, Mac mini®, or Mac Pro®.
Easy Management and Control

Mass Deployment
Our package-builder application and detailed mass deployment guides help set up hundreds of installations easily. Deploy easily with Parallels® Mac Management for Microsoft® SCCM, Jamf Pro, and other solutions.

Streamlined Licensing
Use Single volume license key for all installations. View information—such as license expirations, usage statistics, and real-time licensing activities—to easily manage all of your deployed licenses.

New! Setup New Users Via Email
Enroll new users in a few clicks with automatically generated emails that have a link to download Parallels Desktop. Activation is automatic after installation.

Single Application Mode
Enable selected Windows applications to run without being aware of Parallels Desktop or Windows running in a virtual machine.
Security and Compliance
Famous for delivering the best Windows experience on Mac for your employees, Parallels Desktop for Mac enables IT administrators to enforce standard corporate compliance for Windows, and brings proprietary tools for extra protection and security.
Fits Into Security Standards
Join Windows to Active Directory and enforce corporate policies and guidelines, just as if virtual machines are physical PCs. New smart card reader support expands smart card authentication to Windows.
Restrict External Device Access
Enforce policies on the use of USB devices, smart cards, and any other external devices plugged into a Mac, for use in Windows.
Protect Data in Windows
Add an additional layer of security by encrypting virtual machines and keeping their configuration password protected.
Create Expiring Virtual Machines
Create time-bound, encrypted virtual machines that will automatically expire and lock at a defined time. Ensure additional security when corporate data is shared externally.
macOS Mojave
Optimized for macOS Mojave (10.14).
Up to date with the latest macOS release featuring Dark Mode, as well as security and privacy feature updates. Plus, from your Windows applications, seamlessly experience Quick Look and Continuity Camera with your iPhone®.
Designed for Team Productivity
macOS and Windows on One Machine
Seamlessly run Windows (or another OS of your choice) side-by-side on the Mac, and switch between Mac and Windows with a single click.
Windows Printing Made Easy
No need to install a print driver in Windows; printing from the virtual machine now opens the native macOS® printer dialog to print to your macOS configured printer.
Multi-Monitor Support
Use Windows on all external displays connected to your Mac. Comes with dedicated mode for enhanced picture with non-High-DPI external monitors.
Supports Windows-Only External Devices
Plug your external USB devices into Mac and use them in Windows, including smart cards and other Windows-only compatible devices.
Business Cloud Service Integration
Set Windows to gain easy access to business cloud services, including OneDrive® for Business, Box, and Dropbox Business.
See Why Others Choose
Parallels Desktop for Mac Business Edition
Parallels Desktop Business Solution
The simplest and most secure way to bring Windows
applications to employees with Mac computers.