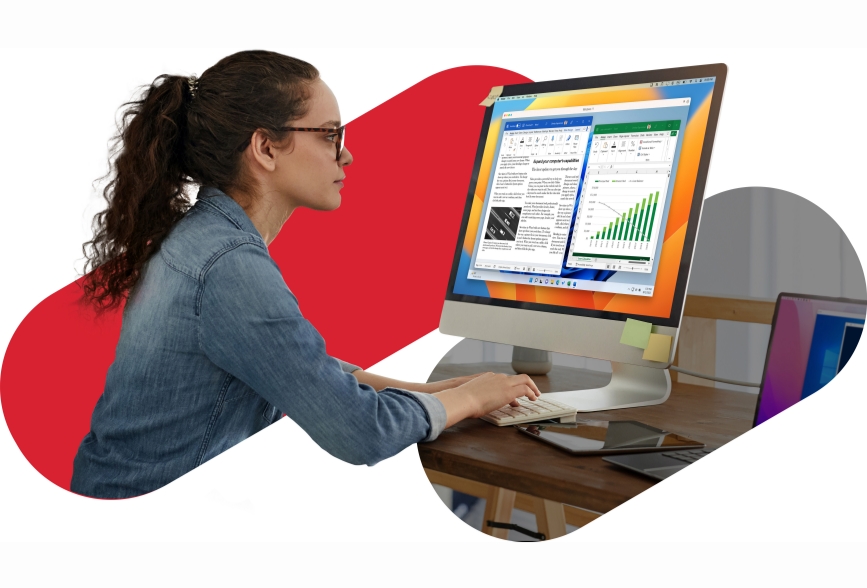 Unleash the full potential of Microsoft Office on your Mac
Unlock additional functionality by using Microsoft Office plugins that are only supported in the Windows version—all on your Mac. Keep using your perpetual Windows licenses on your Mac at no additional cost.
Expand your Mac computer's capabilities with Windows-only plugins.
With Parallels Desktop, you get the best of both worlds, without compromising your productivity.
Utilize macros
Experience time-saving benefits and accomplish more with less effort by automating repetitive tasks and streamlining your workflows on your Mac.
Run Visual Basic Scripts
Leverage the full power of Windows-based scripting for enhanced productivity from your Mac.
Leverage your Windows perpetual licenses
New to Mac? Leverage familiar software without additional costs. Seamlessly transition between operating systems without compromising functionality.
Enjoy a seamless transition from Windows to Mac.
Experience boosted productivity with Parallels Desktop.
Why choose Parallels Desktop for running Microsoft Office on your Mac?
Run Microsoft Office apps on your Mac without compromise.

Avoid platform limitations and seamlessly leverage Windows-only plugins on your Mac—unlocking a new level of productivity and functionality.

Use macros and Visual Basic Scripts for advanced automation.

Accomplish more in less time by harnessing the power of Macros and Visual Basic Scripts from your Mac, without having to switch devices or lose additional functionality.

Seamlessly integrate Windows-only Office plugins.

Expand your Mac computer's capabilities and get the best of both worlds with access to a wider range of tools and features.

Preserve your perpetual licenses and avoid additional costs.

Ensure a smooth transition while maximizing your software investment. Work with the tools and features you need, without any barriers.
Frequently asked questions
Explore Microsoft Office and Parallels, together
Experience unparalleled flexibility and enhanced productivity with Microsoft Office on your Mac.
Start today