Playing a Windows game on Mac with Parallels Desktop 18 [VIDEO]
If you're a regular reader of this blog, you probably know that my favorite game of all time is Age of Empires. (See past posts here, here, and here.)
When I got my hands on early beta versions of Parallels® Desktop 18, one of the first things I did was to thoroughly test the most popular edition of Age of Empires, Age of Empires II Definitive Edition, and work with our Parallels engineers to ensure the experience was superb.
Now that Parallels Desktop 18 is generally available, I can happily report that Age of Empires II Definitive Edition runs extremely well on this solution. I tested it on all the Mac devices I own, which include an Intel iMac, an M1 MacBook Pro, and an M2 MacBook Pro.
See for yourself in the video below!
Playing Age of Empires II Definitive Edition on Parallels Desktop 18
It's hard to predict how well a certain game will perform in Parallels Desktop, so it's especially gratifying to find that Age of Empires II Definitive Edition works well. 
Parallels Desktop implements video memory differently than on a hardware PC, and Age of Empires notices this and displays the warning shown in the image below. This warning can safely be ignored—I never saw any issues with the game's performance.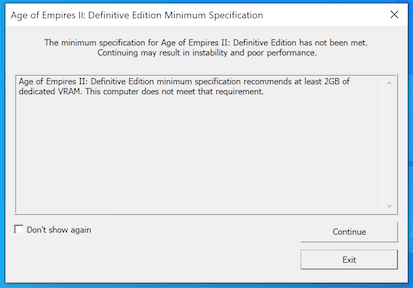 I should pause here to note that if you are not an Age of Empires superfan like me, Parallels Desktop 18 can easily run many Windows games and applications, so whatever your preference, Parallels Desktop has you covered.
For now, I'm now off to vanquish my foes with my archers, battering rams, and catapults…
Want to see Parallels Desktop 18 in action for yourself? Try it free today!