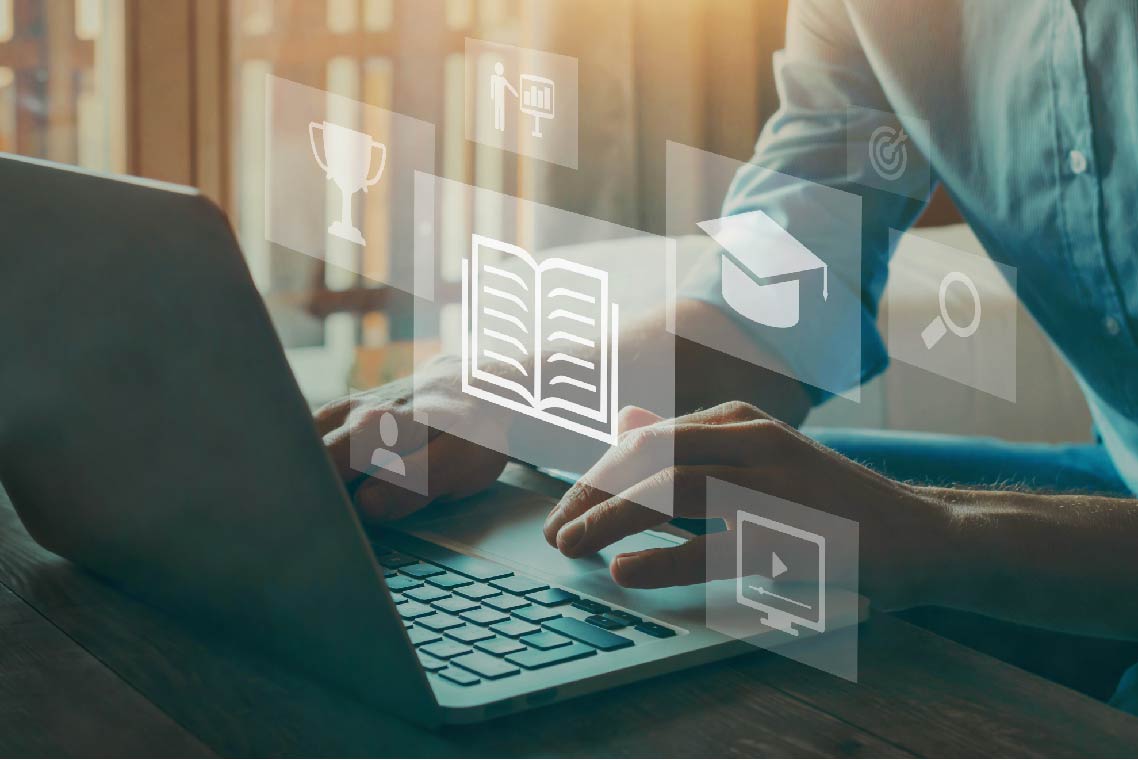 Virtual Learning Best Practices: How to Implement a Successful VLE
Modern teaching is moving outside the bounds of a traditional, in-person classroom environment. A virtual learning environment (VLE) is a collaborative learning platform. It enhances students' learning experiences through the integration of online content and digital devices.
VLEs empower schools to create virtual classrooms where teachers and students can communicate without being face-to-face. Users also benefit from a VLE's wide variety of resources, accessing class information, lectures, learning materials, assignments and grades through a central platform.
While the coronavirus pandemic that hit in 2020 highlighted the benefits of VLEs by forcing most schools to move to fully remote learning models, schools have used online courses for years. By 2009, an estimated 5.5 million students worldwide were taking at least one online class. In the 2017–2018 school year, nearly 300,000 US students were enrolled in schools using virtual learning.
Using technology tools like VLEs allows schools to offer their students the best possible learning environment. In a world where 24/7 access to information is an expectation rather than a preference, schools shouldn't ignore the benefits that a successful virtual learning environment can provide. Let's take a closer look.
Benefits of a Virtual Learning Environment
In early 2020, many educational institutes had to scramble to transition from an in-person to a virtual learning environment. However, a mixture of Zoom calls and various online resources is not the same as a virtual learning environment. A VLE creates a dynamic virtual classroom that benefits teachers and students alike. It contains all online components that supplement the course, such as reading resources, informational content, skill assessments and more.
VLEs provide the following benefits for students and educators:
Flexible learning opportunities: With course content accessible from anywhere and at any time, students can access resources on their own schedules. Some VLE platforms even include offline capabilities, ensuring that students don't fall behind due to connectivity issues.
Accurate performance tracking: VLEs offer a host of customizable reports and visual dashboards. This gives educators deep insights into student performance, such as how many students completed activities in a particular lesson, when they completed them and how long it took.
Increased communication and collaboration: Teachers and students can foster collaboration through a range of communication tools, including internal messages, chat rooms and shareable materials centers. In a virtual setting, everyone can share their thoughts without being interrupted or spoken over by classmates.
Cost savings: A virtual learning environment can reduce the time and money spent commuting to and from school. VLEs can reduce the money spent on textbooks and other learning materials because all resources are hosted online. With college students spending an average of just under $1,500 per course on textbooks and materials, this savings adds up quickly.
Best Practices for a Successful Virtual Learning Environment
While VLEs offer many benefits, a successful virtual learning requirement requires implementing and adhering to best practices in order to ensure that your students and teachers are getting the most out of the platform. These best practices include the following six guidelines:
Ensure access with any device or operating system
Since online learning requires the use of web-based tools, it's imperative that all administrators, teachers and students have uniform access to learning resources. In addition, the VLE must be accessible on any device and OS. Otherwise, some students may struggle to achieve the full benefits of a VLE due to device or OS incompatibility.
Schools and other learning institutions can benefit from solutions such as a virtual desktop infrastructure (VDI) to connect users to the VLE platform. VDI allows online access to resources and programs from any device or OS. Students can work on their preferred devices, including tablets and smartphones.
Encourage discussions and participation
Whether in-person or online, classrooms have a mixture of engaged and hesitant students. Those who don't tend to raise their hand may be introverted, might be taking the class in a non-native language or simply need more time to form their thoughts before contributing. In a virtual learning environment, teachers can make use of online forums for class discussions to encourage everyone to participate.
For example, the teacher might provide a series of discussion questions at the start of the forum that will be asked at the end. This gives students the time and space they need to process the questions before providing their responses, so they don't feel put on the spot.
Mix up content and collaboration types
Use different types of media in your VLE, including text, graphics and videos. Educators should also design breakout rooms that give students choices that best match their learning styles, such as:
An instructor-led tutor room where students can receive additional support to understand the learning material.
An active open-group room where students can collaborate in real-time through voice and video chat.
A quiet group room where students can use the chat feature to share ideas and ask each other questions.
A quiet, independent workroom where students can work independently on learning assignments.
Use gamification to keep students engaged
A virtual learning environment is more engaging for students when it uses elements such as gamification. As the name suggests, gamification adds gaming aspects to non-game activities.
There are two key components of gamification: mechanics and dynamics. Levels, points and badges are all types of gaming mechanics. By awarding digital "badges" for mastering learning objectives, teachers can celebrate student learning while also keeping parents in the loop about their child's progress. Competition and collaboration are the dynamics of gamification. For example, digital escape rooms foster collaborative problem solving while adding fun and excitement to academic material.
Personalize the learning experience
Improve engagement by personalizing the learning experience. Give students options when it comes to content formats. This allows them to pick content that fits their learning styles. For example, a student who prefers reading over visual learning will benefit from scripts of video content. The same strategy also applies to how students demonstrate their understanding. Instead of requiring everyone to write a response essay, consider adding additional choices such as making an explainer video.
Focus on soft skills
Support faculty success by holding best practices workshops for virtual teaching. Topics could include tips for lighting, remote presentation skills, reducing distractions and establishing rules for a virtual classroom. Instructors will often have their webcams on, so make sure they position their cameras at eye level to create a conversational feel with students and take steps to reduce unnecessary background noise. Anything you can do to minimize learning barriers by guiding teachers will help the VLE function more successfully.
Parallels Remote Application Server Improves VLEs
Parallels® Remote Application Server (RAS) is an ideal solution for connecting students and educators to the school's VLE and internal resources. Parallels RAS enables virtual learning and remote access to desktops and applications from any device and OS. In addition, it provides a high level of security when accessing the VLE thanks to usage monitoring, customized policies and multifactor authentication.
Parallels RAS provides the following benefits for learning institutes looking to optimize their VLEs:
Increased accessibility: Parallels RAS allows access from any operating system with platform-specific Parallels Clients for Windows, Linux, macOS, iOS, Android, Chromebook and HTML5 clientless web access. This means teachers and students can access VLEs 24/7, from any device and location.
Easy setup and maintenance: Parallels RAS is available out of the box and easy to set up and manage. A unified and intuitive management console, configuration wizards and customizable tools allow seamless delivery of applications, desktops and data to any device.
Enhanced security: Parallels RAS reduces the risk of data loss and breaches with policies that limit access based on users, group permissions, locations and devices.