BYOD Policy | Parallels RAS Assists BYOD
What is a BYOD (Bring Your Own Device) Policy?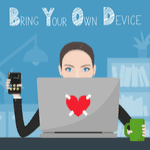 A BYOD policy is a set of rules, such as connections, file sharing, and printing, that applies to employee-owned devices which are usually portable, therefore convenient to work on the way such as PCs, smartphones, and tablets. These rules define and restrict the permissions of devices when connected to an organization's network and are managed by the IT administrator or IT department.
BYOD Policy Forms
A BYOD policy can take many different forms. Some organizations prefer to issue corporate PCs and laptops, others provide employees with a budget to purchase and maintain equipment of their choosing. In the end, organizations usually agree to support both personal mobile devices and corporate-issued equipment. BYOD policy rules can vary depending on a user's role in the organization, their specific device, application requirements, as well as other factors.
BYOD Requirements
The need for mobility has highlighted the demand for BYOD policy development. Employees often use their PCs and mobile devices for business responsibilities even if their IT departments don't support them, as their own device makes them feel more comfortable and often more productive. A strong BYOD policy can help control usage and mitigate security risks.
Parallels RAS Assists BYOD
Parallels® Remote Application Server (RAS) can assist your organization in creating and managing BYOD policies in your infrastructure. Parallels RAS provides control over the most widely used mobile devices and operating systems such as Windows®, Android®, iOS®, macOS®, Linux®, Chromebooks®, or any device with HTML5.
Download a 30-day trial of Parallels RAS and implement BYOD on your infrastructure today!
---
References
Parallels RAS BYOD Policy | https://www.parallels.com/products/ras/byod-policy/
Techtarget | https://searchmobilecomputing.techtarget.com/definition/BYOD-policy
The Pros and Cons of a Bring Your Own Device (BYOD) Policy | https://www.thebalancecareers.com/bring-your-own-device-byod-job-policy-4139870
What is BYOD? | https://dm.comodo.com/what-is-byod/
Wikipedia | https://en.wikipedia.org/wiki/Bring_your_own_device