Citrix App Center: An Overview
One of the main challenges in a virtualization environment is the management of the infrastructure. With thousands of virtual machines (VMs) and users constantly being dynamically created and terminated, IT administrators can have a tough time managing the network. In the early days, they had to spread administrative tasks across a series of management consoles—monitoring and managing all these consoles was a headache. Right from the release of Presentation Server, Citrix was promising its users a single console. The Citrix App Center is the result of this promise.
An Overview of Citrix App Center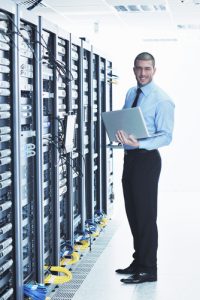 In XenApp 6.0, Citrix brought together all administrative tasks under a single management console called the Citrix Delivery Console Services. This tool performs the functionalities of Access Management Console and Advanced Configuration Console while adding a new layer when it comes to managing access Citrix policies as AD policies. However, the protocol configuration was done in a separate GUI. From version XenApp 6.5, the company named this component the Citrix App Center.
Citrix App Center is a unified management console that allows admins to monitor and manage the entire virtualization environment from a single dashboard. It snaps into the Microsoft Management Console (MMC), allowing you to centrally manage the infrastructure. From the central console, you can manage applications, server farms, and users.
Citrix App Center Configurations
The central console within the Citrix App Center can be configured by using the initial configuration wizard. There are two important configurations in the console. The first one is Administrators. By using this option, you can monitor and manage users and groups. It is primarily used to delegate control to administrators. You can add administrators and provide privilege-based access to them.
The second option is Applications. This is the most used part of the management interface. This option lets you configure applications and desktops that are to be published to remote users. You can choose to publish full desktops if you want to offer all applications in your Citrix environment to the end-users. The end-user experience would be pretty much similar to that of a local desktop. Alternatively, you can choose to publish individual applications if your users will also have local applications installed on their desktops. To the end-users, published applications will be displayed just like local applications on their desktops. You have to configure access control, defining the methodologies of how the application can be started. Applications can be offered to the end-users in three different ways:  
Applications run on the Citrix Virtual Apps servers and offered to the local client.

 

Applications run on the local client and use local resources by default but can be accessed from the Citrix Virtual Apps servers if that's not possible.

 

Applications run on the local client only. 
Another option that found within Citrix App Center which isn't as widely used is to publish pieces of content such as videos, documents or websites instead of full applications. 
Parallels RAS Simplifies IT Admin Tasks
Parallels® Remote Application Server (RAS) is a comprehensive virtualization solution that makes the life of IT admins easier. It comes with all application and desktop delivery features packed into one. Whether you want to create farms, publish applications or manage the entire infrastructure, everything can be performed from a single and centralized dashboard—without the need for any additional setup. Installing and deploying Parallels RAS is simple. You don't need expert knowledge or certification. Using a wizard, you can set up the tool within 5 minutes. As features such as load balancing and universal device redirection come auto-configured, administrative tasks are reduced.
The most important advantage is that Parallels RAS is a single edition solution. You don't have to learn about various products or features; you don't need to install and configure multiple components. Since it comes as a single package, upgrades are all implemented, making the setup easy. Not only does Parallels RAS offer an intuitive dashboard to monitor and manage the infrastructure, but it also provides high-level insights into resource usage.
Parallels RAS makes the migration process easier with a free migration tool that automates most of Citrix Virtual Apps (formerly Citrix XenApp) use case scenarios. The migration tool extracts settings from Citrix XenApp 6.x into a file that can be imported from the Parallels RAS Console.
Download the Citrix Migration White Paper
Download a 30-day free trial: