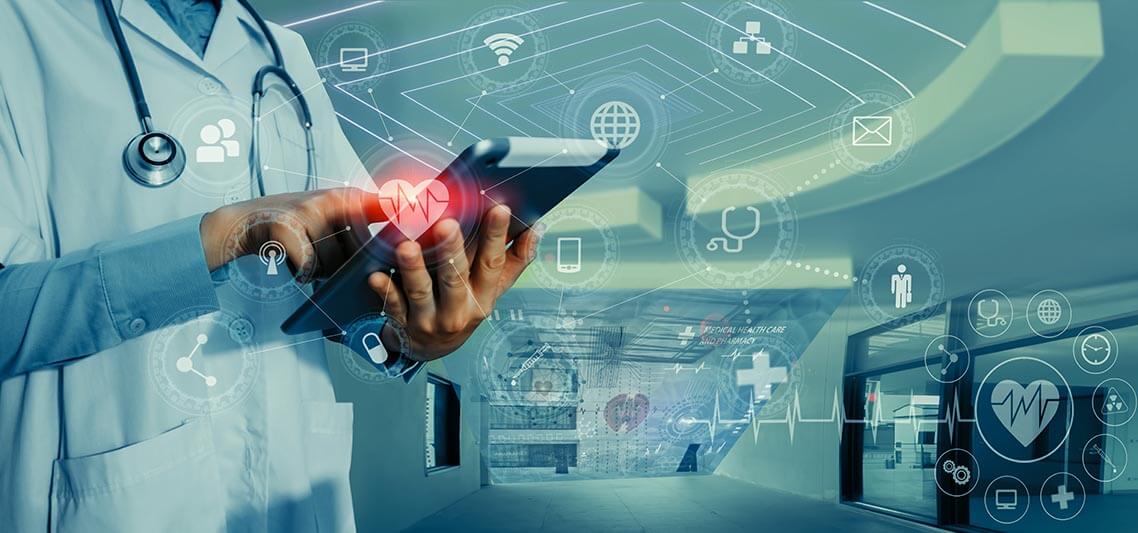 5 Ways the Pandemic Impacted Healthcare IT Solutions
Throughout the COVID-19 pandemic, hospitals and healthcare workers were on the front lines and often in the news, giving the world a glimpse into their heroic fight to save lives. But this was only part of the story. Behind the scenes, healthcare IT teams were hard at work developing innovative solutions to reshape care delivery in the absence of face-to-face contact.
With more than 147 million people in the US now fully vaccinated against COVID-19, healthcare workers and policy experts are contemplating a post-pandemic world. Will the changes and innovations implemented to reduce the risk of viral exposure be temporary or lasting? As more and more states lift health-related restrictions, let's explore five ways in which the pandemic impacted healthcare IT solutions to learn what changes will likely remain permanent.
1. Increased Focus on Interoperability
Interoperability refers to the ability to cohesively exchange, interpret and use healthcare information and data. Different software applications and information systems must communicate and exchange data between healthcare providers, patients, medical facilities, laboratories and more—regardless of the end user's device or application.
In April 2021, rules proposed by the Department of Health and Human Services (HHS) and the Centers for Medicare & Medicaid Services (CMS) went into effect that improves data sharing and access for patients. These rules take patient records out of data silos by requiring healthcare organizations to make health records electronically available to patients' personal devices. This allows individuals to track and manage their health, integrate their information in health apps and coordinate care between multiple providers.
Real-time access to patient data increases patient safety because healthcare systems can provide treatment from any point within the system. A virtual desktop infrastructure (VDI) solution can increase access to patient data from any device, including smartphones and tablets. VDI enables healthcare professionals to access data and applications no matter where they're working from, which can help provide continuous patient care and improve care outcomes.
2. Expansion of Contactless Technologies
In healthcare, contactless technologies are designed to reduce disease spread among healthcare workers and patients. Touch-free payments, for example, allow patients to pay for services without physically touching any surface. They also help increase transaction speed and provide extra security. According to a recent report, 78% of healthcare consumers want widespread contactless payment options to remain a standard practice after the pandemic is over.
Contactless options aren't just limited to payments—and their benefits go beyond preventing the spread of disease. Virtual check-ins prior to face-to-face visits help streamline patient payment and data collection. And instead of filling out forms on clipboards in the waiting room, patients can upload a picture of their insurance cards and provide important health information using an online patient portal, saving time for themselves and healthcare providers.
Healthcare systems leveraged the potential of the Internet of Medical Things (IoMT) technologies to enhance remote and contactless care during the pandemic. IoMT tools collect, analyze and transmit health data to improve efficiencies and drive better healthcare outcomes.
For example, a hospital in Sydney, Australia used IoMT wearable technologies to provide remote care for coronavirus patients and transmit data via an app on the patient's phone to hospital staff. Philips, a global leader in health technology, developed a wearable biosensor that monitors patient vital signs. These wearable monitoring solutions can prove valuable long after the pandemic ends, gathering and transmitting data from patients as they go about their daily lives.
An expanded dataset provides insight into how symptoms and conditions vary over time and in the context of different activities, which offers significant value over limiting data collection to in-office visits.
3. Reinforced Digital Security
The rise of telemedicine and remote workforces makes cybersecurity more important than ever. Protecting personal health information is vitally important, especially since it is the most valuable data on the dark web—a single record is worth 10 times more than the price of a credit card.
COVID-19 accelerated the use of virtual care technology, such as healthcare mobile apps. Approov, a mobile security company, hacked 30 mobile health apps to highlight the threats these apps face through application program interfaces (APIs). All the apps were vulnerable to API attacks, and some allowed access to electronic health records (EHRs).
Healthcare systems can use VDI technology to reinforce security by centralizing and managing data access with features such as advanced filtering and two-factor authentication. Since all data is stored centrally, it's easier for IT departments to monitor data and conform to the Health Insurance Portability and Accountability Act (HIPAA) and other medical guidelines.
VDI solutions can also enable single sign-on (SSO), which facilitates faster login times by streamlining the management of user identities from different organizations. This means that approved personnel can access the files they need securely while ensuring that patient data is always protected.
4. Expansion of Telemedicine Services
Once the pandemic shuttered doors at care facilities, the use of telemedicine skyrocketed. For many patients, telehealth can be an effective alternative to an in-person visit, especially for those with limited time and resources. Evidence also points to high patient satisfaction rates with remote care, increasing the demand for telehealth technologies post-pandemic.
Telemedicine is more than off-site video conferencing between providers and patients. Practitioners and medical staff also need secure access to a range of software applications, such as EHRs, diagnostic and billing software, and more. Storing sensitive patient or financial data on personal employee devices violates HIPAA data protection laws and puts healthcare systems at risk of data breaches.
With VDI, data is stored in the cloud and not on the end user's device, allowing staff to work without compromising security. Application and desktop virtualization allows clinicians to have all necessary information at their fingertips to provide the best patient care possible, even if the patient is located remotely.
5. Using Predictive Analytics for Planning and Preparation
Chronic conditions affect 6 in 10 adults in the US and are the leading causes of death and disability. The pandemic amplified the dangers of living with chronic disease, with several underlying medical conditions increasing a patient's vulnerability to COVID-19.
Using predictive analytics, healthcare systems can analyze comprehensive EHR data to develop effective guidelines for managing chronic conditions. For example, the Cleveland Clinic developed a risk calculator to predict the likelihood of patients testing positive for COVID-19 and for potential disease outcomes.
In a post-pandemic world, predictive analytics can help healthcare providers prepare for potential future outbreaks. Resources can then be dispatched proactively based on risk-prediction models, lessening the chance of drug, equipment and personnel shortages.
But all this data needs to be properly stored, managed and made accessible in order to be useful. Healthcare organizations generate large volumes of data and use multiple, disparate technologies for data storage and analysis. A centralized, secure VDI solution can give providers the data access they need to apply these more predictive and proactive care approaches.
Boost Healthcare IT Performance with Parallels RAS
Parallels® Remote Application Server (RAS) is a secure VDI solution for the healthcare sector. It provides medical staff with instant, continuous access to applications and files that are stored on-premises, in the cloud or a hybrid of the two. With Parallels RAS, healthcare organizations can maintain a HIPAA-compliant infrastructure backed by multifactor authentication, single sign-on and end-to-end security.
Parallels RAS leverages artificial intelligence (AI) to ensure that applications are ready to use when needed, giving providers more time to focus on patient care. It also simplifies medical IT with a centralized, secure approach to managing software and data. It allows medical professionals to work on –the go, provides easy access to external providers and provides uninterrupted application and desktop access across healthcare workplaces.
The pandemic has changed the way providers and patients view healthcare. Maintaining accurate patient information and providing offsite data access while managing cybersecurity threats will be essential to provide patients with the services they need. Investing in new technology solutions such as Parallels RAS can help ensure continuous patient care while protecting healthcare staff and resources.
Learn about the benefits of Parallels RAS for healthcare IT.