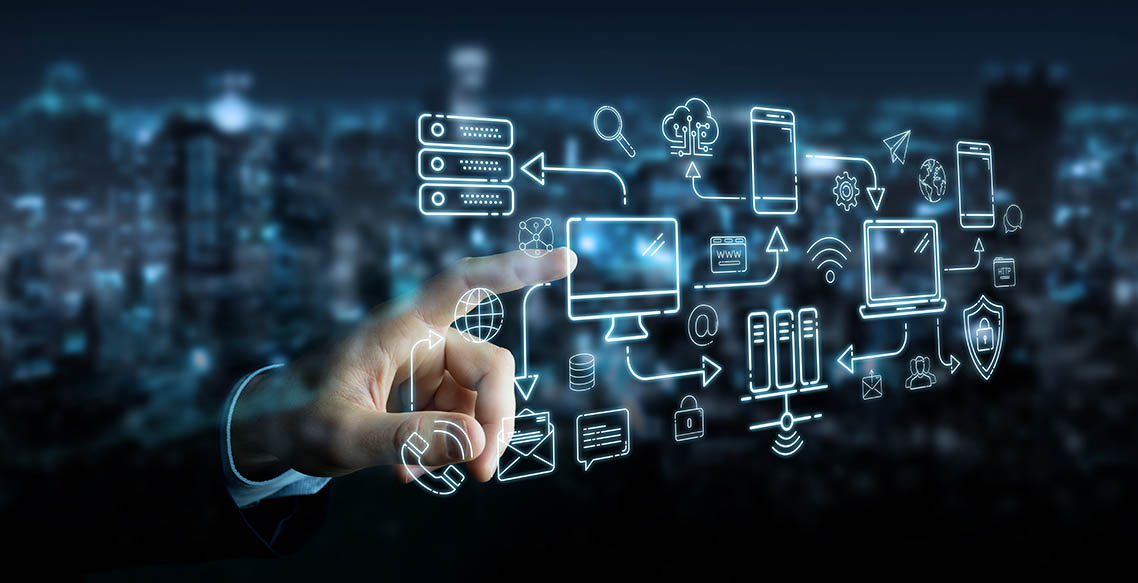 Network Convergence: Improve Your Business Infrastructure Performance
Network convergence combines voice, video and data communications into a single network. Also known as unified communications, it offers convenience and flexibility not otherwise possible when separate networks handle these different modes of communications within an organization. With IT staff only needing to maintain a single network for internal and cloud-based services, convergence maximizes the performance of your business infrastructure by enabling it to dynamically scale and allocate bandwidth and resources when and where needed while generating cost savings in the process.
Definition of Network Convergence
Prior to the rise of network convergence, business infrastructures used separate networks to provide different services. More often than not, hardware and protocols used to provide these services were also separate. The use of different types of equipment and services meant significant spending on network infrastructures and IT resources needed to maintain the network.
With network convergence, it becomes possible to have just a single network infrastructure handle your telephone, video and data traffic, including text and chat, web surfing, voice over IP (VoIP), streaming media, videoconferencing, online gaming, and e-commerce.
While TCP/IP, Ethernet and Wi-Fi standards are the building blocks of network convergence, converged networks also require maintaining the quality of service (QoS) while providing a robust user experience. Affordability, security and privacy, standards compatibility, and upgradability remain common goals among management and technical personnel.
Importance of a Global Network Infrastructure
In the last few decades, the world has seen technological advances that have brought people closer, no matter their distance from each other. Fiber optics, computers, smartphones and tablet devices, virtual and augmented reality, smart homes and cities, online gaming and streaming, and 3G, 4G and 5G are some examples. In the future, quantum computing and communications are expected to boost global interconnectedness even further.
Many organizations are aware that global network infrastructure will allow them to exploit the potential that advanced technologies offer more fully. Such an infrastructure would have the required bandwidth and latency that will allow the use of any mode of communication on the network. Service providers are rushing to provide this type of infrastructure in anticipation of future demand.
IT operations virtualization is particularly suitable for network convergence. To virtualize IT operations, you can start with a small converged network and expand it gradually by adding more nodes, leading to better operational efficiencies. There are now cloud-based solutions that allow virtualized integration of networked IT, security and communications.
Benefits and Challenges of Network Convergence
Network convergence provides the following benefits:
Consistent delivery of services over a single, simplified network so your network becomes more agile and scalable.
Stronger network security arising from common security rules across your infrastructure.
Lower capital and operational expenses from consolidating what used to be separate networks into just one.
Streamlined network management and maintenance, since your staff deals with less equipment and provides consolidated services that can be accessed from a single pane of glass.
More efficient business processes are brought about by having fewer vendors to coordinate with.
Network convergence also has its own share of challenges, including:
The concentration of traffic on a single network may increase your security risks. When networks are separate, if a network is compromised, the risks are contained within that network. Desegregation of functions into a single network does away with this advantage.
The mix of platforms, protocols and network topologies on a single network can bring complexity into your infrastructure.
High-priority traffic may not have the required bandwidth for optimal performance. There is a need to identify such traffic so that QoS can be prioritized and the traffic prioritized.
Multiple path networks necessitate the use of protocols that prevent congestion. An example of a suitable protocol is Transparent Interconnection of Lots of Links (TRILL), which can be used instead of the traditional Spanning Tree protocol to mitigate congestion.
While you have fewer vendors to deal with, converged networks can lead to vendor lock-in. You can avoid this by ensuring that only the components most essential to your operation are included in your outsourced, converged solution.
Despite the challenges, network convergence remains a viable, long-term strategy for flexible and scalable business infrastructure.
Parallels RAS Supports Hyperconverged Deployments
Parallels® Remote Application Server (RAS) is a streamlined remote working solution for your virtual desktop infrastructure (VDI). With this solution, you can implement hyperconvergence, which allows your converged infrastructure to scale out even more through the addition of extra modules. Its simplified licensing model includes practically every virtualization component needed for setting up a hyperconverged infrastructure.
Parallels RAS provides wizards that allow easy deployment of a hyperconverged environment for your VDI. The solution becomes even more cost-effective when used with capable hardware. Using its simple and user-friendly management interface, your IT staff can monitor your VDI desktops with ease, regardless of the devices used to access those desktops.
Download the trial, and see how easy it is to implement a hyperconverged solution for your VDI with Parallels RAS.