Parallels RAS: What's New in Version 16.5.3
Parallels RAS
:
 What's New in 
Version 
16.5
.
3
With the recently released version 16.5 update 3 (16.5.3), Parallels RAS now includes support for yet another VDI platform, new developer tools, and a couple of client-side security enhancements, in addition to several other improvements. The team is also ramping up development to support Microsoft Windows Virtual Desktops (WVD) in future releases. 
Support for 
A
nother VDI 
P
latform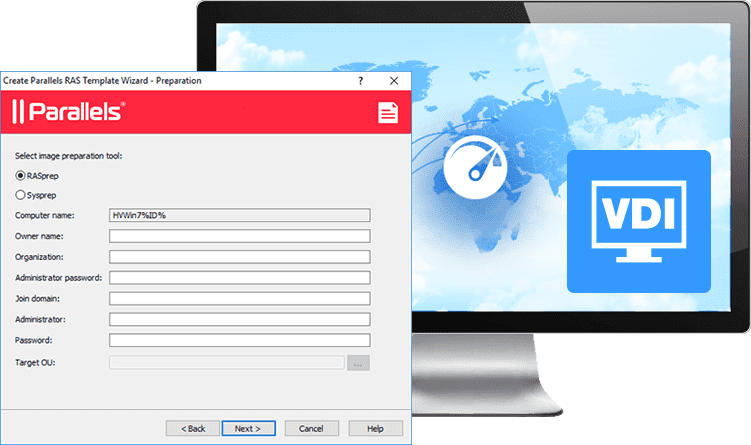 Starting with this update, Parallels RAS can support Scale Computing's HC3, a new hyperconverged infrastructure solution that combines compute, storage, virtualization, backup, and disaster recovery in a single appliance. HC3 uses Scale Computing's own KVM-based hypervisor, thereby positioning itself as a cost-effective, easy-to-use hyperconverged solution—qualities that perfectly match those of Parallels RAS.  
Version 16.5.3 will be supporting Scale Computing H3 as another VDI platform, further broadening its already extensive selection of supported VDI platforms, including Microsoft Hyper-V, Citrix Hypervisor (formerly known as XenServer), VMware ESXi, Nutanix Acropolis (AHV), and KVM. This new capability essentially allows Parallels RAS to spin up and manage virtual machines through Scale Computing HC3 API.  
New 
D
eveloper 
T
ools
Another noteworthy addition to Parallels RAS is its extended use of RAS session variables. Previously, RAS session variables could only be used with published applications. In 16.5.3, this capability has been extended to published desktops as well. Now, customers and partners who develop their own applications can have even more flexibility if they want these applications to perform tasks or query certain session variables (e.g. client IP, MAC address, model, version, and more) when users connect using the Parallels RAS client. 
Client-
S
ide 
S
ecurity 
E
nhancements
Although Parallels RAS is highly secure, virtual applications and desktops can still be compromised when users don't follow password–complexity guidelines. To help companies enforce these policies, the latest update includes some crucial client-side security enhancements in macOS®, iOS, and Android clients, such as:  
Displaying password requirements when a user is changing his/her password

 

Sending password expiration notifications

 

Enabling users to change their password as soon as they receive the notification

 
Windows Virtual Desktop (WVD) 
S
upport
Although WVD support is not yet included in this update, version 16.5.3 is paving the way toward Parallels RAS support for WVD in the very near future.  
Parallels RAS is set to extend and enrich the WVD platform so that customers and partners can apply the right delivery method to the right users and customers. In addition, Parallels RAS and WVD integration will enable organizations to: 
Unify their 

d

esktop and 

a

pplication delivery 

i

nfrastructure

.

 

Workloads both within and outside WVD can be managed and maintained via Parallels RAS

.

 

Improve IT management

.

 

Providing more functionality for IT admins through RAS Console

.

 

Managing and maintaining the entire infrastructure can be done from a single console

.

 

The same console will enable IT admins to easily perform infrastructure monitoring 

and

 reporting

.

 

Extend WVD 

c

apabilities (particularly in deployment scenarios)

.

 

Bring together WVD workloads 

(

such as 

Windows 10

 on Azure and extended Windows 7 

s

upport

)

 with workloads from other clouds, including multi-clouds or hybrid clouds. 

 

Accelerate 

c

loud 

m

igrations and 

a

doption

.

 

Through its ability to support 

p

rivate, 

h

ybrid, 

p

ublic, and 

m

ulti-clouds, Parallels RAS w

ill

 allow customers to combine the strengths of traditional deployments and WVD in order to accelerate cloud migrations and adoptions. 

 
New Features List
Here is a list of some knowledge base articles for the new features of Parallels RAS v16.5.3 
RAS Session Variables: http://kb.parallels.com/en/124632 
What are the supported VDI Providers?: https://kb.parallels.com/en/123600 
VDI Agent Installation Options: http://kb.parallels.com/en/124633 
Upgrading Parallels Remote Application Server to version 16.0 and higher: https://kb.parallels.com/en/124222 
Lifecycle announcement for Parallels Remote Application Server: https://kb.parallels.com/en/123002 
Parallels Remote Application Server version 16.5 Release Notes: https://kb.parallels.com/en/124473