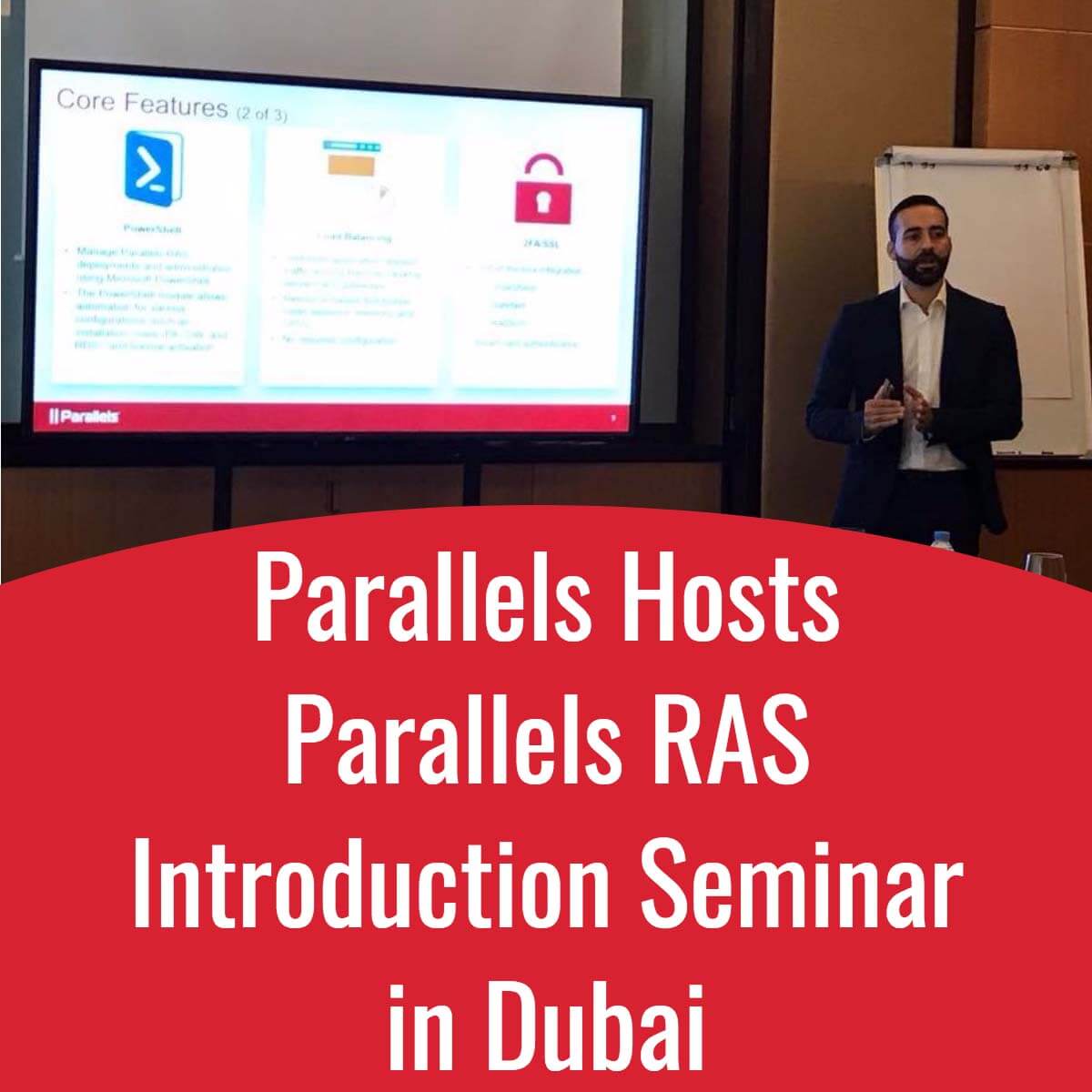 Parallels Hosts Parallels RAS Introduction Seminar in Dubai
Spusht Technologies – Parallels hosted a successful orientation seminar about the application and desktop delivery solution Parallels® Remote Application Server (RAS) to prospects in the Middle East. This event, which was organized in collaboration with Aptec and Spusht Technologies, was held on October 10 at the Conrad Dubai Hotel. It was organized as part of the lead-up to GITEX Technology Week.
After a brief introduction from Parallels, representatives from Spusht Technologies and Aptec detailed the advantages that Parallels RAS offers to businesses. Parallels sales engineer Christian Aquilina spoke directly about what makes Parallels RAS so competitive.
During his presentation, Aquilina spoke about the core features and functionality of Parallels RAS. Specifically, he discussed how the solution brings traditional desktops and software applications to mobile devices, how it can be used to extend printer and scanner functionality, and how it centralizes data onto the server system to safeguard against threats. Following this, the solution's deployment options were discussed.
Parallels RAS is noted for its flexibility and ease of use, and has a range of ways which it can be applied. It can be used to enhance Microsoft RDS and to improve the offerings of cloud systems like Microsoft Azure and Amazon Web Services™ (AWS). The flexibility of Parallels RAS also allows it to be deployed as part of a public, private, or hybrid cloud system. This lets IT administrators tailor the solution to meet their business standards and specifications. It also allows resellers and service providers to reach as wide an audience as possible, allowing them to attract customers with cost-effective application and desktop delivery that can meet all major IT infrastructures and configurations.
Interested customers can acquire the solution here.
About Spusht Technologies
Spusht Technologies is a company of IT service providers based out of Dubai. They enable customers from across all verticals to realize their full potential, using cutting-edge technology specified for their business needs.
About Aptec
Aptec is Ingram Micro's representative in the Middle East. They are a leading technology distributor who service a wide range of resellers, bringing them closer to the leading hardware, software, and communications providers of the world.