What Are Parallels RAS Client Policies?
Client policies are a set of rules defined by the administrator to manage, control and restrict the settings options available to users.
Enforcing client policies
Nowadays, users can access their application literally from any device. An employee can go from his office desktop to his home laptop and use his mobile device while traveling from one to another. This might require different client policies to secure and protect access to sensitive corporate data.
Parallels RAS client policies allow you to secure corporate data by enforcing policies based on a specific user, an Active Directory group, or even by the end user's device. Therefore, end users may find their control settings within the Parallels Client pre-defined by their administrator. These settings may include connection, printing, and network settings, just to mention a few.
This reduces IT administrators' effort to support the Parallels Client configurations, even for new employees. If a new employee has joined the company and is part of a particular Active Directory group, the client policies pre-configured for the group will automatically apply to the new employee, without any extra configurations from the IT administrator.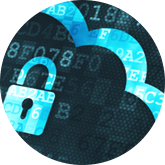 How to create Client Policies within Parallels RAS Console
A Client Policy controls which settings are available to configure on the user's Parallels Client interface. With the Client Policy, the IT administrator can also force settings within these group tabs. This allows IT administrators to easily manage and restrict the settings available to users on the Parallels Client connection to a Parallels® Remote Application Server (RAS) Farm.
The Parallels client policy settings are listed into the following categories
Connection —Primary Connection, Secondary Connection, Reconnection, Computer Name, and Advanced Settings
Display —Settings, Multi-Monitor, Published Applications, Desktop Options, and HTML5
Printing
Scanning
Audio Playback
Keyboard
Advanced —Session Advanced Settings
Experience —Performance and Compression
Network
Server Authentication
Local Devices & Resources —Clipboard, Disk drives, Devices, Ports, Smart cards, and File transfer
Client Options —Connection, Update, PC Keyboard, and Single Sign-On
Advanced —Global, Language, Printing, and Windows Client
Control settings —Connections, Password, Import, and Export
Redirection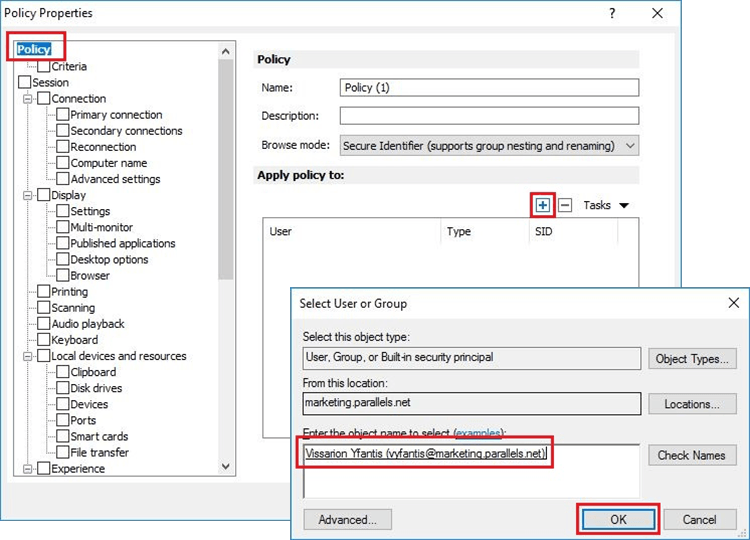 Configuring the Client Policy
By selecting a connection property in the Parallels RAS Console, the policy is enforced, and the settings selected will no longer be visible on the Parallels Client. For instance, an administrator can disable the printing option on the Parallels Client simply by clicking the printing checkbox in the Client Policy properties window.
Client Policy Granularity
IT administrators have the option to restrict either the whole property (such as Connection or Control settings property) or choose to allow subcategories. For example, you may want to restrict a certain user to have only one active connection through the Parallels Client; so can remove the Secondary Connection setting from the Connection property. Similarly, you can give access to a user to allow him to change his login password by enabling Password from the Control settings property.