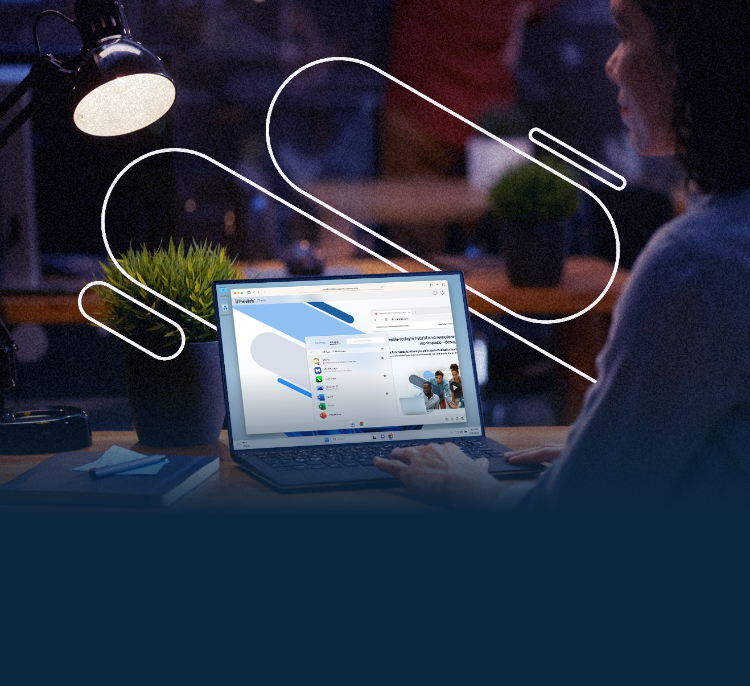 Citrix alternative: Benefit from a better virtual apps and desktops solution
Easily address on-premises, hybrid cloud, or multi-cloud needs.
Embedded secure remote access, load balancing, and user session network data—at no additional cost.
Concurrent licensing that includes 24/7 technical support.
Parallels RAS can address your virtual apps and desktops needs  
Provide secure virtualized apps and desktops to suit your needs today, with built-in adaptability for growth and change tomorrow.
Mix and match where your core components and workloads reside, with the flexibility to modify it as you see fit.
Parallels RAS
Citrix
Publish applications and/or desktops for users
Yes
Yes
Load balancing
Built-in
Additional (requires NetScaler)
Easy gateway setup and maintenance
Yes
No
(unless using cloud based DaaS)
Reporting storage
Unlimited
Limited
Single licensing model
Yes
No
Top reasons to switch to Parallels RAS
Reduce complexity
Simple to deploy, configure, and manage, helping businesses decrease IT complexity.
Management through a single administrative console
Free administrator training that can be completed in approximately three hours
Built in smart wizards and automation tools make complex administrative processes easy.
All-inclusive concurrent single licensing model
Single license model enables access to a full-featured set of capabilities. No need to purchase a premium license at a premium price for a single feature. 
Concurrent licensing includes a full range of enterprise-grade features:
Load balancing
On-premises, hybrid cloud, multi-cloud
Monitoring and reporting
Universal Printing
Remote PC
FIPS 140-2 encryption
24/7 customer support
Azure Virtual Desktop integration
Full Azure Virtual Desktop (AVD) integration that enables multi-user Windows 10 and Windows 11 workloads.
Straightforward and intuitive wizards that add and manage workloads, create personal or pooled host pools, build templates, and assign users to application groups.
"

With RAS we can do more with less. We can scale the company without the need to grow in IT management because RAS helps us automate and optimize that significantly.

"

Mark Gould, Chief Technology Officer, Spindlemedia
"

If you have users that require remote access to applications, it's a great alternative to requiring VPN and standard remote desktop applications.

"

Craig Cormier, IT Manager, Anderson Power Products
"

Parallels RAS really excels in its ease of installation and use compared to Citrix.

"

Ryan Snelson, Director Of Technical Services, IDT Support Solutions Ltd
"

The greater visibility in reporting gives Parallels a huge advantage over standard RDP solutions. [It] is easy to install and stores user details securely.

"

Rob Booth, IT Technical Support Engineer, Danbro
"

We use Parallels RAS to replace Citrix Servers and deliver a simple yet powerful tool to our end users for running published applications and accessing network resources.

"

Iain Stephen, Information Systems Manager, Manitoulin-Sudbury District Services Board
"

We are not networking/infrastructure providers ourselves and have limited experience with Azure. Using the Parallels RAS image from the Azure Marketplace we were able to quickly create and test the solution and implemented it for clients within 30 days.

"

David Beahan, Administrative Services Manager, CommPlus
Previous
Next
FSLogix Profile Container integration
Deploy and configure FSLogix directly from the Parallels RAS Console.
User session monitoring
A complete set of built-in performance metrics, including the "UX Evaluator" metric and other session details enable administrators to understand the user experience.
Automation and autoscaling
Automation via PowerShell cmdlets and REST APIs, and easily add servers and desktops to resource pools.
Benefits for end users and IT admins


Excellent mobile user experience (UX)
Enable access to virtual apps and desktops on ioS, Android, and ChromeOS devices. , including native mobile-device gestures.
Sample use case: Field engineer must update customer information within a Parallels RAS-hosted application.


Monitoring and reporting
Track, proactively plan, troubleshoot, and retain system data points that are critical for success. Explore real-time monitoring with hundreds of preconfigured reports.
Sample use case: Retain remote session activity data for security and compliance.

Universal printing and scanning
Print and scan from any device: desktop, thin client, iPad, iPhone, Android, or HTML5 browser. Universal Printing and Scanning is autoconfigured, without installing drivers on hosts or user devices.


High availability load balancing (HALB)
The auto-preconfigured and out-of-the-box load balancer delivers high performance across organizations, enabling HA (high availability) gateways and servers. An additional HALB appliance is available at no extra cost for load balancing high-number infrastructures of over 2000+ users.
Download a full-featured 30-day trial today!
Try Parallels RAS on your existing infrastructure or in the cloud with Microsoft Azure or Amazon Web Services. Explore why Parallels RAS is a great Citrix alternative for businesses of all sizes.
Download Trial