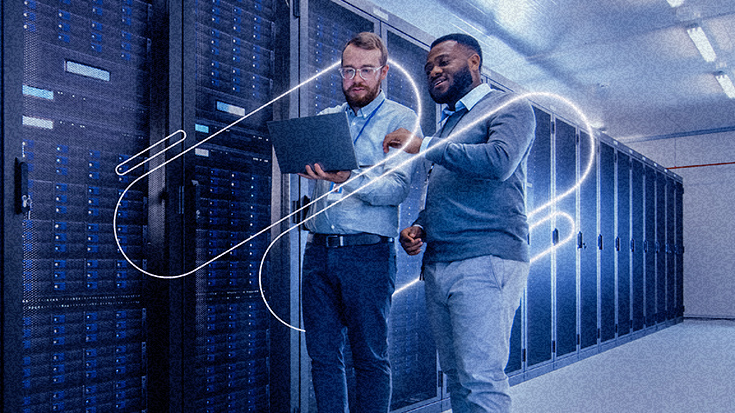 Why are DaaS solutions on the rise?
Desktops-as-a-service or DaaS is on the rise, which is no surprise given the benefits that DaaS solutions offer.
For instance, DaaS solutions like Parallels® RAS and Parallels Secure Workspace are highly scalable, easy to deploy and manage, and perhaps most importantly, they are often the more cost-effective choice.
What's more, DaaS solutions allow end users to work without boundaries, since they enable work from anywhere policies, allowing for secure remote access to key applications and desktops, and more.
The growing popularity of desktop-as-a-service
In fact, we recently surveyed leading IT professionals and found that 78% of respondents are planning to implement at least one DaaS solution by 2025, and 37% have already done so and plan to continue using it in the future.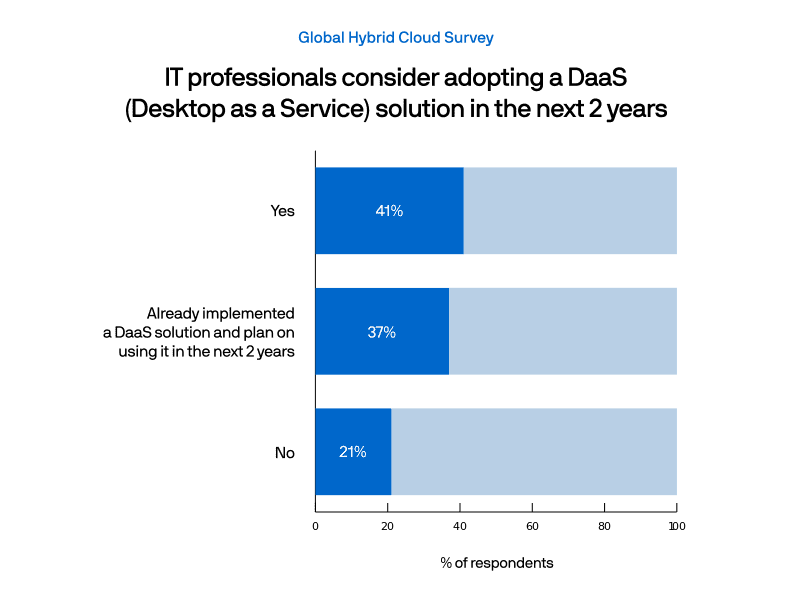 For mid-sized companies in particular, the potential significance of DaaS solutions is unmistakable. Nearly half (48%) of IT professionals working for these companies are planning to implement DaaS, and 39% have already taken steps to do so and plan to keep using it in the next two years.
Only 13% of respondents expressed disinterest in adopting DaaS solutions, underscoring the widespread appeal of this technology among mid-sized businesses.

Why are organizations turning to DaaS solutions, especially the hybrid cloud?
The ability to engage with Desktops as a Service or DaaS is one reason that organizations may adopt a hybrid cloud approach, and DaaS itself is growing in popularity.
For instance, 78% of respondents plan to use at least one DaaS solution in the next two years, and over one third (37%) have already implemented DaaS and plan to continue using it in the future.
What's more, 37% of current DaaS users plan to deploy it to all employees or team members, and 24% intend to offer it to employees in specific countries or regions only, often in cases where they lack local IT teams or in remote locations that require more support.
Another segment or group comprised of specific teams or users with high GPU or memory usage needs, or other unique IT requirements, account for the remaining percentage of DaaS users.
What are the benefits of DaaS?
DaaS specifically focuses on delivering virtual desktop environments to end-users over the internet. It's a service-oriented approach where the desktop environment, applications, and data are hosted and managed by a provider and accessed by users remotely.
It's highly scalable and cost-effective, enables organizations to adhere to strict security and compliance measures while providing secure remote access, allows for bring-your-device (BYOD) policies.
DaaS solutions are even cloud-friendly, allowing organizations to use the public cloud, stay on-premises, or take a hybrid approach.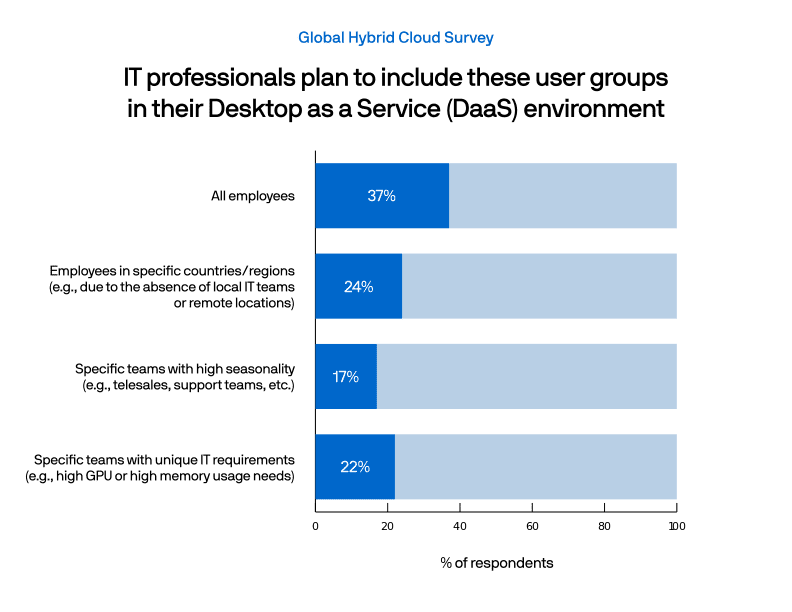 There are a variety of reasons; for instance, 51% of those surveyed report that they were driven by a desire for simplified IT infrastructure.  The versatility of DaaS is also a factor — 46% value the flexibility that DaaS offers (particularly larger companies — 53% of respondents at large organizations of 2000+ employees stated that flexibility was their most important reason for looking to DaaS solutions).
Finally, 39% are attracted to its potential for enhanced security.  That's not dissimilar to the breakdown for organizations seeking to adopt a hybrid cloud approach.
How DaaS bridges the skills gap
Furthermore, 33% stated that they don't believe they are getting maximum value from the hybrid cloud due to insufficient technical expertise in-house; DaaS solutions — especially those that emphasize simplicity and/or offer technical training and 24/7 support — may also help bridge this skills gap.
The work-from-anywhere or remote access capabilities also address the skills gap challenge — with fewer or no location restrictions, an organization's hiring pool expands.
Furthermore, companies that don't have the budget or inclination to hire in-house IT can enlist independent software vendors (ISVs) or managed service providers (MSPs) that offer DaaS solutions, or even manage DaaS software themselves since that is often less of a burden than a traditional IT set-up.
DaaS also enables on-demand hiring and scaling the workforce more easily based on seasonal needs or unique IT requirements. It can also be a way to provide access to teams in specific countries or remote locations.
Here's who currently uses DaaS solutions according to the IT admins we surveyed: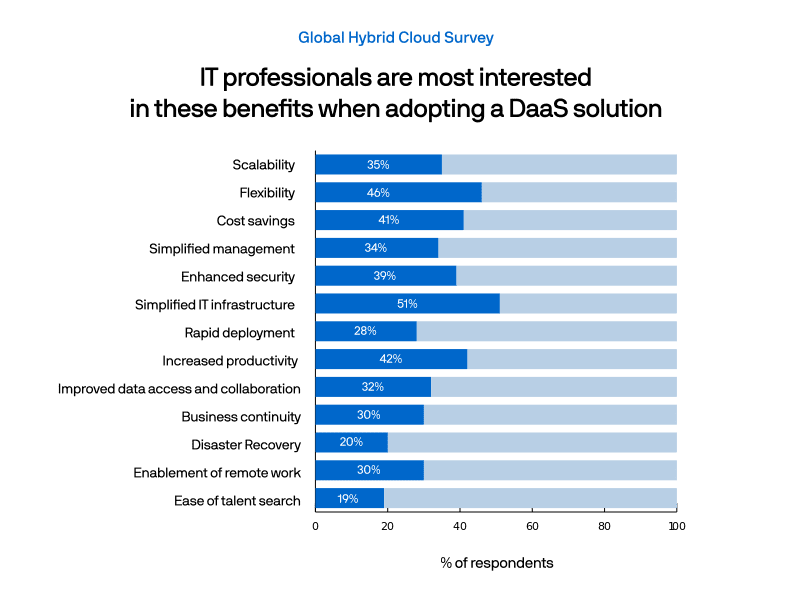 Interested in testing a DaaS solution at your organization? See what DaaS can do for you with a full-featured free trial of Parallels RAS or Parallels Secure Workspace.
Want all the details? Access the full survey report here.
If you're ready to try Parallels RAS yourself, get your free trial now!