Remote Desktop and its Benefits | Parallels RAS and VDI
What Is Remote Desktop?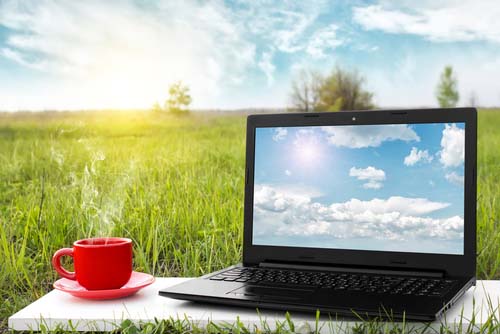 Remote desktop is a software solution that allows users to connect to their desktops across the internet from any PC, tablet, or smartphone. In business, it also means that employees can remotely access and control their corporate applications and files hosted in a desktop environment and to seamlessly control your desktop as though you were sitting directly in front of it.
If we look at the evolution and history of the remote solutions, it takes us back to the ages of Microsoft terminal services. There are many leading market players, such as Parallels® Remote Application Server (RAS), Citrix, VMware, and Microsoft, each offering their remote solutions—with different price tags and features that solve modern-day business use cases.
What can you gain with a remote desktop?
The most significant benefit is that remote desktop allows you to connect remotely to desktops and applications in a secured network from any PC or mobile device on the internet. By using remote solutions, an organization can host limited licensed applications and make them remotely accessible to a higher number of users, thereby cutting down on the cost of licensing. Remote solutions enable organizations to allow employees to work from home or even while traveling. This eventually increases productivity, with more work-life balance, and ensures business continuity.
With remote solutions, disaster recovery is also better, as all the computing processes and data saving happen on the remote machine. Only the graphical interface is rendered and displayed on the client device.
Instant and Effortless Implementation
Remote Desktop strategies can be implemented to accommodate critical or urgent situations such as an epidemic like COVID-19. When employees or customers can't access their IT infrastructure from the office due to lockdown or quarantine, you can allow them to access the workstations remotely. So, instead of experiencing a stressful work situation that can end up with huge losses, you turn it around and allow people to continue working with an excellent work-life balance. In addition, even after such a situation is over, you can still keep the remote work strategy for the future.
Are there any possible loopholes with a remote desktop strategy?
The drawbacks of adopting a remote desktop strategy are limited; however, they do exist. If not appropriately managed, such an approach can backfire quickly, as employees from diverse geographical regions might have difficulty communicating with their colleagues. Hence, productivity might take a beating, as those solutions depend on a decent network connection.
Remote working also involves transferring essential data over the internet so, and it might be susceptible to cyberattacks. However, as said earlier, the benefits of such a strategy far outweigh the drawbacks.
How is the Parallels RAS solution unique?
Parallels RAS provides both application and remote desktop delivery under a single license—and it's easy to manage. Whether you need to publish a legacy application or a complete desktop instance securely, Parallels RAS does it for you. Additionally, with its advanced HTML5 Client, Parallels RAS offers remote users the ability to work seamlessly on published applications and desktops with any HTML5 browser. Parallels RAS enhances Microsoft's RDS for your publishing needs and accommodates RemoteFX to ensure a superior end-user experience in graphics rendering tasks.
Try-out your 30-day trial of Parallels RAS and deploy a remote desktop strategy for your organization.
---
References