Application & Desktop Delivery for Banking & Finance
Parallels® Remote Application Server (RAS) empowers financial institutions with an all-inclusive and secure solution for application and desktop delivery. With Parallels RAS, financial organizations are able to provide their employees with seamless access to applications and desktops on any device. Parallels RAS reinforces data security, allowing finance and banking institutions to adhere to government regulations with enhanced security settings such as granular permission settings.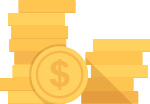 Parallels RAS helps banking and finance IT by:
Making Windows applications (Office, enterprise resource planning software, accounting, loan servicing, and others) available anywhere, on any device.
Boosting employee productivity by providing secure, on-demand access (that's compliant with GDPR, GLBA and PCI-DSS) to virtual workspaces and customer/financial data.
Extending the life of legacy applications and hardware without compromising digital transformation initiatives.
Access Banking & Finance Apps on Any Device
Parallels RAS provides employees with quick, easy and secure access to line of business (LOB) financial applications, desktops, and data on nearly any device or operating system.
Data Protection
Application and desktop delivery solutions can mitigate data security risks by allowing organizations to control access to the corporate data from a central location.
Parallels RAS supports robust authentication mechanisms, such as two-factor authentication, smart card authentication, and device and IP address granular filtering. These security protocols enable organizations to control who can access information, what information they are authorized to access, and from which locations.
Business Continuity
With Parallels RAS built-in servers and gateways resources-based load balancing, financial institutions can provide consistent, fast, and reliable access to published resources anytime. Parallels RAS is straightforward when building a high-availability environment, which can be accomplished without significant time or budget overhead.
BYOD and CYOD Options
Empower employees to bring your own device (BYOD) or choose your own device (CYOD). Parallels RAS delivers employees instant and secure access to LOB applications and data on any device, including iPad®, Mac®, Android, and more. With Parallels unique ApplificationTM technology, employees can use the native touch gestures of their mobile devices—such as swipe, drag, and tap to click or zoom—improving their productivity while on the go. Enable the use of Touch ID® and passcodes to further secure the access to your applications, desktops, and data.
Kiosk Mode Deployment
With Parallels RAS, IT administrators can use the kiosk mode to convert any Windows workstation into a pseudo thin client. Pseudo thin-client mode increases the control over employees' activities. It also allows IT to securely repurpose old hardware (such as machines running Windows XP and Windows 7), allowing any PC to work with any Windows application.

"As a financial institution, we are extremely sensitive to issues like data leaks from the perspective of protecting our customers' data. For those of us in the systems department responsible for the operational maintenance of the bank's systems, thin clients and Parallels RAS offer an attractive system configuration."
Yoshitaka Kokubu
Systems Department Manager, Centralized Business Division
Streamline Banking IT
Parallels RAS simplifies banking and finance IT operations with centralized management for applications, server-hosted desktops, and data. Administrators have the ability to install drivers, patches, and applications just once on the server farm, and every user can benefit from the update.
Easy Installation and Deployment
Parallels RAS facilitates the deployment and maintenance of virtual infrastructure by providing auto-configuration wizards and pre-tested templates to manage virtual applications and server-based desktops. This allows IT staff to spend less time on operational aspects and focus on more important projects.
Scalability
Instantly scale up or down your server farms to cater to business demands. Parallels RAS provides a reliable and easy-to-scale infrastructure that supports Microsoft RDS, Microsoft Hyper-V, Citrix XenServer, VMware EXSi, and hyperconverged solutions such Nutanix Acropolis, HP, and Kernel-based Virtual Machine (KVM).
Adhere to Compliance
Parallels RAS helps secure finance institutions' assets from data leakage and malicious activity with a highly granular access permission policy, combined with SSL encryption as well as two-factor and smart card authentication.