Is Awingu Really the Easiest Way to Deliver Virtual Applications and Desktops?
What 
I
s Awingu?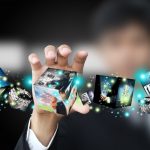 Awingu is a solution that aggregates applications (even legacy applications), desktops, and files hosted on servers and then delivers them to various devices, including PCs, laptops, tablets, and smartphones. It can be deployed on public cloud platforms like Amazon Web Services™ (AWS), Microsoft Azure, or Google Cloud, or on private clouds or on-premises datacenters.  
As novel as this might appear, Awingu isn't the only solution with these capabilities. Other products with very similar functionality include Parallels® Remote Application Server (RAS), VMWare Horizon, and Citrix Virtual Apps and Desktops. One major advantage over most of its competitors—especially those offered by big players like VMWare and Citrix—is its simplicity. 
Simplicity
:
 the key differentiator
Unlike the solutions offered by VMWare and Citrix that consist of several components, Awingu is a single solution. That means it's much faster and easier to deploy. Sure, it might have to connect with Active Directory, server-hosted applications, VDI hosts, and an RDMBS, but so do its VMWare and Citrix counterparts. 
Additionally, unlike many of its competitors, it doesn't require any installation on the client side. Awingu doesn't have a client application. All a user would need to access Awingu-delivered applications and desktops is an HTML5 browser, which exists in practically all modern operating systems, including Windows, macOS®, Linux, Android, and iOS. 
Why businesses might like it
These advantages are sure to attract businesses who value the total cost of ownership (TCO). The absence of various components (which eliminates a lot of deployment, administrative, and maintenance costs) translates to a much lower TCO. 
Its simplified approach also extends to its licensing. Awingu only has one license type, whereas its rivals from VMWare and Citrix come with multiple editions and license models, a complexity that's further aggravated by the fact that a single deployment consists of multiple components.  
It's not the only one
So does this mean Awingu is the recommended solution for application and desktop delivery if you're looking for easy deployment, maintenance, and administration? Not really. All this functionality—as well as simplicity—is not only found in Awingu. You can also get all these benefits from Parallels RAS.  
Like Awingu, Parallels RAS doesn't require you to purchase additional components. Everything is wrapped inside a single solution with a single license. It also comes with a zero-installation client that runs on any HTML5-ready browser.  
Testing out Parallels RAS is quite easy, too. Just grab a free 30-day trial and experience simple virtual application and desktop delivery.  
References:
David Overton | Citrix Essentials seems to be edging out the partners whilst Awingu is welcoming them 
Brian Madden | Citrix Cloud licensing is complicated, just like on-premises licensing 
EWeek: Newcomer Awingu Can Run Legacy Apps in Azure Cloud 
IBM | Awingu 
Basvankaam | Citrix licensing (and Microsoft) demystified? I need your help!