Provide Virtual Learning with Parallels RAS
Enable virtual learning and remote access to desktops and applications from any location, anytime.
Enhance security by centralizing, monitoring and restricting access to data on and off-campus.
Work or study from devices of choice, including tablets and mobiles.
Improve Your Virtual Learning
Infrastructure with Parallels RAS
Accessibility
Enable teachers and students to access educational resources in any format from any device.
Security
Provide staff and students with secure access to their applications and desktops from any location.
Mobility
Equip students with the digital tools for learning and schoolwork by letting them use any device on the go.
Case Studies
Learn why educational institutions have chosen Parallels RAS for application delivery and virtual desktop infrastructure (VDI).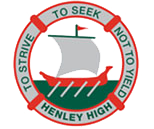 Based in southern Australia, Henley High School was looking to modernize its IT offering and provide faculty and staff with the ability to access applications remotely. When the school switched to Parallels RAS, they noticed immediate benefits to staff capabilities and IT budgets. The school was able to provide secure, easy-to-use application publishing to staff devices without the need for complex setups—the transition was simple and seamless.
Más información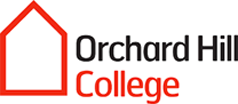 London-based Orchard Hill College encountered challenges when trying to implement remote access to their employees. The college explored Citrix-based virtualization options; however, it was too costly and complex to set up. By choosing Parallels RAS, the college saved staff time and costs by eliminating the need for expensive add-ons and outside technical consultation.
Más información


Cambridge Judge Business School (CJBS), a respected school in England, wanted to publish Windows desktops and applications remotely to the various devices of staff and students. By using Parallels RAS, CJBS significantly reduced the hours required by IT staff to set up and support students and teachers who needed to access learning material on their devices. They were highly impressed by the great mobile experience.
Más información


ESLA chose the award-winning virtualization solution Parallels RAS for two reasons. The first was because it was an inexpensive method for delivering education applications to students on tablets or small laptops. Secondly, it could deliver virtual desktops to teachers so they could work from home with ease. Parallels RAS provides ESLA with a powerful, comprehensive VDI solution at an affordable price. Students and staff enjoy more flexible virtual learning environments.
Más información

Rawls College needed to publish applications, including Microsoft Office Suite, to a wide range of devices. The institution also required a virtualization solution that supported cloud provider Amazon Web Services™ (AWS), as well as Dropbox for Business. Rawls College primarily decided to switch to Parallels RAS from Citrix because of its easy implementation and cost. Additionally, the Parallels RAS solution was more stable and user-friendly than Citrix for students, staff and faculty at the institution.
Más información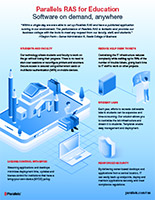 Infographic
Parallels RAS for Education
View the benefits of using Parallels RAS as an application delivery and VDI solution for the educational sector.
Centralize and Enhance Education IT
Parallels RAS centralizes the management of the IT infrastructure, making it
easier to secure and maintain.
Security features
Reduce the risk of data breaches by establishing secure protection with two-factor authentication, advanced filtering and customized policies. Staff and students can securely access Learning Management Systems (LMS) and other software from any device and location.
Simplify multi-campus environments
Streamline management of single or multi-campus IT infrastructures from one easy-to-use management console. Students can easily access the educational resources they need to continue their studies. By reducing the time and money necessary to deliver environments to one unified management console, institutions can lower their total cost of ownership (TCO).
Ensure continuous learning
Reduce the risk of downtime and interruptions while increasing resources with out-of-the-box load balancing technology. Virtual application and desktop delivery will be fast and user-friendly for staff and students—irrespective of where they're connecting from.
Virtual desktop automation
Create virtual desktops on the fly with PowerShell API, VDI templates and streamlined testing. IT staff can create linked clones to complete updates, which makes managing a large user group faster.
Flexibility, Scalability and Improved User Experience
Improve the educational process for students and faculty with a flexible IT infrastructure.
Flexible virtual labs
Deliver test environments from any hypervisor or RDS, with the flexibility to return them to their original state after students have completed them. Moreover, students can receive on-demand access to virtual labs from their personal devices.
Scale infrastructure up or down
Education IT infrastructures can be scaled up or down with auto-provisioning and auto-scaling capabilities. Parallels RAS can dynamically create, remove, release and load balance Windows Servers based on predefined criteria. Easily manage load spikes without any manual action from IT staff.
Single sign-on and AI-based session pre-launch
Single sign-on (SSO) facilitates faster login times by streamlining the management of user identities from different organizations without sharing the local identity database. By leveraging artificial intelligence (AI), Parallels RAS makes applications ready-to-use when needed, increasing efficiency. Staff and students do not have to wait for their desktops to load up in the mornings but can start working straight away.
Universal Printing
Ready out of the box and easy to use, Parallels RAS Universal Printing increases printing performance and response time when staff and students use local printers with server-based desktops or virtual applications. Print directly to printers without having to install local printer drivers.