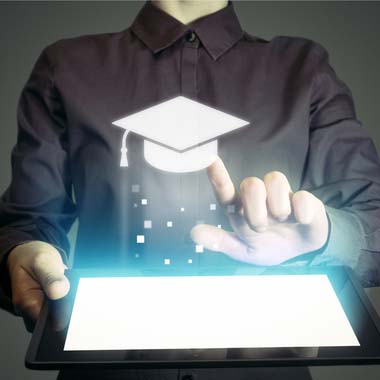 Education IT Solution Guide
This guide is intended for professionals who manage the IT infrastructure of schools, universities, and other educational organizations, especially education IT professionals who are interested in implementing an application and desktop delivery solution. The application delivery solution should be affordably priced, simplify network availability across multiple campuses, centrally and securely manage data and applications for staff and students, and empower incredible education experiences through any device.
The application and desktop delivery software solution should provide administrators robust control of everything that is occurring on any of the campuses' virtualization networks. Moreover, the solution must allow the students and staff to instantly access data, with a secure, seamless experience on any mobile device or desktop—regardless of their location.
Why Should Education Institutions Invest in an IT Solution?
Rather than focusing on the physical setup, modern campuses depend on connectivity and collaboration to create the most effective learning experience. A fully equipped application and desktop solution allow educational institutions to meet the challenges of modern education, such as working within limited IT budgets and ensuring the security of sensitive data. It also enables the implementation of mobile learning software to complement in-class learning through remote devices and virtual classes.
Below are some of the benefits realized by educational organizations that invest in a modern IT network and a fully functioning application and desktop delivery solution:
Save on Costs and Reduce Overhead
Virtualizing the IT infrastructure and implementing application delivery offers many benefits when it comes to lowering overhead and working within the budget. It allows education IT departments to make better use of available hardware resources so they won't have to replace or buy new hardware as often. Moreover, application delivery empowers students and teachers to access data and resources using their own devices, ultimately reducing infrastructure costs for the institution through a BYOD policy.
Furthermore, application and desktop delivery make troubleshooting easier and less resource-intensive through centralized desktops, applications, and data. For example, if a student's or teacher's virtual desktop has problems, IT staff can access their machine and fix the problem remotely without requiring physical access on the device, or reinstalling the operating system. Moreover, centralized application hosting means IT administrators only have to install and update software programs once. A top-quality application delivery solution provides fine-tuned tools for managing and accessing shared data.
Learning Continuity, Available Resources
Through the course of their education, students face several challenges. These challenges can result in educational expectations not being met, or the students under-performing academically.
Application delivery allows educational organizations to provide continuity of learning, regardless of geographic dependencies. It increases learning flexibility by enabling educators to offer students access to the personalized virtual desktop at any time, from anywhere.
Optimized Mobile Learning Experiences
Every student has individual expectations, interests, and attention spans. Virtualization allows education staff to tailor the resources for each student easily. It also allows them to prepare personalized labs for every student and communicate with the students on a one-to-one basis. Students will enjoy optimized learning experiences on any device they choose to use, even when graphically intensive running applications. It also promotes a collaborative learning environment where learners in locations can come together to discuss and learn topics that were covered in the classroom.
CYOD, BYOD and Out-of-the-Box Compatibility
One of the challenges in the educational sector is supporting the wide variety of devices and operating systems, the teaching staff and students choose to use. Through an application and desktop delivery solution, IT departments can take care of both BYOD and CYOD requirements without any problems. This means increased flexibility and an excellent choice for the students and staff. As a result, students and educators will enjoy a more optimized experience because they can use the device they like best. Moreover, due to out-of-the-box compatibility with today's most popular mobile devices, the IT department is not limited to buying expensive proprietary hardware for the staff. It can also support all the different mobile devices their students use.
Infrastructure Challenges
Here are a few of the most common IT infrastructure challenges that educational institutions often have to address.
Systems Administration Overhead
The IT infrastructure of an education organization tends to be very large and complex, mainly because it has to cater to thousands of curious and demanding students. Maintaining complex IT infrastructures is neither easy nor cheap. An army of systems administrators has to ensure the system remains up, keep every computer on the network running properly, and all the latest security patches to keep the infrastructure safe, among other tasks. All these tasks can be costly and difficult to maintain on the institution's far-too-often meager budget.
Security and Centralization
As in any other industry, institutions operating in the education industry store confidential information, such as exam papers and student grade reports. This data needs to be protected, so there are no breaches, and the information is not tampered with or infected during malicious attacks. In a traditional IT environment, sensitive data can easily make its way on the teachers' laptops, mobile devices, or departmental computers, which makes it more challenging to secure.
Inadequate education experiences
Many educational IT departments are running a patchwork of machines and various operating systems. This situation may leave students and educators feeling frustrated by their attempts to use learning applications or shared resources over various devices. Teachers and students expect educational apps and resources to be available on-demand, and they look toward the IT department to fulfill those expectations.
Recommended Virtualization IT Infrastructure Solution for Educational IT
Parallels Remote Application Server
Parallels Remote Application Server (RAS) is an industry-leading solution for virtual application and desktop delivery.  This cloud-ready product supports deployment through Microsoft Azure and Amazon Web Services. Parallels RAS offers an impressive, native-like mobile user experience across any device, including iOS, Android, and Chromebook. With Parallels RAS, students, teachers, and staff have the unified, instant access they need for an optimized learning experience and improved educational outcomes.
IT professionals at educational institutions prefer Parallels RAS because it allows them to build a virtual learning enviroment. Technical complexities are taken care of, and the IT staff can focus on delivering innovative educational experiences. Parallels RAS simplifies multi-campus environments into a single, easy-to-use management console. It also ensures continuous availability with powerful load-balancing and redundancy tools to keep the system up and running. Parallels RAS is the perfect solution for meeting the education industry's application and desktop delivery needs while keeping to the budget.
Why Should Education Organizations Adopt Parallels RAS?
Easy to Get Started
The educational technical team doesn't have to spend days planning the IT infrastructure or reading through a hefty stack of user manuals. The Parallels RAS allows the IT department to set up a private cloud and an application and virtual desktop delivery solution within moments through intuitive setup wizards.
Also, the process of getting students and staff members connected to the Parallels Farm is automated and effortless to achieve. Send them an automatically generated email from Parallels RAS, which includes the client application download instructions and an auto-configuration link. When clicking through the email, the client software is automatically configured.
It Is Easier to Use, Maintain and Scale-up
A Parallels RAS farm requires almost no ongoing administration after it's up and running. Moreover, in the case IT administrators do need to make changes, it's an extremely straightforward process. For example, if the IT department needs to add additional servers to increase resource availability, an IT administrator can add the new server to the farm through a wizard within a few minutes, without even physically accessing the server. Once the server is added to the farm and the right group, the built-in load balancer will automatically start allocating new connections to the new server, ensuring that all connections have adequate resources available.
Reduce Hardware Costs
The IT department can use the desktop replacement features in Parallels RAS to convert legacy desktop computers on the network into thin-client-like virtual machines that allow students and staff members alike to access the private cloud information.
The desktop replacement features require fewer resources than installing a new full-blown operating system. Therefore the IT department can prolong the life of old computers and reduce the capital expenditures that are typically spent each year on new hardware and software upgrades.
Centralize Data for Improved Security, Backup, and Data Management
Once an IT administrator sets up and centralizes all of the institutions' data in a secure and private cloud, they can control who has access to particular resources, at what time, and from which type of client device. Parallels RAS also has built-in reporting features that the IT staff can use to keep an audit trail of everything that is happening on the private cloud.
By centralizing all the data on the private cloud, IT staff also ensure that sensitive information is backed up and secure, in a single, fully-monitored point of access. Another advantage of storing data in the private cloud, and not having any data on end-user devices, is that the data won't be affected or lost in case of a lost or damaged device.
BYOD, CYOD and Improved Learning Experience
The Parallels Client can be installed on the most popular operating system and mobile devices such as iPhone, Android, iPad, and Chromebook. This means that students can use any device they like to connect to the school's network, while at the same time, the IT department is not restricted to expensive proprietary hardware purchases for the staff. The IT department can choose from a wider variety of hardware that costs less, thus reducing the budget costs. Students and staff have a comfortable, single point of access to every resource through any device, which improves teaching and learning experiences at the institution.
The IT department can also implement the clientless Parallels HTML5 Client, which allows users to access any of the published resources from anywhere and on any device that has an HTML5 compatible web browser such as Google Chrome, Mozilla Firefox or Microsoft Internet Explorer.
Quickly Deliver and Centrally Manage Line-of-Business Applications
Custom-made line-of-business applications often have high overhead costs and many operational shortcomings. With Parallels RAS, IT administrators can install line-of-business software in a virtual desktop instance on the private cloud. By doing so, the IT department can centrally manage and publish the software across a variety of end-user devices. Moreover, this allows teachers to have better teaching experience with the ability to access these applications on their mobile devices rather than from designated computers in the office.
Centralizing line-of-business applications also reduces maintenance; during upgrades, IT administrators only have to upgrade a single central installation, instead of manually upgrading every instance of the software on teachers' and students' computers. Central management allows IT staff to maintain control of the data and virtual desktops. It can also improve the students' and staff's technology experience by enabling IT staff to remotely access virtual desktops and troubleshoot technical issues from a remote location.
Recommended Implementation & Features for Businesses in the Education Industry
Centrally manage IT Infrastructure of Dispersed Campuses
IT administrators can install a Parallels RAS site in each campus building and manage all of them from a central management console. In a multisite environment, students and staff members are also allowed to access resources on sites to which they are not directly connected to, allowing better distribution of available resources and more control.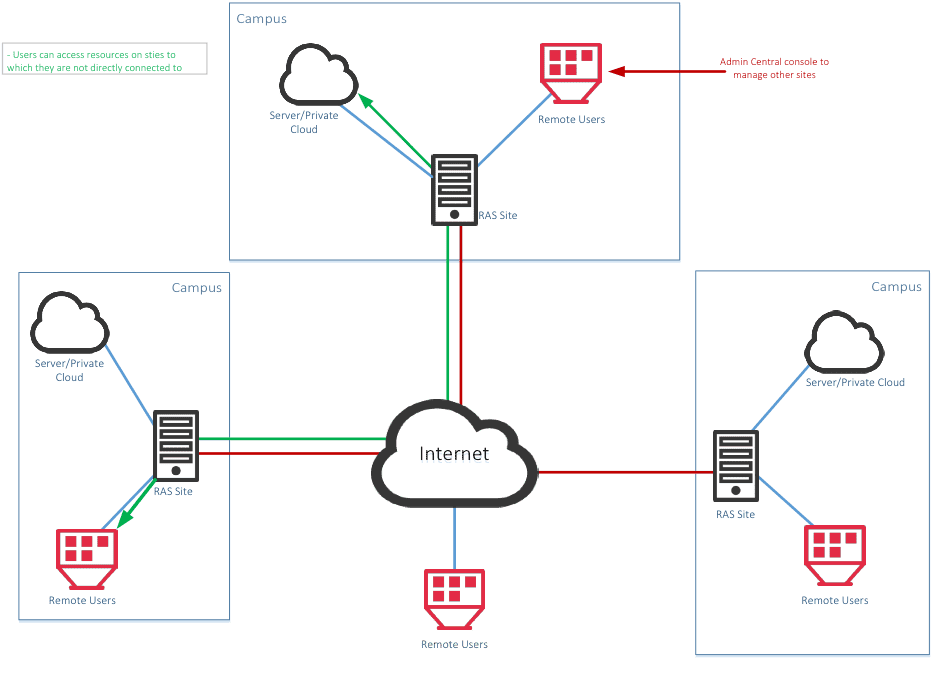 Delegate the Management of Farms
With Parallels RAS, IT executives can configure granular permissions for each network administrator. The IT executive can take advantage of permission settings and delegate administrative and maintenance tasks to subordinates, which will allow them to focus on the global IT infrastructure operations.
Reduce Hardware Requirements on Students
The IT department can also implement the clientless Parallels HTML5 Client to eliminate any compatibility issues, reduce the demand for expensive hardware upgrades and help-desk support. The HTML5 client allows users to access any of the published resources from anywhere, on any device that has an HTML5 compatible browser such as Google Chrome or Internet Explorer. Combined with other cross-platform capabilities, Parallels RAS' nearly limitless device options makes it easy for educational institutions to offload hardware on students by implementing BYOD policies.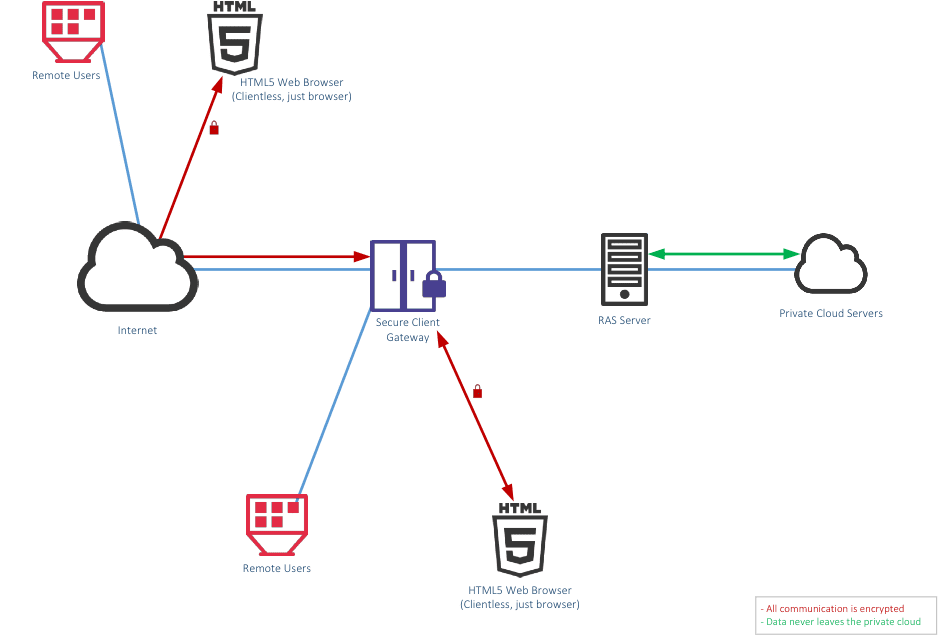 Use Desktop Templates and Allow Students to Experiment More
As part of their learning process, students like to experiment and break systems down into their components. However, allowing students to take such an approach can be costly in terms of security maintenance for organizations in the education industry, especially in computer labs. Furthermore, each time a student infects an operating system with malware from the internet or renders it unusable, the lab technician has to spend a few hours reinstalling the OS.
With virtualization, IT staff can provide students the freedom they need to experiment, without incurring any costs on the organization. Use the Parallels RAS Templates to generate virtual clones of guest machines on the fly. IT administrators can provide a new and fully working operating system to every student, whenever needed, within minutes.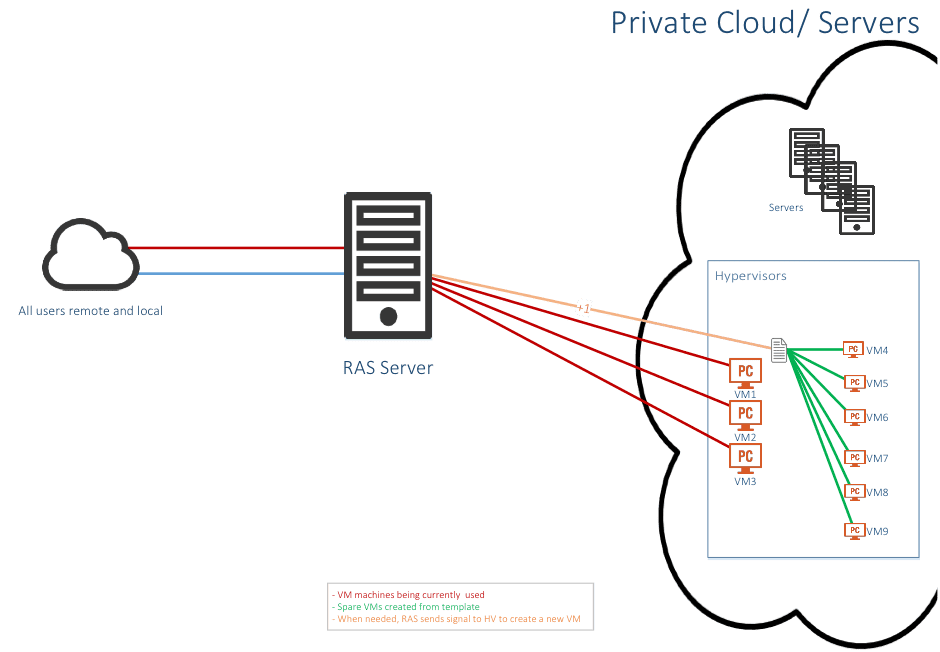 The beauty of RAS Templates is that the process can also be automated; IT administrators can configure Parallels RAS to automatically create and boot up the virtual machines in advance, so they are readily available when the students demand them.
All students and staff connections to the Parallels RAS farm can be encrypted, making the whole setup more secure from malicious users or man-in-the-middle attacks. When configuring Parallels RAS, make sure the IT administrator enables end-user connection encryption.
Finally, Parallels RAS can be integrated with a third-party server solution such as Safenet, Deepnet, or any other type of Radius authentication server. With such integration, IT administrators can implement two-factor authentication for a more robust authentication mechanism. And if that is not enough, Parallels RAS also supports smart card authentication for both Windows and Linux.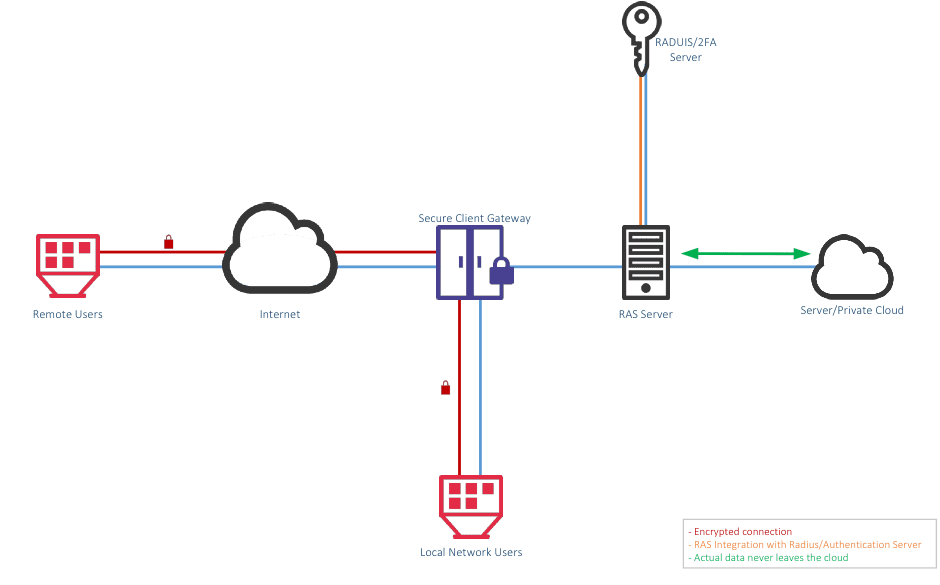 Try your 30-day trial of Parallels RAS and experience the change you can bring to your organization today!
---
References
Education Forum – http://education-forum.co.uk/education-it-forum/
Information week – http://www.informationweek.com/strategic-cio/it-strategy/education-it-hot-tech-trends-to-watch/a/d-id/1324237
MakeUseOf – http://www.makeuseof.com/tag/5-problems-education-technology-will-soon-solve/
eLearning Industry – https://elearningindustry.com/benefits-technology-integration-education-sphere
Computer Weekly – http://www.computerweekly.com/resources/IT-education-and-training