What's New in Parallels RAS 17
Version 17 improves UX by utilizing AI capabilities, extends security by adding a TOTP MFA log-in option, and further simplifies IT task management while leveraging RDS 2019 technology.
Extending MFA options with Google Authenticator
Parallels RAS 17 integrates with yet another popular multifactor authentication (MFA) mechanism, Google Authenticator, allowing organizations to add an extra layer of security without any additional cost.
To plan against the rapid increase of cyberattacks, businesses can leverage this highly secure time-based one-time password (TOTP) solution to protect data from identity theft. Read More.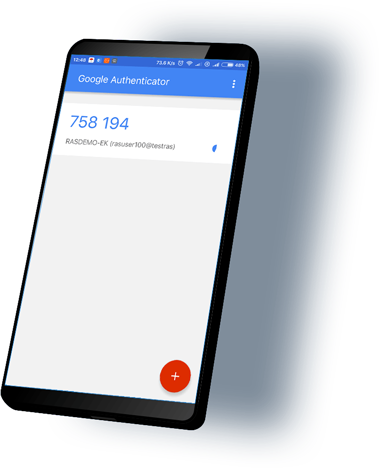 AI
-

based session
pre

-

launch for
ultra

-

fast login
Version 17 introduces artificial intelligence (AI) based session pre-launch technology, allowing users to access their virtual workspace instantly, increasing the user experience, and boosting efficiency and productivity.
Through Parallels machine learning (ML) capabilities, user login habits are analyzed and sessions are pre-launched in memory, significantly reducing login time while distributing the back-end workload to prevent log-on storms during peak hours. Read More.
Windows Server
2019 support
As the technology is rapidly evolving, Parallels RAS 17 leverages the advanced features and support that Microsoft Windows Server 2019 bring with it, including Remote Desktop Services (RDS).
Such improvements make IT management easier though simplified RD license management, a better user experience with enhanced and optimized video stream quality and lower bandwidth requirements, and the support of Microsoft Office 2019.
Parallels RAS components such as Publishing Agent, RAS Gateway, RD Session Hosts, and VDI hosts can be hosted on Microsoft Windows Server 2019. Parallels RAS can provision, scale, and maintain virtual desktop infrastructure (VDI) and Remote Desktop Session Host (RDSH) on Microsoft Hyper-V 2019.
Web-based console (Parallels RAS helpdesk tool)
Version 17 introduces a new web-based console to provide more flexibility for IT administrators. It allows admins to monitor the Parallels RAS infrastructure and perform management tasks such as:
View RAS Environment Servers and components and their status
Hosts' information and resource utilization
License usage information
User sessions management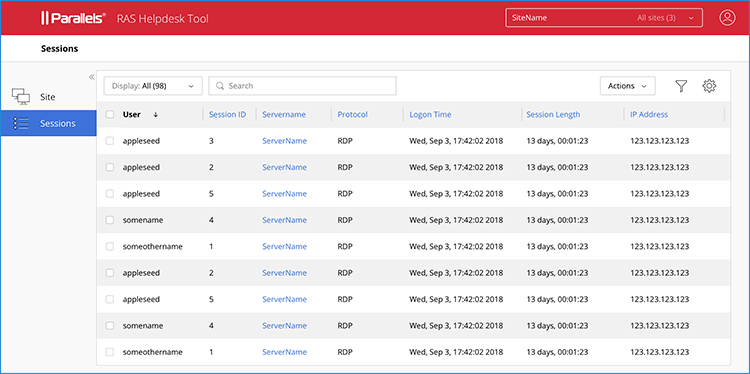 From this web-based console, helpdesk staff can troubleshoot any user session issues and assist users using the following tasks:
Disconnect the session
Logoff from the session
Message the user
View and manage running processes within the session
REST API
Parallels RAS 17 provides REST API allowing organizations to integrate with existing orchestration and management solutions.
Automate your service distribution through the Parallels RAS integration with REST API. Deploy, configure, and maintain Parallels RAS remote applications and desktops through a seamless automated interface.
Turn-key VDI solution with Scale Computing HC3 support
Parallels RAS supports Scale Computing's HC3, a new hyperconverged infrastructure solution that combines compute, storage, virtualization, backup, and disaster recovery in a single appliance. Read More.
HC3 uses Scale Computing's own KVM-based hypervisor, HyperCore Operating System (HCOS), positioning itself as a cost-effective, easy-to-use hyperconverged solution—qualities that perfectly match those of Parallels RAS.
This new capability essentially allows Parallels RAS to spin up and manage RAS VDI VMs through Scale Computing HC3 API, making VDI solutions faster, more affordable, and easier to use.
Structured management with granular administrator permissions
Version 17 provides more granular options, such as View, Modify, Add, and Delete permissions for IT administrators on specified RAS components such as:
RAS infrastructure servers
RDSH management
Session management
Client management
IT administrators can configure specific permissions to different administrators and delegate control of Parallels RAS objects, offering flexibility of management while keeping security high.
Parallels RAS Console server tools
Parallels RAS 17 enables instant access to a predefined set of management tools directly from the Parallels RAS Console, such as network utilities (Netstat/Telnet to and from hosts), Windows Service Management Console, reboot/shutdown actions, and much more.
In addition, custom tools can be configured and made available directly from the Parallels RAS Console to further facilitate day-to-day IT management.
Centralize, streamline, and speed up Parallels RAS farm server's maintenance using the Parallels RAS Console as a single point of management. Save time by performing remote actions quickly and centrally on several servers, reducing IT management overhead. Read More.
Enhanced HTML5 white-labelling capabilities
Parallels RAS 17 enhances the white label capabilities of the Parallels HTML5 Client and the Parallels Client for Windows. White-labelling capabilities allow for the personalization of multiple themes per site, accessible via short URLs which can be granularly customized based on customer requirements.
Such customizations include colors, logos, messages, language bars, and much more. In addition, administrators can add new items to the help menu on the Parallels Client for Windows, which can be assigned to custom commands. Read More.
Dynamic security permissions in VDI
Keep your VDI virtual machines secure by restricting access on them solely through the Parallels RAS Client.
Parallels RAS 17 introduces a security feature which dynamically grants and revokes remote access user permissions at Parallels RAS VDI log on and log off, preventing unwanted access to VDI VMs outside the use of the Parallels RAS Client.
New reporting and monitoring capabilities
Parallels RAS 17 introduces new reports related to application usage and tunneled gateway sessions. Moreover, the Parallels RAS monitoring engine supports multiple RAS Farms, RAS Sites, and different virtual RD Session Groups, centralizing the monitoring across multiple RAS deployments. In addition, administrators can create custom reports, improving day-to-day management activities.