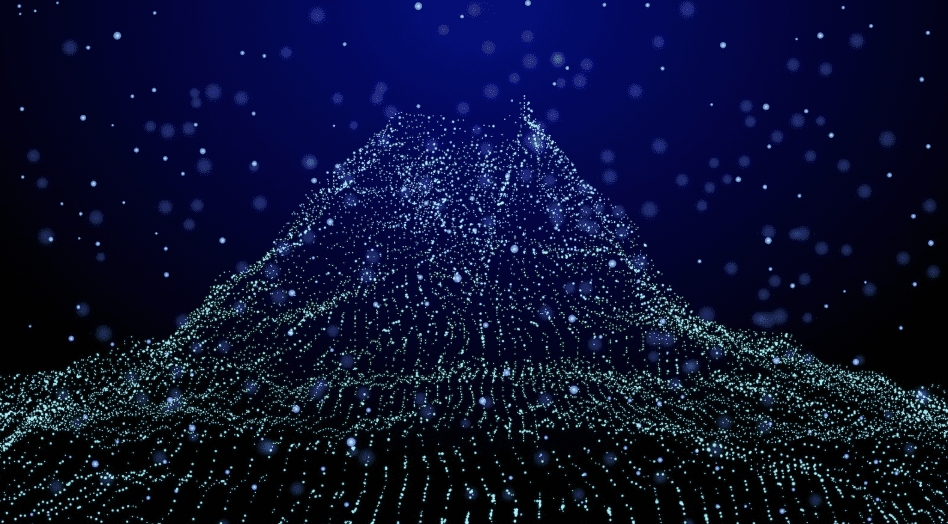 Parallels RAS 19.2: Enhanced Azure Virtual Desktop integration and more! 
Parallels is excited to announce the latest release, Parallels® RAS 19.2, which primarily focuses on Microsoft Azure Virtual Desktop workload integration.
Many organizations find that Azure Virtual Desktop offers some compelling features, but these same organizations require hybrid compatibility in order to remain flexible and agile. Parallels RAS bridges the gap, enabling virtual machine resource deployment to change as business and technical requirements change.
Organizations that integrate cloud solutions, such as Azure Virtual Desktop, need to manage cloud scalability, i.e., the ability to increase or decrease workload resources as needed to meet growth and constriction demands, to optimize their infrastructure.
For instance, general business users may have steady requirements for basic applications, whereas call centers need to adapt their workloads due to seasonal demands.  Parallels RAS enables IT administrators to address these varied workloads by offering multiple options, enabling a truly hybrid solution.  In this article, let's review the benefits of Parallels RAS and Azure Virtual Desktop integration, as well as new features now available in version 19.2.
How Azure Virtual Desktop functions with Parallels RAS
Parallels RAS enables simplified management and administration of virtual apps and desktops, and the integration with Azure Virtual Desktop is seamless. From the Parallels RAS Console, IT administrators can select Azure Virtual Desktop to host their workloads, taking advantage of the cloud benefits.   In the Parallels RAS Console, you can configure Azure Virtual Desktop to host workloads, as shown in the figure below.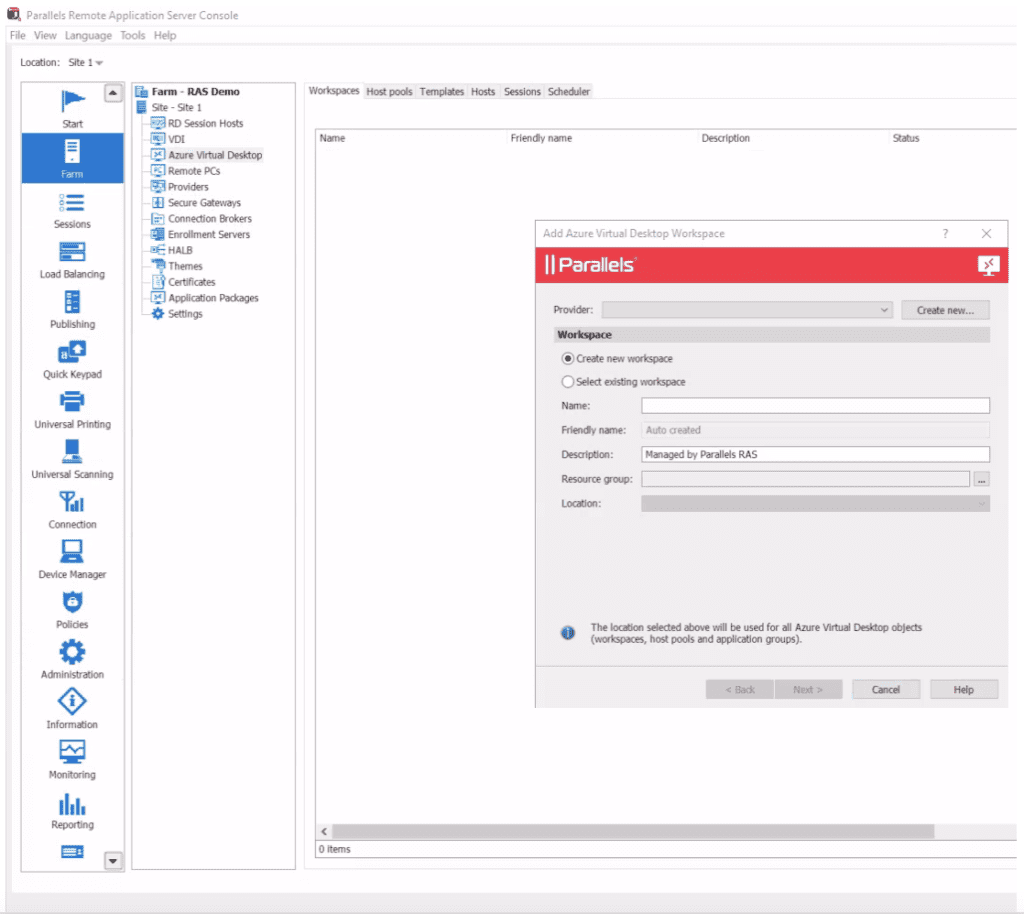 Add and configure Azure Virtual Desktop in the Parallels RAS Console.
Because all actions are performed in the Parallels RAS Console, IT admins are not required to have an in-depth understanding of Azure configuration.  In addition to the management advantages that this integration offers, Parallels RAS extends the capabilities of Azure Virtual Desktop workloads in a number of ways:
Hybrid.  Maximize flexibility with hybrid and multi-cloud deployments that make it possible to install workloads on-premises and via Azure Virtual Desktop.
Autoscale.  Built-in auto-scaling capabilities enable a quick response to seasonality or other changing demands.
User experience.  AI-based session pre-launch and universal printing and scanning address user needs.  In addition, IT can view and capture user experience data via Parallels RAS Reporting and Monitoring.
FSLogix.  During installation or as needed, easily address user profiles with FSLogix profile containers.
New Azure Virtual Desktop features in Parallels RAS 19.2
As part of Parallels RAS 19.2, the following new features further extend the functionality of Azure Virtual Desktop.  These features include:
Web Client support to access Azure Virtual Desktop
MSIX app attach support
RDP Shortpath support
Azure Storage cost optimization
Access Azure Virtual Desktop with Parallels Web Client
With the release of Parallels RAS 19.2, Azure Virtual Desktop workloads can be accessed from the Parallels HTML5 Web client, enabling universal access from non-Windows client devices.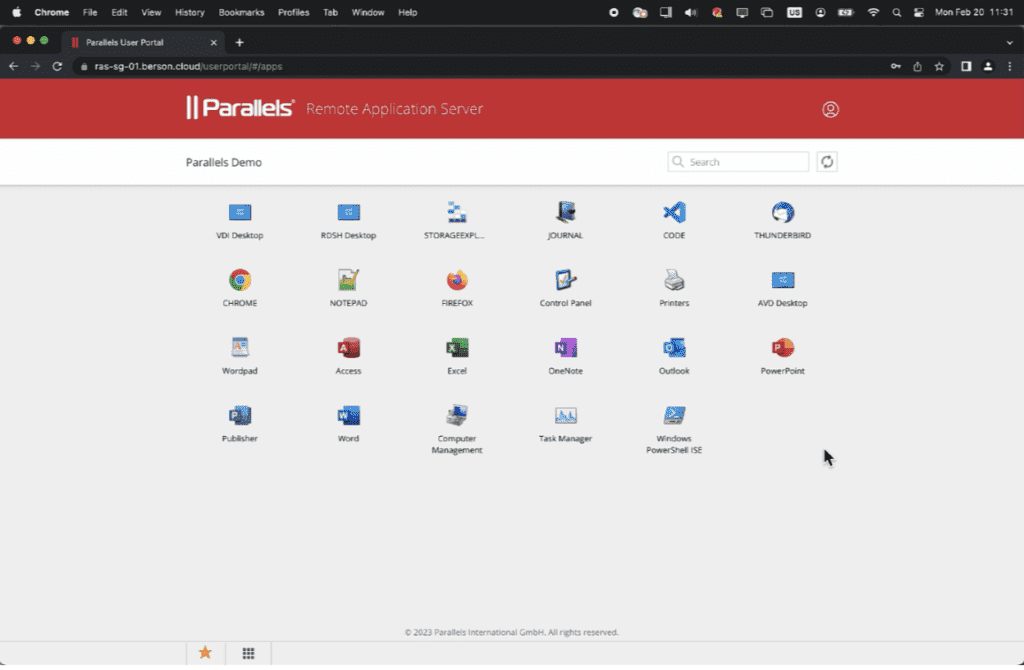 Use the Parallels Web Client to access Azure Virtual Desktop workloads.
MSIX app attach for Azure Virtual Desktop
Parallels RAS 19.2 extends the MSIX app attach integration, which enables administrators to dynamically add and remove apps without installing them on the desktop image or on the Parallels RAS template.   In addition to improving application lifecycle management, these packages can be reused in any on-premises, hybrid, or cloud scenario because Parallels RAS brings MSIX app attach technology to RD Session Hosts, VDI, and Azure Virtual Desktop.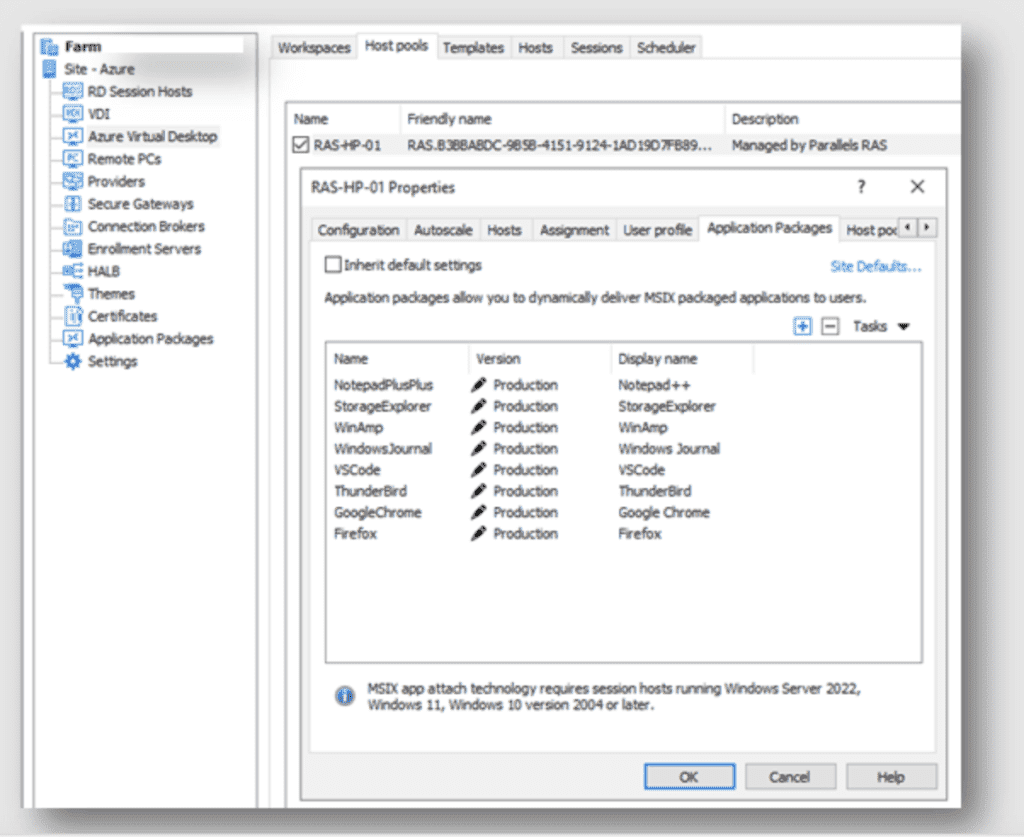 Application packages allow you to dynamically deliver MSIX packaged applications.
RDP Shortpath support for Azure Virtual Desktop
Especially for latency-sensitive workloads, RDP Shortpath establishes a direct UDP-base transport between the client and the session host, thus optimizing the user experience.  RDP Shortpath is easily configured within Parallels RAS policies.  Further, within the advanced configuration, port ranges may be designated.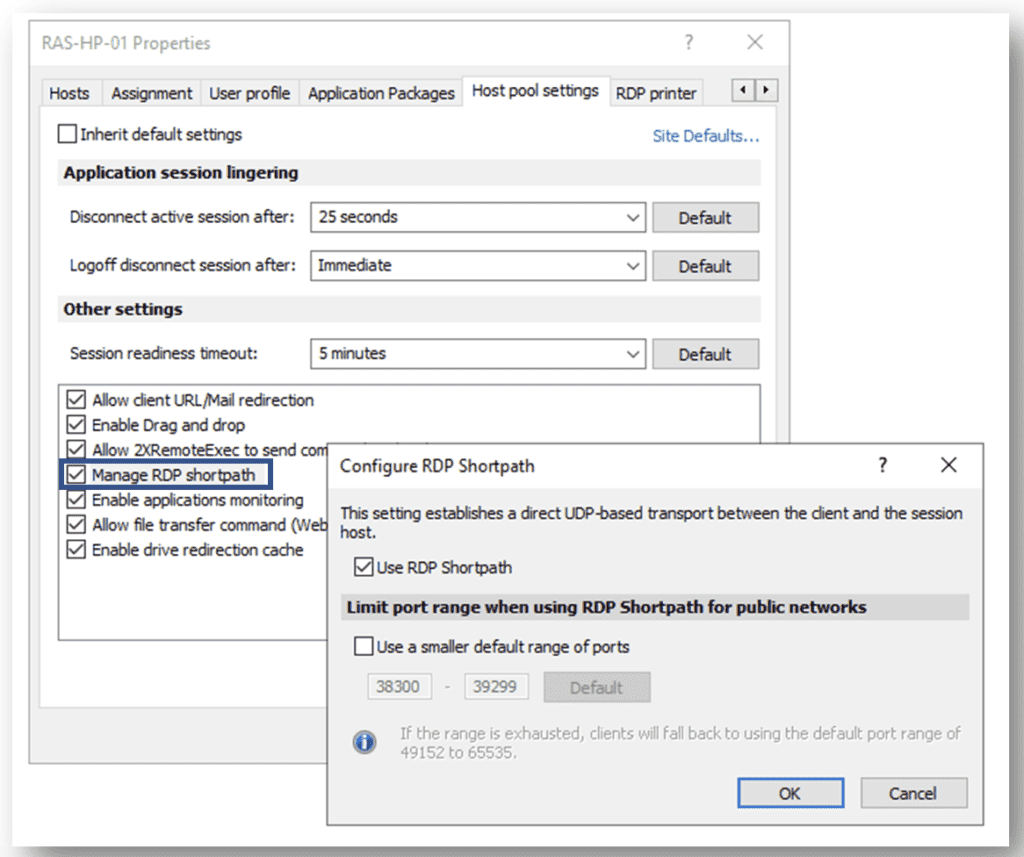 RDP Shortpath in Parallels RAS.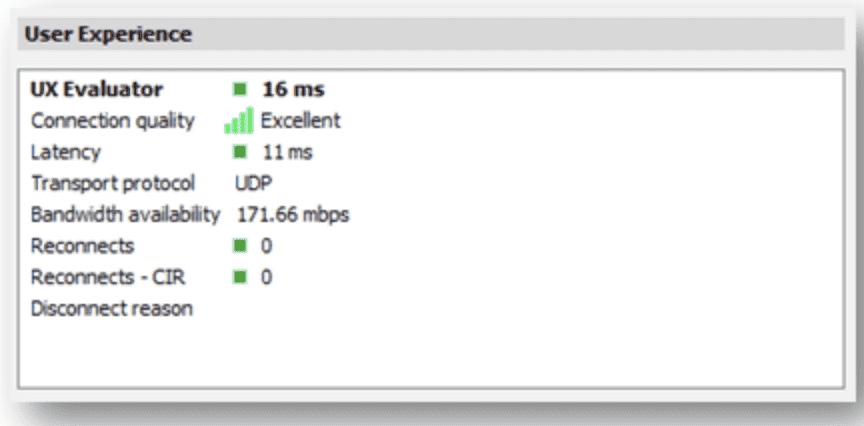 Transport protocol shows UDP, confirming that RDP Shortpath is enabled.
Cost optimization for Azure managed disk
Parallels RAS already includes an impressive list of cloud cost-saving features, such as autoscaling, power management, and automated image optimization. Parallels RAS 19.2 extends these capabilities to storage.  By changing the storage type automatically to the most cost-effective disk type for Azure Virtual Desktop VMs that are stopped, IT administrators can obtain the right balance between cost optimization and user experience.  Upon restart, the original storage option is automatically reverted.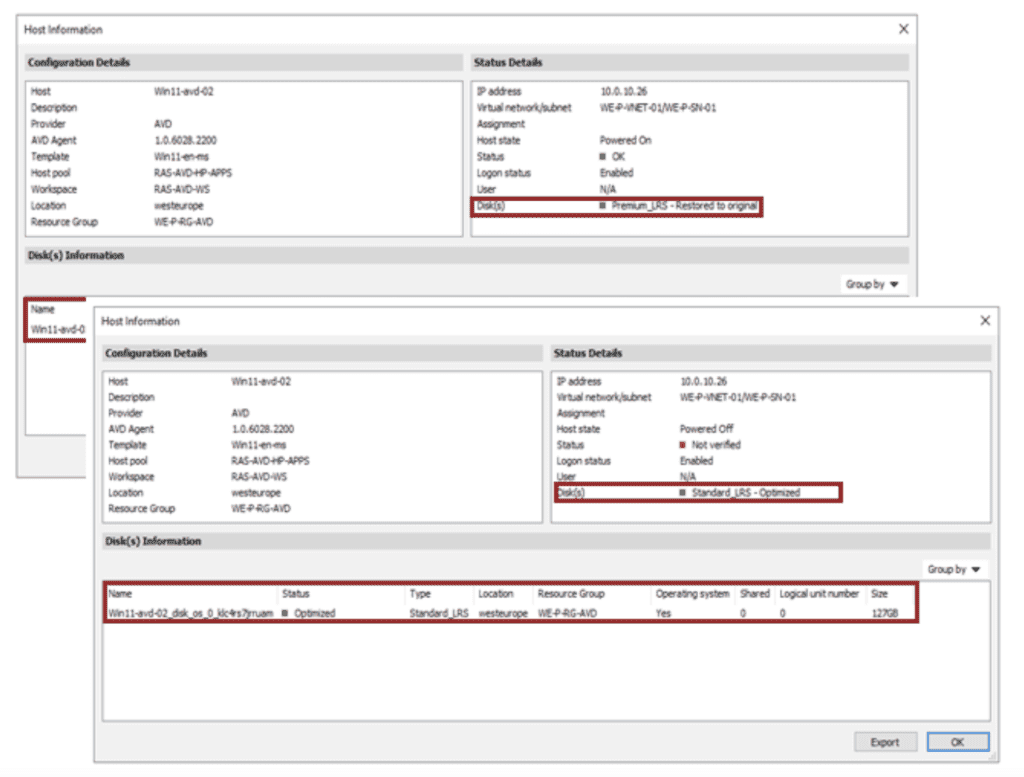 Check the Status Details and Disk Information areas to review disk status.
The best way to understand the benefits of the latest version of Parallels RAS and Azure Virtual Desktop is to try it.
Give it a try!