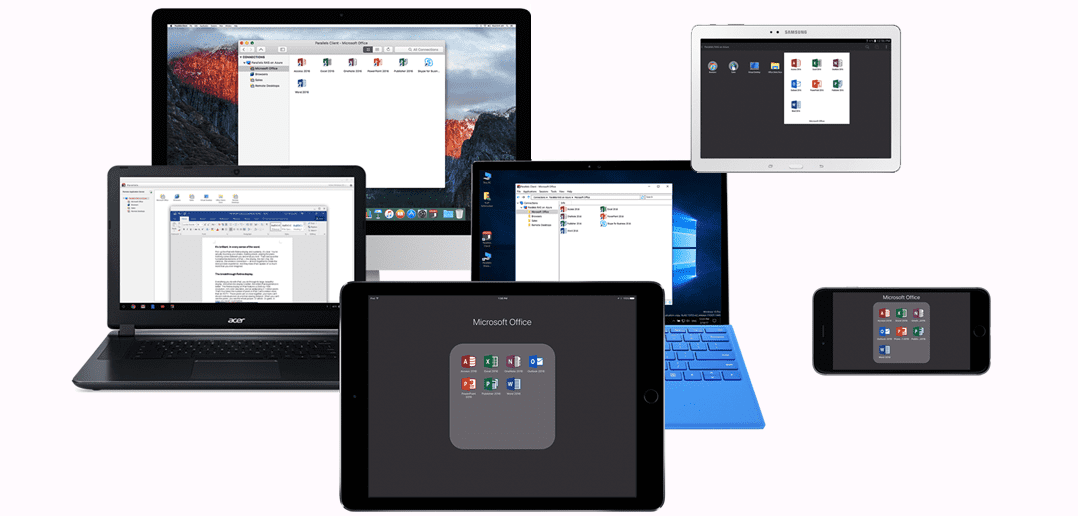 Parallels RAS on Microsoft Azure: Demos at MWC in Barcelona
---
At the recent Mobile World Congress in Barcelona, Parallels announced that Parallels Remote Application Server (RAS) supports Microsoft Azure. This blog post will show you this new support and what it now enables end users to do in Parallels RAS. A future post will discuss in some detail how IT admins configure Parallels RAS (and Azure) to provide this functionality to their end users.
For those of you unfamiliar with Parallels RAS, it is a solution for virtual application and desktop delivery. Parallels RAS is cloud ready and scalable, and supports deployment through Microsoft Azure and Amazon Web Services. Parallels RAS offers a native-like mobile experience on iOS and Android devices.
One of the main attributes of Parallels RAS is that it is usable on almost any device—Mac or Windows PC, iPad, iPhone, Android tablet and phone, the newer Surface tablet from Microsoft, Chromebook, and Raspberry PI device—as well any device with an HTML5 browser. (See Figure 1.)
On a tablet or phone, Parallels RAS gives the end user a natural user interface (UI) for published applications, thanks to Parallels unique ApplificationTM technology. By "natural user interface," I mean a user interface that looks like the apps are running directly on the device the user is holding. On an iPad, the Parallels RAS user sees the iOS interface elements and uses the familiar iOS touch gestures that are used with other iPad apps (Figure 2),
and it also uses an App Launcher design similar to that of the iPad (Figure 3).
On an Android tablet, the Android interface elements and familiar gestures are used in Parallels RAS (Figure 4).
Video 1 shows Parallels RAS on an iPad Pro being used to access Office 2016 for Windows in an Azure virtual machine. The guest OS in the Azure VM is Windows Server 2016 Datacenter. Even though Word 2016 is running in Windows Server, the UI presented to the user is the union of the iPad UI and the Windows Server UI, and this union of UIs gives the user the feeling that Word is running natively on the iPad.
Video 1: Using Microsoft Office on Azure via Parallels RAS:
Video 2 shows Parallels RAS on an iPad Pro being used to access a variety of different web browsers in an Azure VM running Windows Server 2016 Datacenter. This capability is especially useful if your job requires website construction or testing. Just point the browsers at your website's staging server.
Video 2: Using different browsers on Azure via Parallels RAS:
Video 3 shows Parallels RAS on an iPad Pro being used to access a Windows Server 2016 desktop. When the IT admin makes this option available, the user has almost all the abilities they would have if they were sitting in front of the actual server. "Almost all?" you ask? The user cannot shut down the server, since other users may also be connected.
Video 3: Virtual Windows Server desktop on Azure via Parallels RAS:
It's easy for you (or your IT admin) to experience a free trial of the Parallels Remote Application Server. Start here.
What is your experience with Parallels RAS on Azure? Share your opinion with us in a comment, or reach out to us on Facebook or Twitter.