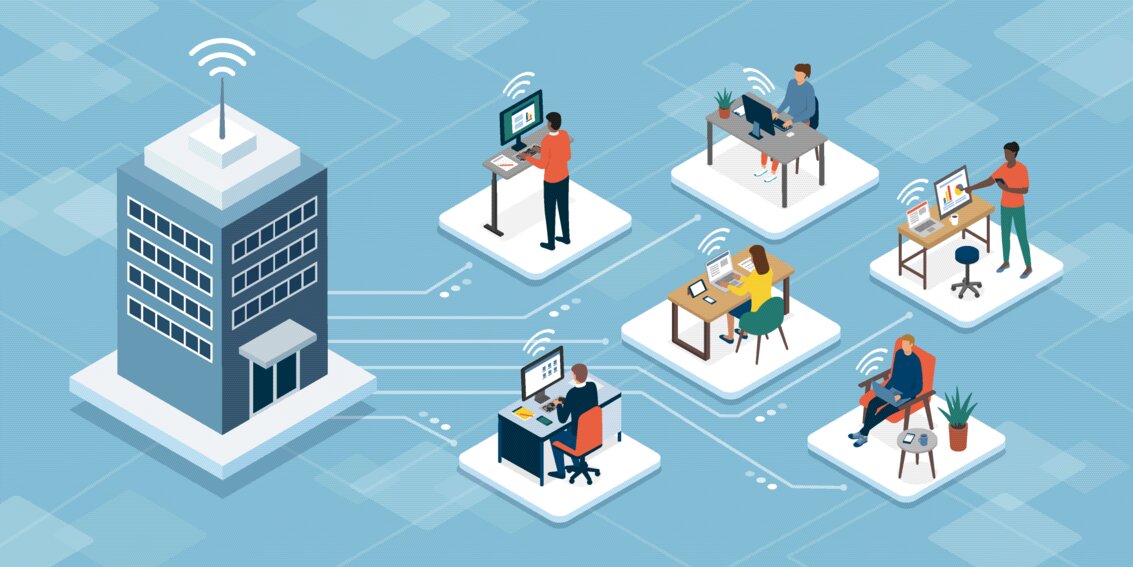 7 Steps to Take When Bringing Remote Workers Back to the Office
When the COVID-19 pandemic struck, many organizations adopted remote work policies as a way to keep operations running without risking the spread of illness due to people working side-by-side in enclosed offices. While remote working has worked exceptionally well for some organizations, others may have business models that just don't fit well with long-term remote work.
As vaccines are distributed, infection rates start to drop and lockdown measures ease, many companies are now wondering what plans they should make to bring remote workers back to the office.
It's not as simple as just reopening your doors and carrying on with business as usual. After months spent working from home, many workers have seen the benefits of more flexible schedules and environments. They may be reluctant to return to the office if the environment doesn't provide the same comfort and flexibility they've become accustomed to.
Here are seven key steps to take when bringing remote employees back to the office.
1. Ensure Communication Is Clear and Comprehensive
Clear communication about your return-to-the-office plan for each employee is crucial to ensure people feel safe and comfortable doing so.
For example, will remote work be an option for employees moving forward? If so, can they decide their own schedules, or will you allow them to work remotely only on set days? Are there certain meetings/events that employees must always be in the office for? All this needs to be decided, clearly documented and communicated to staff in a timely manner.
An effective communication strategy should also address the following:
What safety policies (e.g., social distancing requirements, mask distribution, office-space capacity limits) you're creating and enforcing to protect employees.
What exposure response protocols you'll implement for any affected worker or customer.
How your company plans to communicate important yet ever-changing information, such as recommended safety protections, return-to-work timetables and new developments (like an outbreak that forces you to send staff home again), so all employees are always informed and up to date.
It's always a good idea to solicit employee feedback as you go along. Conduct anonymous surveys, and gather feedback in team and individual meetings to see where you can improve. Adjust your policies accordingly.
2. Create and Enforce High Safety Standards
According to a recent Pew Research Center survey, more than half of employees working from home during the COVID-19 pandemic say that, given a choice, they'd like to continue working remotely even after it ends. And most aren't interested in returning until they feel safe doing so: 64% say they're uncomfortable about returning to work while the pandemic is ongoing.
These findings reinforce the need to ensure high safety standards at your workplace(s) before remote workers feel fully comfortable returning—especially if you want to bring people back before the pandemic is fully over. Even after the pandemic has ended, it's safe to assume that many employees may still be wary of gathering in enclosed spaces for quite some time. Below are a few safety measures you can implement, both now and in the future:
Health screening procedures. Decide whether you want to do things such as conduct mandatory temperature checks, swab tests for COVID-19, and health questionnaires before employees are granted office access to minimize the risk of transmission while the pandemic is still ongoing.
Mask mandates. Decide whether you want (or need to) create and enforce a policy around mask wearing. Note that this may be dependent on the country, state or county your office(s) is in, and you should always follow federal and local laws and/or ordinances.
Social distancing measures. Establish effective physical distancing measures, such as spacing workstations at least six feet apart and implementing one-way traffic patterns in offices. You can also introduce staggered employee shifts and/or rotating weeks to ensure the office remains below a certain capacity to allow for greater distancing and exposure.
Restricting physical interactions. Take steps to limit the number of workers or customers in certain areas, especially those where people tend to gather, such as kitchens or common areas.
Exposure response plans. Design a proper exposure-response plan that includes stay-at-home requirements for infected and exposed employees, containment and contact tracing measures, and how to communicate with affected employees about proper protocol for quarantining and eventually returning to the office.
3. Ease the Transition
Bringing remote workers back to the office too quickly can be overwhelming and potentially lead to protocol mistakes by employers.
Plan carefully and opt for a more gradual approach so you can identify what works and what needs to be updated. Here are a few things to consider:
A phased approach. Going from 100% remote work to 100% in-office work is abrupt. Ideally, it's a good idea to implement the transition back to the office in phases. For example, you might start by having employees come in two days a week for a month, then three days a week the next month, etc., gradually building up to the desired number of days you want people working in the office.
A plan for those who are unwilling/unable to return. You must create policies to address remote employees who don't want to return to the office for fear of getting sick, those with family obligations who can't return to full-time, in-office work and those under quarantine due to exposure to COVID-19.
A plan for workers in high-risk categories for infection. Employers must also create plans that address the concerns of workers and workers whose family members fall in high-risk categories, such as those who have underlying health conditions. For example, you might offer these employees enhanced protection measures, such as isolated workstations and additional personal protective equipment (PPE), require fewer in-office days, or even allow them to work indefinitely from home until they feel safe returning.
4. Help Employees Feel Comfortable
Not every remote employee has had the luxury of a dedicated home office. However, many of those who have been working from home for months on end may have added elements to make their workspace more comfortable. Many have invested in noise-canceling headphones or a comfortable office chair.
Working from home has also allowed employees to have more control over their environment and how their day is structured. Some can take breaks for snacks, lunch, exercise or even short naps when they want if their schedule is flexible. A return to a more rigid environment that doesn't allow for these same comforts could dissuade employees from wanting to go back to the office.
Consider improving and enhancing office surroundings to make employees feel more comfortable. Examples of things you might implement include:
Purchasing more ergonomic office furniture.
Swapping out fluorescent lights for more natural lighting.
Providing noise-canceling headphones.
Revamping office decor to make the space more comfortable and inviting.
Creating "silent zones" where noise is prohibited to allow employees to focus when needed.
Creating dedicated spaces where employees can relax, recharge or even take short naps.
5. Reduce Office Distractions
Office distractions can negatively impact employee morale and, by extension, productivity. A new survey by Udemy shows that 34% of employees felt that office distraction is a morale killer and can potentially impact productivity. To compensate for these interruptions, most people work faster. And according to a UC Irvine study, an uptick in pace comes at a price: greater frustration, increased stress levels and nearly twice as many employee errors.
To help reduce unnecessary distractions and allow for improved focus, consider the following:
Create policies on office celebrations such as birthdays, anniversaries, etc. Clarify which events are optional, and specify where such gatherings should take place to avoid disturbing employees who cannot or do not wish to attend.
Set guidelines on appropriate noise levels. You cannot expect employees to work in utter silence. However, you can do things like ask staff to use headphones when playing music or audio on their computers and minimize talk outside of common areas, such as kitchens and communal gathering areas, so that employees working at their desks have a quieter environment.
Consider implementing "no meeting" days. Having one full day per week with no meetings can help allow employees to work uninterrupted on tasks that may require particularly intense focus.
6. Ensure Your Return to the Office Policy Is Flexible
A hybrid work approach may make more sense than bringing everyone back to the office full time. This means you'll need to review your current in-office policies and update them to reflect whatever new hybrid working practices you decide to implement. For example:
Allow for a bring-your-own-device (BYOD) policy, where employees can work on whatever device they want, provided they can access all necessary tools on it to complete their jobs effectively.
Allow staff to determine their own working hours, provided they are still working the same number of hours per week as everyone else and attend all necessary meetings.
Allow people to determine for themselves when they need to take a full sick day versus deciding to work from home instead. For example, a mild cold may not bother some employees enough to take an entire day off; they may just want to work from home for a couple days to avoid infecting others.
Specify what meetings and/or events require mandatory, in-office attendance and what gatherings don't.
Ensure you have a shared calendar system in place so everyone can view each other's schedules, a dedicated form of instant messaging (IM) or chat for easy communication and a dedicated video-conferencing platform for hosting virtual meetings.
7. Focus on Team Building
One benefit of having employees in the office is the deeper connections they can create by interacting in person. This can lead to greater happiness, trust and camaraderie, all of which can foster greater innovation and productivity while keeping turnover rates low. Studies show that employees who work in groups innovate faster by seeing mistakes more quickly and solving them promptly.
When you bring employees back to the office, emphasize activities that focus on team building to help reignite the bonds between staff. A few examples include:
Schedule socially distanced team coffee or lunch breaks. You can order food or beverages for everyone and serve it in a nearby park or outdoor space, or walk to a nearby café so long it has outdoor seating that allows social distancing. In addition to helping foster in-person communication, these breaks can also provide a nice change of scenery to help employees recharge.
Plan virtual games and activities. There are many online games and team-building activities you can schedule for teams to participate in, including virtual escape rooms and online multi-player games. Giving employees something fun and different to do will encourage them to work together and can help foster better working relationships.
Hold in-person events. Once it's safe to do so, schedule regular team lunches, happy hours and activities such as bowling, miniature golf or even volunteer opportunities. This is a great way for coworkers to reconnect while engaging in something fun that has nothing to do with work. To that end, try to schedule these events during regular office hours (e.g., on a Friday afternoon) so you're not asking staff to use their free time to attend.
How Parallels RAS Can Help You Transition Employees Back to the Office
Transitioning from remote to office work isn't likely to be an easy process. Even after the COVID-19 crisis is over, it's unlikely that most workplaces will simply return to pre-pandemic norms.
Instead, you'll likely need to create a type of hybrid working model where you can bring back employees to the office gradually, allowing some to continue working remotely while others with required on-premises jobs come into the office every day.
Regardless of what your back-to-the-office plan looks like, Parallels® Remote Application Server (RAS) can support your business. As a one-stop desktop virtualization solution, Parallels RAS facilitates secure, anywhere, anytime access to remote desktops and applications on any device or OS. This allows employees to transition easily from remote to in-office work (and vice versa) so they can work productively regardless of where they're located.
Even if an employee loses an endpoint device or the device is compromised, company resources always remain within your datacenter, so all information is fully protected. Parallels RAS also employs robust security protocols such as smart-card authentication, multi-factor authentication (MFA) and advanced filtering to further secure corporate resources.
Most importantly, Parallels RAS is cost-effective and scalable. You can manage and scale up or down the entire IT infrastructure via a single console with ease, allowing you to adjust and adapt to any situation.
Learn how Parallels RAS can help you transition employees back to the office by watching a free demo today!