Cloud Services For Small Businesses And How To Enable It
Cloud services for small businesses – While cloud computing has been aggressively embraced by medium- and large-scale enterprises, small businesses have been slower to outsource their IT networks, due to budget constraints and lack of technical resources.
How do you enable cloud services for small businesses?
The advent of cloud computing technology has revolutionized business procedures. Businesses have moved away from an asset-purchasing approach and turned toward service-based solutions. Statista, an online statistics portal, reported that the global cloud market was worth $56.24 billion in 2014 and is expected to reach $128.3 by 2019. In the small business segment, the cloud market reportedly earned revenue of $36.8 billion in 2015 and is expected to earn $51.8 billion in 2018. However, the total worth of cloud services for small business markets is expected to reach $158.3 billion by 2019. Forbes reported that 37% of small businesses had fully adopted the cloud in 2015, but this number is expected to reach 78% by 2020.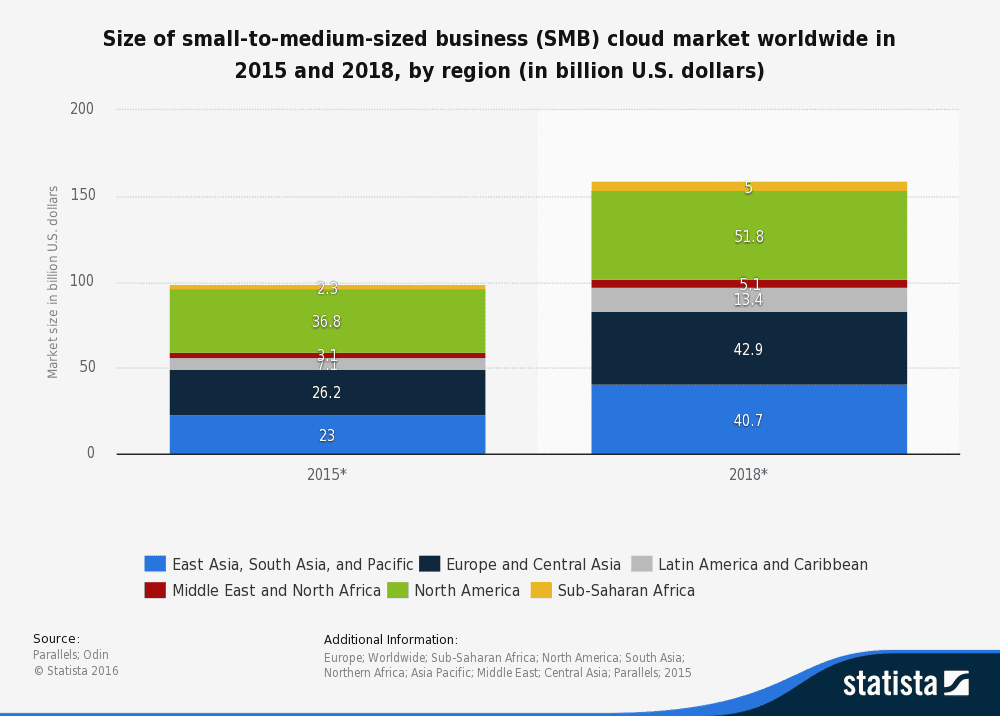 Benefits of cloud services for small businesses
Regardless of the size of the business, the cloud can deliver amazing benefits. For example, the cloud offers significant cost savings to small businesses if implemented efficiently. Furthermore, by using virtualization technology, businesses can optimize server, storage, and network hardware while deriving the best performance from the infrastructure. As a result, capacity, power, and IT requirements are significantly reduced. With cloud technology, small businesses can achieve more for less. In addition, maintenance and upgrade tasks are handled by the cloud provider, which further reduces IT management costs.
Moreover, the cloud platform combined with a virtualization solution enables small businesses to centrally host resources and make them available to remote devices. The centralized management of resources not only simplifies management for the IT department, but also empowers employees as office desks become accessible from mobile devices. Employees can access company resources from any location and any device, which means productivity is significantly increased. The cloud enables small-business employees to use any device regardless of the platform and OS in a "bring-your-own-device" (BYOD) environment. Cloud services also facilitate greater collaboration between all departments as files are easily shared between everyone.
Finally, the cloud brings greater flexibility to small business networks. As there are minimal upfront costs, small businesses can easily set up the cloud network and pay only for the services used. The mass-scale computing power allows businesses to easily add or remove devices on the go, and new technologies can be easily integrated.
Challenges with cloud adoption
While virtualization technology brings amazing benefits to small businesses, it comes with certain challenges as well. To enable cloud services, most organizations require a powerful virtualization solution. However, virtualization tools such as VMware and Citrix can be too expensive and complex for small businesses to implement. In truth, these virtualization solutions are actually a suite of tools. To set up the complete VDI environment, IT professionals have to install and configure multiple components. Small businesses don't often have the required technical expertise to configure and manage these tools nor do they have the budgets to purchase them. With Citrix and VMware, the cost savings offered by the cloud are nullified by the expensive virtualization software packages.
Why Parallels RAS is the best choice for small businesses in the cloud
Parallels Remote Application Server (RAS) is a comprehensive virtualization solution that is designed to provide cloud services for small businesses as well as enterprises. The solution offers all virtualization features in a single package, making it easy to implement and manage. Parallels RAS is easy to deploy and use. A simple installation wizard guides IT administrators through the setup process without requiring highly specialized technical expertise. In fact, the installation can be completed in less than an hour. In addition, features such as load balancing and printer redirection come auto-configured by default. Moreover, Parallels RAS is affordable for all IT budgets no matter the size. While Parallels RAS provides all features of Citrix and VMware, it costs just one-third the price of the other leading virtualization solutions.
Another benefit of Parallels RAS is that it supports a range of devices, including non-conventional platforms such as Chromebook. Small businesses can purchase inexpensive thin clients and quickly set up a VDI-based, thin-client environment. As Parallels RAS offers a universal HTML5 client, IT professionals don't have to worry about the platform or operating system of the end-user device.
Want to try Parallels RAS right now? Download a free trial by clicking this link. 
---
References
Cloud services for small businesses: Roundup Of Small & Medium Business Cloud Computing Forecasts And Market Estimates, 2015 | forbes.com
http://www.forbes.com/sites/louiscolumbus/2015/05/04/roundup-of-small-medium-business-cloud-computing-forecasts-and-market-estimates-2015/#1d13c5d31646
Cloud services for small businesses: Size of small-to-medium-sized business (SMB) cloud market worldwide in 2015 and 2018, by region (in billion U.S. dollars) | statista.com
https://www.statista.com/statistics/495557/smb-global-cloud-market-by-region/
Cloud services for small businesses: 4 Reasons Small Businesses Should Migrate to the Cloud | entrepreneur.com
https://www.entrepreneur.com/article/245784
Cloud services for small businesses: Has SMB Cloud Adoption Reached A Tipping Point? | ipswitch.com
https://www.ipswitch.com/blog/smb-cloud-adoption-reached-tipping-point/
Cloud services for small businesses: More Benefits to Using Cloud Services for Your Small Business | smallbiztrends.com
https://smallbiztrends.com/2016/10/benefits-to-using-cloud-services.html