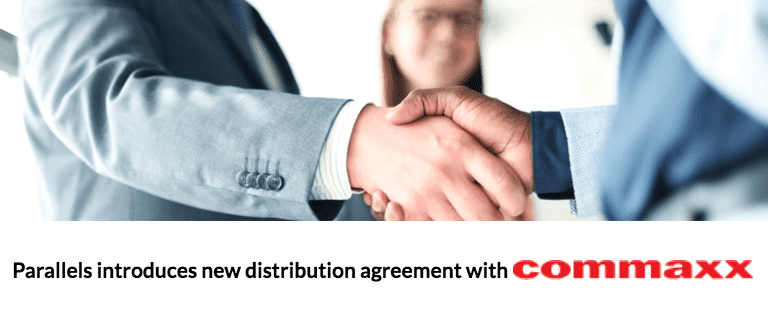 Parallels Announces New Distribution Agreement for Nordic Market with Leading IT Products and Service Provider Commaxx
Parallels introduces new distribution agreement with Commaxx.
Parallels, a global leader in cross-platform solutions, is excited to announce a distribution agreement with Commaxx for Northern European countries including Denmark, Norway, Sweden and Finland.
Under this partnership agreement, Commaxx (about) will offer the comprehensive virtualization solution Parallels® Remote Application Server (RAS) to its customers, which include IT resellers, managed service providers (MSPs), independent software vendors (ISVs) and system integrators.
Parallels RAS is an all-in-one, cost-effective application delivery and virtual desktop infrastructure (VDI) solution that allows employees to access applications and data from any device, anytime.
Straightforward Management – Easy to deploy, configure and maintain, Parallels RAS streamlines the management of Microsoft RDSH and VDI.

 

Security – Parallels RAS increases data security by preventing unauthorized access based on multifactor authentication (MFA), granular filtering rules and configurable client policies.

 

Seamless UX – Parallels RAS  provides a high-performing, intuitive and productive user experience on any device, including HTML5 browsers, iOS and Android. 

 

Technology Agility – Parallels RAS supports on-premises, hybrid and cloud deployments on Microsoft Azure and Amazon Web Services™ (AWS), as well as hyperconverged solutions. 

 

Easy Migration – Migration from  Citrix Virtual Apps (formerly Citrix XenApp)/Citrix Virtual Apps and Desktop (formerly Citrix XenDesktop) is smooth, fast and interruption-free for employees. 

 

An affordable alternative to Citrix Virtual Apps (formerly Citrix XenApp)/Citrix Virtual Apps and Desktop (formerly Citrix XenDesktop), thousands of organizations have already switched to Parallels RAS, saving up to 60% in licensing and operational costs.
The Commaxx team is enthusiastic about the deal. They look forward to providing their customers with this innovative solution to meet the growing demand for application delivery at an affordable price.
"The comprehensive solution of Parallels RAS will enable Commaxx channel partners to provide seamless remote access to desktops and applications, no matter what device their customers are on," said Maurice van den Berg, Parallels sales director for the region. "We respect the sincerity of Commaxx's dedication to their partners and customers, and we're proud to have our products represented by their brand. We look forward to helping their many business partners reach their financial and infrastructural goals in the most efficient manner possible."
About Commaxx
Commaxx is a value-adding IT distributor that offers technology-leading products and services to provide partners and vendors competitiveness and profitability. Established in 1992, Commaxx has gained unique expertise in solutions for access, virtualization and infrastructure, which makes it a highly technical-oriented business. Examples of hardware and software vendors that Commaxx distributes include Citrix, Dell EMC/Wyse, Microsoft and Veeam, as well as Ivanti, WatchGuard, Igel and now Parallels. Read more.
About Parallels
Parallels is a world-leading provider of cross-platform and virtualization solutions, trusted by thousands of businesses worldwide across many verticals and industries. Parallels offers solutions for application and desktop delivery, Mac® management, and ways for devices to achieve multi-platform elements. All Parallels products are tested to the highest security standards and designed to help businesses offer a deeply personalized solution to their customers. Read more.