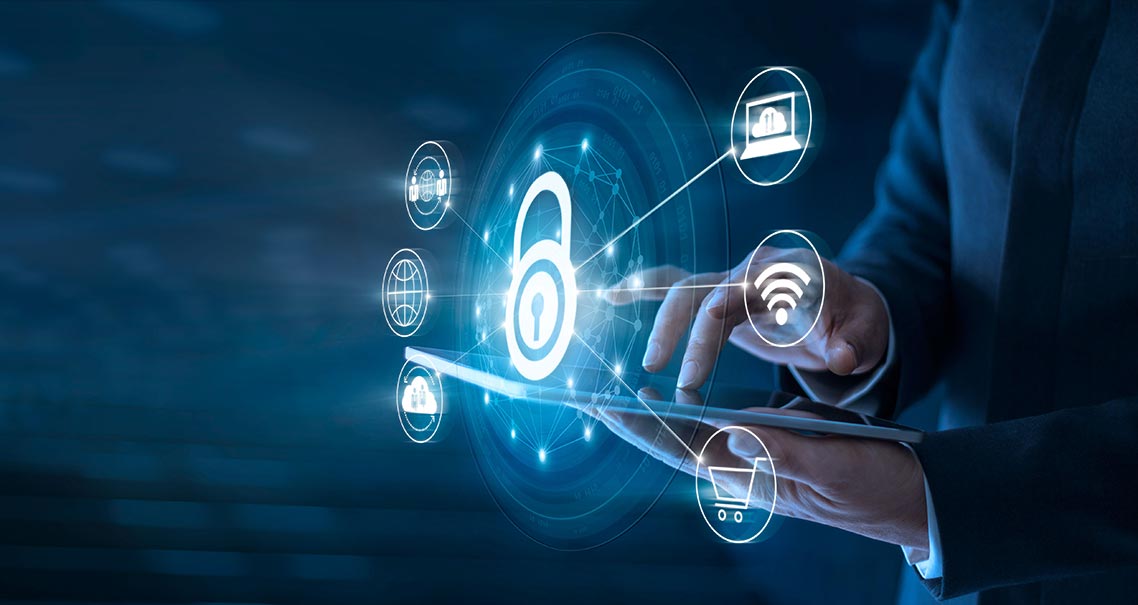 Data Security Matters For Everyone
Data over the Internet and Data Capturing
Browsers, smartphones, and applications have filled our private and professional life; a person has roughly 3,500 pieces of information captured by the Web per week and stored somewhere in the cloud. Internet giants such as Google and Facebook have business models underlined by the use of personal data, but most people would have trouble knowing who exactly has access to the data trail they are generating across the Internet.
Looking at the Internet from a different perspective, we can compare it to a highway with traffic moving fast from one direction to another. On the side of this motorway, you see any kinds of vehicles passing: SUVs with elegant fume glass to maintain privacy, young drivers in a convertible listening to the radio, trucks moving heavy containers, and a few armored cars. It is definitely easier to get your data sniffed if you do not use any protection, like our young drivers, but whatever you drive, someone can always force you to stop and have a look inside. Therefore, it is very clear that data security matters for everyone, for any business of any size.
What is Cybersecurity?
The tactics, methods, and practices that secure computers, devices, networks, apps, programs, and data (especially sensitive data) against hostile assaults and illegal access are referred to as cybersecurity. The hackers behind these attacks want to profit from the data they collect and the systems they control at the expense of their victims.
Data Security vs. Data Privacy
The main distinction is that data privacy is concerned with keeping information private, whereas data security is concerned with preventing dangerous activities. For example, while encryption may be adequate to preserve privacy, it may not be sufficient to secure data. Attackers might still wreak harm by destroying or double-encrypting data to prevent authorized parties from accessing it.
GovSec Security Conference
The U.S., the country with the highest military and security budget on the planet, has dedicated an important effort to identifying Internet threats and reducing their impact. In Washington, security matters; since 2009, GovSec has allowed the American government to identify the best technologies available to protect the country.
GovSec continues the mission of servicing the needs of government decisions from the military, federal civilian agencies and departments, state and local emergency response officials, and law enforcement on the federal, state, and local levels. It will continue to focus on critical infrastructure and secured cities, cybercrime and cyber terrorism, counter and anti-terrorism, and homeland security.
The Govies Government Security Awards were created to acknowledge the efforts of the IT industry in data protection. Generating solutions capable of reducing data risks, they support the American government to maintain high-security standards. The products distinguished in each category receive the award every year around April. Parallels RAS has won this award multiple times, most recently in 2022 for Cloud Computing and Services.
IT security concerns
Data security concerns begin with the transit of information through the Internet. Theoretically, without any connection to the World Wide Web, like in the '50s, we would remove 99% of the risks, but history never goes back; it always moves forward.  Nowadays, we cannot imagine any activity without interaction with the network. To further increase data security complexity, we need to consider the new services offered in the cloud.
Public cloud computing
Cloud computing has filled many headlines in the last years, particularly the public cloud that is capable of any kind of service from SaaS to IaaS. Many companies rely on public cloud services such as the solutions offered by Amazon or Microsoft. A public cloud is offered at an affordable price because resources are shared between multiple tenants. Using the scalability feature, public cloud providers offer the same infrastructure to multiple clients and scale up resources on a real-time basis. When you share CPU, memory, and data center resources with multiple users, there is a risk of unauthorized access to your business networks. Any flaw in the cloud network allows other users to access your data or even read your network information. In addition, the public cloud allows people using the same hardware to hack your IP and MAC numbers and gain access to your business networks.
Data encryption issues
Data integrity and security are important aspects of every business. With the increased scrutiny of data management techniques of companies by government authorities, managing your data using proper storage methods has become even more important. Data needs to be encrypted using highly secure methods in a public cloud. Unencrypted data can be vulnerable to hacking attacks. While choosing a public cloud, you need to check if private keys are shared with other users and how your data is processed.
In addition, data retention techniques need to be checked. Deleting or moving business data needs to be completely erased from the data center. However, you do not have complete control of the data center infrastructure to use proper data sanitization techniques. If data is not properly erased, other users can access it and use it in a harmful manner.
Data compliance issues
Businesses need to disclose information about data management solutions used as a compliance measure. In a public cloud, data is stored at random locations on content delivery networks of the cloud provider across the globe. Knowing where your data resides is important when choosing the public cloud provider.
Enforcing security at the virtual machine and augmenting it with a multi-layer defense can secure your cloud networks. Moreover, data needs to be encrypted, and security solutions must be updated. While public clouds offer the right platform for businesses to increase efficiency at cost-effective prices, securing your business networks is the key to the successful implementation of cloud technology.
Conclusions
We have discussed the evolution of the Internet and data security; we have seen that organizations are keen to keep their information safe, but administrators want to use the advantages of cloud computing to reduce costs and increase productivity. A different way to think about the cloud is private cloud computing, where the information is safely stored in your perimeter, and you have access to it through a secure encrypted connection. The data never leaves the data center, and you'll access it through a remote connection; what I see on my screen, on whatever device I am using, is just a projection.
With this innovative technology, we have the perfect mix between mobility, security, and business continuity, taking the companies to the next level of cloud computing. Parallels RAS Software is a pioneer of this new philosophy. The Govies Government Security is just one of the numerous awards that recognized Parallels RAS as one of the leaders in delivering a secure cloud environment.
---
About Parallels RAS
Easily deliver Windows applications hosted on hypervisors and Windows remote desktop servers to anyone using any operating system, computer, or mobile device. By hosting applications in the private cloud, businesses will also benefit from reduced administration overhead and less help desk support and can easily control who can access such applications and ensure that everyone is using the latest and most secure version of the application.
Out of the Box BYOD Support
The Parallels Client software allows businesses to easily deliver applications and virtual desktops to all users regardless of the hardware and operating system. The Parallels Client can run on any modern operating system such as Windows, macOS, ChromeOS, and Linux and can also run on mobile devices such as smartphones and pads; therefore, businesses are not limited to purchasing specific hardware or operating systems.
Easily Create an Enterprise Private Cloud
Private clouds allow organizations to centralize all data, improve their network security, easily protect their data, and manage access through a central location. With Parallels Remote Application Server, businesses can build their own secure private cloud and scale it to their needs to provide better access to all applications and virtual desktops to every employee in the office and remote workers.
Deliver and Manage Virtual Desktops
Deliver virtual desktops hosted on hypervisors such as Microsoft Hyper-V, VMWare vSphere, and more to anyone anywhere using any type of operating system and hardware, including mobile devices. Parallels Remote Application Server also enables administrators to create clones of a specific virtual desktop automatically and automatically create persistent rules so that the newly cloned desktops can be used as a personal desktop.
Build Your Own Cloud Infrastructure
Build your own secure cloud infrastructure and deliver applications and virtual desktops to all of your users with Parallels Remote Application Server within just a few minutes. Parallels Remote Application Server enables administrators to build private clouds and benefit from centralized operations and data, thus improving the security and management of data, applications, desktops, and all servers in the cloud.
Secure and Enhanced User Mobility
Allow remote workers to easily access all applications and their personalized desktops hosted on the private cloud over a secure and encrypted channel. Published applications and virtual desktops can be accessed via the Parallels Client, which can run on any operating system and mobile devices, or via the HTTPS protocol via standard HTML5 browsers such as Google Chrome and Mozilla Firefox.
Increase User Mobility and Improve Productivity
Allowing remote users to access their personalized desktops and applications over a secure and encrypted channel with Parallels RAS is straightforward. By allowing remote users secure access to published applications and their own personalized desktops, businesses can also benefit from a boost in productivity and collaboration between the users.
Network and Cloud Security
By implementing Parallels RAS on the network and segregating all the servers from the network and the Internet in the private cloud, businesses will improve the security of their network and private cloud because all kinds of access can be controlled via a central location. Published applications and personalized desktops can also be accessed over an SSL layer to ensure that the data between the user and the private cloud is encrypted and is not tampered with.
Scale Networks and Private Clouds to Cater to Demands
As businesses grow, so do their requirements. Parallels RAS enables administrators to easily add new servers, such as Windows Remote Desktop servers and VDI hypervisors, to be able to provide applications and virtual desktops for new employees within just minutes. With multisite support, administrators can also manage remote offices and locations via a central, easy-to-use console, thus reducing the need to travel and drastically reducing costs.
Management of Network, Cloud, and Hardware resources
Manage all user connections to Windows Remote Desktop Servers and virtual desktop infrastructure hypervisors from an easy-to-use centralized console and automatically distribute new connections to the least busy servers in the farm with the in-built Parallels load balancer. The Parallels load balancer automatically checks the usage of each server before a new connection is initiated to ensure that there are enough resources available for an application or virtual desktop to run.
Improve the Security of Your Network and Private Cloud
Parallels RAS uses Active Directory to authenticate users before allowing them to access any published application or virtual desktop. For improved security, Parallels Remote Application Server can also be integrated with third-party authentication servers, such as Gemalto (formerly Safenet) or any other RADIUS server, to support two-factor authentication and one-time passwords. Therefore, Parallels RAS can also be integrated within almost any type of secure network.
High availability with Zero Effort
By centralizing all applications and virtual desktops in the private cloud, businesses are also improving access to their services. Businesses can build high-availability solutions with almost no effort at all. Adding new gateways for redundancy purposes or backup servers for high availability can be done with just a few mouse clicks.
Build PCI DSS Compliant Networks
Building a PCI DSS compliant network is probably the most costly and difficult procedure that businesses have to go through. Not so with Parallels RAS. With an out-of-the-box installation, businesses can now build their own private cloud, deliver applications and protect cardholder data from being PCI DSS compliant.