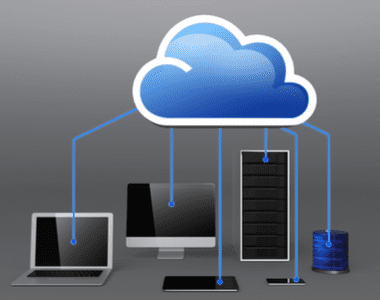 Hosted Virtual Desktop Model | Parallels Explains What It Is
A hosted virtual desktop (HVD), often referred to as a cloud-hosted virtual desktop, is an interface that delivers applications and data that are stored on a cloud provider's servers instead of the user's computer or corporate network.
Each user accesses a virtual desktop interface, also known as a virtual machine (VM), on the service provider's servers. This experience is seamless to the end-user, appearing as if the data and applications are local. It's the next phase in IT efficiency and productivity gains. 
What Is a Hosted Virtual Desktop (HVD)?
Hosted Virtual Desktop—popularly called Desktop as a Service (DaaS)—is a form of Desktop Virtualization. HVD delivers virtual desktops and apps from the cloud to any device on any platform. Rather than procuring IT infrastructure upfront and integrating it all for Virtual Desktop Infrastructure (VDI) deployment, you simply provision virtual desktops via a cloud and start using them.
As for payments, you pay using a pay-as-you-go per virtual Desktop in use. Because virtual desktops are not connected to your servers on-premise, HVD places the entire IT infrastructure in the hands of a DaaS vendor. Under this arrangement, the HVD vendor takes all the IT administration tasks such as resource provisioning, load balancing, and network problems. This means you don't have the same control over data when compared to a typical on-premise VDI environment.
Hosted Virtual Desktops effectively mimics the advantages of VDI or remote access technologies such as Remote Desktop Services (RDS). However, rather than hiring a dedicated IT staff to manage the remote access infrastructure, HVD does not need one. Organizations looking for a low-cost, scalable VDI deployment with minimal IT staff can opt for HVDs.
From the get-go, HVD is about agility, ease-of-use and simplicity for both IT admins and users. For IT admins, there is no need to procure, set up, and manage on-premise data centers. Users, on the other hand, need nothing apart from an end-point with an HTML5-ready browser.
Hosted Virtual Delivery Benefits
Hosted virtual desktops have many benefits from an IT perspective:
1. Power Savings:
As hosted virtual desktops allow the usage of thin clients instead of physical desktops, power savings are significant. Thin clients consume one-fourth of the power consumed by physical desktops, making hosted virtual desktops an eco-green solution.
2. High Availability:
Traditional desktop solutions see a lot of downtime if a user's hard disk crashes. However, when it comes to hosted virtual desktops, hard disk failures do not cause downtime and there is reduced support overhead for IT staff.
3. Centralized Storage and Backup:
The data of virtual hosted desktop infrastructure stays in a centralized server, and backups occur centrally too. Hence, this centralized storage and backup make it possible for IT staff to manage everything centrally.
4. Reduced desk-side visits:
With hosted virtual desktops, IT staff do not have to conduct desk-side visits to deal with problems. Everything can be managed and troubleshooting can be done centrally, thus leading to reduced desk-side visits.
5. Rapid Provisioning:
Virtual desktops can be provisioned, maintained, monitored, and de-provisioned rapidly from a central location.
The benefits of hosted virtual desktops for end-users are:
1. Better productivity
Since end-user can access a fully functional desktop from any place at any time, productivity is improved. Since downtime is also reduced, productivity is improved significantly.
2. On-demand computing power
Some users can also be given the functionality to provision additional desktops for themselves, thus giving them on-demand computing power.
Hosted Virtual Desktop use cases
Hosted virtual desktop has a lot of advantages to offer. Organizations can surely benefit from migrating to a Desktop as a Service (DaaS) solution. Some of the hosted virtual desktop use cases are mentioned below:
Remote Working
A hosted virtual desktop is an effective way to support the remote workforce by supplying them with all the tools, i.e. a full-featured desktop via an internet connection or a web browser.
Training Centers
DaaS solutions also work well for corporate training centers since it is simple to provision a student with virtual desktop access instead of physically installing software on each student's hardware, wiping it off, and rebuilding the entire configuration again.
Contractor and Temporary Working
Temporary working often requires quicker desktop setup and decommissioning. Doing so manually puts a strain on IT departments. Delivering virtual desktops for setting up laptops and endpoints is easier when they need to be provisioned for a short period and de-provisioned faster.
Regulatory Compliance Needs
Laptops and tablets store data locally, making it risky in the eyes of healthcare-related compliances like HIPAA or financial compliances like PCI. DaaS solutions solve compliance-related issues since they do not store data on endpoints, but rather on a central server.
Help Desk and Contact Centers
Help Desk and contact centers are also suitable to use cases for virtualized desktops. Agents and contractors can work in-house, from home, on from another third-party location. They require a standard set of tools, help desk software, communication technology, and collaboration tools that can be bundled in a standard desktop that is delivered to personal computers.
Addressing HVD
 Drawbacks 
with
 Parallels RAS
Some drawbacks of the HVD model are concerns with visibility and control, as well as difficulty prioritizing DaaS traffic across the public Internet to guarantee performance. You can address these issues by using Parallels® Remote Application Server (RAS) in conjunction with the HALB appliance offered without any extra costs, under the same license. 
Deploying your HVD infrastructure with Parallels RAS allows for hosted virtual desktops to be delivered on any mobile device that supports HTML or RDP connections, including Android, iOS, macOS®, Google Chromebook, and more. 
Download your 30-day evaluation period of Parallels RAS and configure your own hosted virtual desktops today! 
References:
WhatIs | https://whatis.techtarget.com/definition/hosted-virtual-desktop-HVD 
dinCloud | https://www.dincloud.com/what-is-hvd 
Amazon WorkSpaces | https://aws.amazon.com/workspaces/ 
Techopedia | https://www.techopedia.com/definition/29404/hosted-virtual-desktop-hvd 
Windows Virtual Desktop | https://azure.microsoft.com/en-us/services/virtual-desktop/