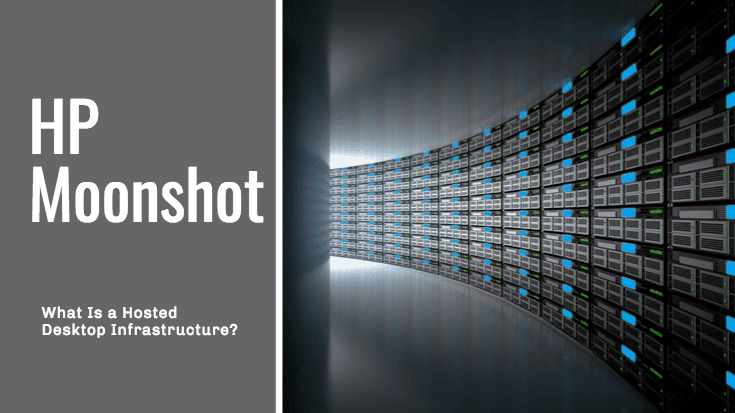 HP Moonshot | What Is a Hosted Desktop Infrastructure?
HP Moonshot: Comparing virtual desktop infrastructure (VDI) to hosted desktop infrastructure (HDI) is a tough one. On one hand, there are dedicated virtual machines (VMs) hosted on servers—and on the other hand, there is dedicated hardware hosted on servers, both shared via a broker connection to users. So, the difference may be blurred. However, organizations may decide to deploy HDI because some applications and users require significant power; VDI cannot always guarantee the high performance required.   
What Is a Virtual Desktop Infrastructure (VDI)?
VDI is the process of running a user's desktop inside a virtual machine that lives on a server in the datacenter. VDI enables secure and simplified access to a virtual desktop anytime and from any device. Read more. (What's VDI 2017)
What Is a Hosted Desktop Infrastructures (HDI)? 
HDI assigns dedicated hardware to each user but hosts that hardware in the datacenter. Workstations, virtual workstations, and blades are just some of the ways you can build HDI and use a broker connection to manage them all. Using HDI, IT administrators can provide the high computing power that users need while reinforcing data security. In some cases, organizations choose HDI even though the applications and users require less power because employees still desire the performance and persistence of dedicated hardware. 
HP Moonshot – High-Performance Workstations
When applications and users require significant power, the administrator can opt for HDI to deliver high-power workstations, such as those available from HP Moonshot.  
Parallels® Remote Application Server (RAS) allows businesses to securely pair remote workstations with employees. This ensures that users get a traditional desktop performance for the applications they require. Read more. (HDI Page) 
Parallels RAS provides remote PCs access to any device, anywhere. Typical remote access solutions are designed for individuals, not enterprises, making them difficult to configure and manage in a corporate environment. Parallels RAS is designed to manage user-to-desktop assignments and connections in a large-scale enterprise environment. 
Try Parallels RAS free for 30-days.  
References 
What is VDI in 2017
HP Moonshot – techopedia.com Virtual Desktop Infrastructure (VDI)
HP Moonshot –  techtarget.com – virtual desktop infrastructure (VDI)
HP Moonshot – carlwebster.com – Why Use HP Moonshot from the Customer's View Point
HP Moonshot – YouTube.com – What is Hosted Desktop Infrastructure (HDI) and what are its advantages