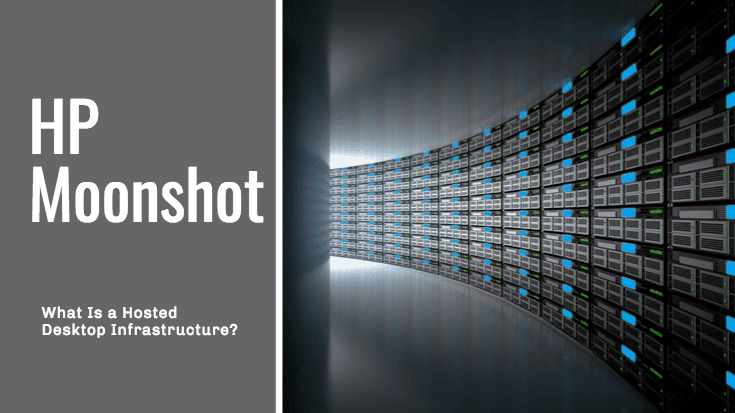 HP Moonshot | What Is a Hosted Desktop Infrastructure?
HP Moonshot: Comparing virtual desktop infrastructure (VDI) to hosted desktop infrastructure (HDI) is a tough one. On one hand, there are dedicated virtual machines (VMs) hosted on servers—and on the other hand, there is dedicated hardware hosted on servers, both shared via a broker connection to users. So, the difference may be blurred. However, organizations may decide to deploy HDI because some applications and users require significant power; VDI cannot always guarantee the high performance required.   
What Is a Virtual Desktop Infrastructure (VDI)?
VDI is the process of running a user's desktop inside a virtual machine that lives on a server in the datacenter. VDI enables secure and simplified access to a virtual desktop anytime and from any device. Read more. (What's VDI 2017)
What Is a Hosted Desktop Infrastructures (HDI)? 
HDI assigns dedicated hardware to each user but hosts that hardware in the datacenter. Workstations, virtual workstations, and blades are just some of the ways you can build HDI and use a broker connection to manage them all. Using HDI, IT administrators can provide the high computing power that users need while reinforcing data security. In some cases, organizations choose HDI even though the applications and users require less power because employees still desire the performance and persistence of dedicated hardware. 
Features and Benefits of HP Moonshot
Ever since HP Moonshot was unveiled in 2013, it has greatly evolved in terms of features and benefits. Let's explore a few examples.
Bare-metal VDI
The HP Moonshot creates a converged infrastructure by replacing the traditional, general-purpose, power-intensive processors with efficient Intel Xeon systems-on-chips (SoC). This achieves exceptional performance with extreme server density and at lower power efficiency. Organizations can tailor the HP Moonshot to deliver workload-optimized compute solutions, such as VDI, big data, and high-performance computing (HPC).
Energy efficiency
The HP Moonshot platform leverages Intel Xeon SoC designed with energy efficiency in mind. It also features the non-volatile memory express (NVMe) drives that use the M.2 form factor that delivers higher performance at minimum wattage per server. Besides performance and energy efficiency, NVMe can also provide scalability for future performance and support standard security protocols.
Consume as a service (CaaS)
Applications and data that run most organizations are often "systems of record" that must reside in on-premise data centers and other colocations for application dependency, latency, and regulatory compliance reasons. These applications and data usually lack the speed and agility of modern cloud experiences.
The HP Moonshot transforms the way organizations do their businesses by bringing the cloud speed and agility to where the applications and data reside. Organizations can unlock their data values by leveraging the CaaS's pay-per-use and financial flexibility models.
High performance
The HP Moonshot provides exceptional performance with its superfast SoC and an integrated workstation graphics processor unit (GPU) that delivers a rich graphics experience. It also features up to 128 GB of high-speed NVMe memory that can support more users per server.
Secure management
The HP Moonshot features an Integrated Lights-Out (iLO) amplifier pack, a scalable inventory update management component. Customers with large Gen8, Gen9, and Gen10 HP servers can leverage this tool to automate driver and firmware updates and achieve up-to-date inventory.
HP Moonshot – High-Performance Workstations
When applications and users require significant power, the administrator can opt for HDI to deliver high-power workstations, such as those available from HP Moonshot.  
Parallels® Remote Application Server (RAS) allows businesses to securely pair remote workstations with employees. This ensures that users get a traditional desktop performance for the applications they require. Read more. (HDI Page) 
Parallels RAS provides remote PCs access to any device, anywhere. Typical remote access solutions are designed for individuals, not enterprises, making them difficult to configure and manage in a corporate environment. Parallels RAS is designed to manage user-to-desktop assignments and connections in a large-scale enterprise environment. 
Try Parallels RAS free for 30-days.  
References
Parallels | https://www.parallels.com/blogs/ras/what-is-vdi/
Techopedia |https://www.techopedia.com/definition/26809/virtual-desktop-infrastructure-vdi
TechTarget |https://searchvirtualdesktop.techtarget.com/definition/virtual-desktop-infrastructure-VDI
CarlWebster |https://carlwebster.com/use-hp-moonshot-customers-view-point/