Parallels Partners with HPE Technology, Lowering TCO
With heightened security concerns and ongoing efforts to lower costs, this current age of mobility urges businesses to re-envision their IT infrastructures. Since legacy technologies pose potentially costly constraints on staff productivity and budgets, it can be said that they cannot efficiently meet today's business expectations.   
The Need for a Simple and Agile Infrastructure
A case example demonstrates a large state university system that looked to provide students with a better end-user experience by employing a bring-your-own-device (BYOD) policy. Previously, the school conducted a week-long "boot camp" each semester for students to install applications such as Microsoft Office and Adobe Acrobat on their devices. This was vital since software licenses rescinded over summer and winter breaks. The university needed to run an application that could reach over 20,000 students in one or two days each semester to provide them with the tools that they needed for classwork.  
HPE SimpliVity's Hyperconverged Platform
Designed to do exactly that, the Hewlett Packard Enterprise (HPE) SimpliVity hyperconverged platform consolidates hardware, software, and advanced data services into a simple, flexible, cost-effective building block. Extending this efficiency to your application environment is also a critical part of the equation. With HPE's net revenue of $28.87 billion USD in 2017 (an increase from 2016's $18.87 billion), the company has spent around $1.49 billion on research and development alone over the 2017 period. Currently owning a 13.8% share in the global server market, HPE shows boundless potential for collaboration. HPE SimpliVity alone offers dramatic total-cost-of ownership (TCO) savings of up to 60% compared to traditional infrastructure. 
Hewlett Packard Enterprises Partners with Parallels, Inc.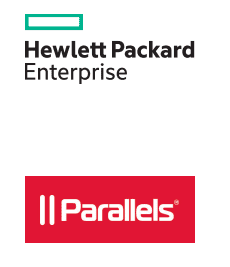 This drive for efficiency is why HPE has partnered with Parallels, Inc., an HPE Technology Partner. Parallels takes full advantage of the HPE SimpliVity platform's performance, reliability, and data efficiency to provide end users with a consistent, seamless desktop and application experience, whether they're working from an office terminal server or a remote mobile device. Parallels® Remote Application Server (RAS) is a leading solution for delivering applications and virtual desktops to any device and operating system. The combination of HPE SimpliVity and Parallels RAS provides organizations with a simple, efficient, and cost-effective solution to modernize IT and deliver a consistent desktop and application experience, whether working in the office or remotely. Parallels RAS further reduces TCO with its straightforward, low-cost licensing model and centralized dashboard for fast, easy delivery of virtualized end-user services.  
Parallels Remote Application Server (RAS)
With Parallels RAS, you run applications or virtual desktops on HPE SimpliVity and stream them to the end-user device. It's a simple, elegant, and easy-to-use solution that can be up and running in less than two hours. The licensing structure is up to 60% less than other virtual desktop solutions, and the flexible architecture of Parallels RAS enables you to start small—with just a single server or virtual machine (VM) if desired—and easily scale out with no changes to the underlying architecture.  
Test Parallels RAS with a free 30-day trial. 
References
HPE: Technology Partner Programme 
HPE Partner Ready for Technology Partner Program