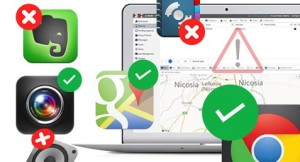 IT Manager Challenges: Supporting Remote Workers
The percentage of workers preferring to work remotely is increasing worldwide. More and more often, employees are reading and replying to business emails in the evening and during the weekend. The diffusion of smartphones, tablets and notebooks offers companies an unmissable opportunity to increase workforce productivity.
IT Managers need to provide fully operational workstations to their remote-working employees, irrespective of the device they are using to connect to data and applications. Very often, the solutions on the market do not offer complete coverage for the different operating systems available.
IT Manager Challenges: Managing Complex Products
The most common comment about Citrix XenApp/XenDesktop, VMware Horizon, and RDS concerns the complexity of implementation. The installation of a solution of this kind can require several days of work by a certified technician, and often special training to employees to be able to use it.
Traditionally, it is quite complex to print on a local printer using a virtual desktop. Even when using the defined tool from RDS, the operation is far from easy. Also, it is very complex to guarantee printing from virtual applications on mobile devices.
IT Manager Challenges: Dealing with Business Expansion
Companies can grow pretty fast, and moving from a handful of computers to hundreds can create several issues if software does not have good scalability. Often, different products are needed to run different technologies simultaneously, since most software on the market does not allow switching from one vendor to another, so companies rely on different technologies to run their virtual environments: remote desktop services and VDI from VMware, Citrix or Microsoft. Also, software versions change over time. For example, WS2003 has reached end-of-life, but many companies are still running it.
IT Manager Challenges: Providing Business Continuity
Business continuity is critical for companies nowadays, in order to guarantee consistent service to customers and employees. Downtime can cost millions of dollars, and it is difficult to repair the damage. Overload and hardware failure are the main causes of downtime. Traditional quick fixes like round robin are not effective in a high pressure environment.
In an enterprise environment it is also common to have more than one gateway, in order to split the incoming traffic. Efficient load balancing for high availability generally requires additional software, increasing the total cost of ownership of the solution.
IT Manager Challenges: Monitoring & Reporting
Getting concise and useful information out of the Remote Desktop Session host servers is a complex job, requiring perusal of many different event logs and correlation of IDs between different events and processes.
Virtualization allows the remote workforce to have access to corporate applications, and companies need to support remote workers to the same standards as the local workforce. A reporting system based on remote activity is important to obtain the relevant information for decision making.
IT Manager Challenges: Why Parallels RAS is the IT Manager's Best Ally
Parallels RAS supports all major hypervisors from Microsoft (2003, 2008, 2012), VMware and Citrix. With its unique flexibility, Parallels RAS is able to work at the same time with VDI and RDS on different platforms, so that users can receive a VDI from VMware, an application from RDS, and a document from Citrix, on the same clients.
With Parallels RAS, IT managers can easily deliver virtual applications, desktops and data to any device (Windows, Linux, Mac, iOS, Android, Windows, and Windows phone). Access is also possible without a client through devices with HTML5-compatible browsers.
Parallels RAS allows users to print from any device, such as PCs, phones, HTML5 browsers, and tablets, transforming devices into fully operational workstations. Parallels RAS features embedded, automatically configured, and limitless printing redirection from any device without any extra configuration required.
Parallels RAS includes embedded enterprise functionality, such as the multi-management and multi-administrator roles. The roles can be distributed between members of the IT team, in order to guarantee data security and respect internal policies.
Parallels RAS's innovative reporting engine supports companies in managing remote workforces. It offers a complete overview of any activity happening on the network from any device, anywhere. Compliance with policies covering access to company resources can be ensured through integration with Active Directory, and can also be restricted by MAC and IP address.
Embedded within Parallels RAS is one of the most efficient and reliable server and gateway load balancing systems. It is resourced-based and allows the system to avoid overload on a specific machine, guaranteeing the best experience possible to all users. Parallels server load balancing is up and running from the outset and does not require any installation or configuration.
Parallels RAS Feature Summary
Provides consistent user experience with virtual data and applications even on clients  other than Windows.
Allows users to print and scan using local peripherals, without constantly installing and updating the drivers on the server.
Saves time by avoiding the installation and configuration of multiple technologies.
Keeps up easily with company growth and interoperability.
Enables you to assist a remote user to solve issues on virtual applications and the local machine.
Allows mixing and matching of virtual resources from VMware (ESXi), Citrix (Xen), Microsoft (Hyper-V), and RDS.
Monitors RDS and VDI user activity and server performance.
Guarantees different data and application access policies for users and/or groups.
Guarantees connection availability and stable performance 24/7.
---
References
IT Manager Challenges: Top IT management challenges and how to overcome them | searchcio.techtarget.com
http://searchcio.techtarget.com/photostory/2240222213/Top-CIOs-reveal-their-biggest-information-technology-issues/1/Top-IT-management-challenges-and-how-to-overcome-them
IT Manager Challenges: The Challenge of Technology | boundless.com
https://www.boundless.com/management/textbooks/boundless-management-textbook/introduction-to-management-1/current-challenges-in-management-21/the-challenge-of-technology-137-3990/
IT Manager Challenges: Business Technology Management Challenges | cio.com
http://www.cio.com/article/2421099/it-strategy/business-technology-management-challenges.html
IT Manager Challenges: Challenges in the Management of New Technologies | worldscientific.com
http://www.worldscientific.com/worldscibooks/10.1142/6530
IT Manager Challenges: Meeting the technology and business challenges of managing mobile workers | computerweekly.com
http://www.computerweekly.com/feature/Meeting-the-technology-and-business-challenges-of-managing-mobile-workers