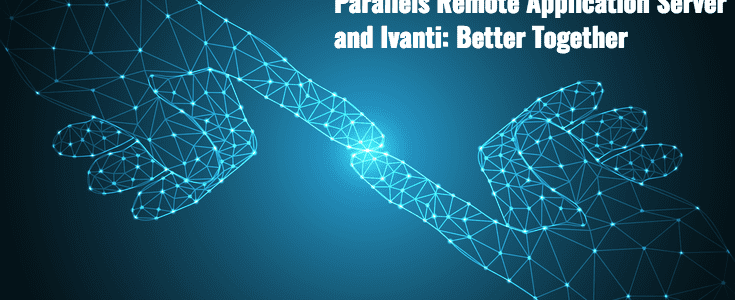 Parallels RAS With Ivanti Environment Manager Enhances VDI
Parallels RAS and Ivanti Environment Manager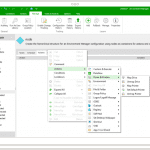 Parallels® Remote Application Server (RAS) deploys with Ivanti Environment Manager, Ivanti Environment Manager Policy, Ivanti Application Control, and Ivanti Performance Manager and improves the productivity of virtual workspaces by enabling personalization and persistent UX on virtual desktops.
Removal of lengthy log-on allows for immediate access to centrally managed, personalized environments. User settings are automatically applied to the server, extending the ability to control application shortcuts inside the virtual desktop.
IT can mitigate corrupted profiles and poor application performance without implementing complex group policies, profiles, or scripts.
Parallels RAS and Invanti Environment Manager Improve Users Productivity on Virtual Desktops
With the Parallels RAS desktop virtualization and VDI solution, businesses are able to centralize management of desktop environments and deliver virtual desktops and applications to any device. This simplifies IT administration and increases employee productivity. However, there are still areas of improvement:
User Experience
VDI solutions provide access to templated virtualized desktops, or golden images, to end users. Uniformity can be appealing to IT administrators, but not usually to the end user. Most users like to have the flexibility to perform some level of personalization and customizations on their desktop and expect these changes to be retained when they log in to other virtual machines and sessions.
Another user inconvenience when using virtual desktops is lengthy logon time. Various optimization techniques can be employed to reduce logon time. However, large profile sizes can affect times when using roaming profiles, inefficient scripts, and Group Policy Objects.
Virtual desktops can be noticeably less responsive compared to regular desktops. Users faced with a sluggish UI are prevented from completing tasks in a timely manner.
A poor user experience creates resistance from end users, and can adversely affect the productivity of an organization and its VDI adoption initiative.
Reduce Labor-Intensive Migration
Most users like to personalize their desktops with a customized Windows desktop, dictionaries, toolbars, or other parts of the GUI. Customizations aren't carried over when they migrate to a new OS, making migration take up a considerable amount of working hours.
When users are forced into a particular customization—which happens when they are not yet familiar with a new environment—they are forced to call the Help Desk, and the already-swamped help desk staff can get overloaded. This issue has become more pronounced with more organizations migrating to Windows 10.
Mitigate Risks of Non-Compliance.
Data protection and data privacy issues are critical concerns, especially in highly regulated industries or geographic regions. Laws and regulations like HIPAA, PCI DSS, and the EU GDPR require organizations to enforce strong security policies to secure personal data and other sensitive information. One of the requirements commonly found in these regulations is for organizations to restrict user access to a "need-to-know" basis. Administrator privileges should not be granted to ordinary users, but in a virtual desktop environment, it's hard to apply varying levels of security policies.IT admins find it easier to grant administrator rights to all users to avoid a great deal of user-related issues. Unfortunately, this exposes the business to potential data breaches and puts it at risk of non-compliance.
These issues can all be addressed if you use Parallels RAS with Ivanti Environment Manager

.
Improve User Experience

With Parallels RAS and Ivanti Environment Manager, you can provide fast and customized desktops to end users, in all sessions, and trim down log-on times. Ivanti separates user information and settings from the OS and streams personalization to endpoints when the user logs on. It replaces sophisticated log-on scripts and Microsoft® Group Policy objects with a simpler, more powerful policy engine. Ivanti also comes with a performance manager that makes desktops more responsive.
Increase Application Performance Control
Ivanti solutions make the Parallels RAS environment more predictable and reduce the cost of hardware or cloud IAAS providers. Allocation of CPU, memory, and disk resources improves UX and reduces any adverse effects on multiple users. Parallels RAS with Ivanti provides a comprehensive solution for your organization to seamlessly deliver any application to any user—with granular security and consistent personalization across any device. Ivanti self-service capabilities reduce IT support overhead and empower end users.
Microsoft Outlook Cache
In a non-persistent VDI environment it common to roam Outlook OST cache files. Many organizations are delivering Microsoft Outlook hosted on RDSH, published by VDI. Ivanti allows the roaming of Outlook cache between user sessions in a non-persistent VDI/RDSH setup. This enables cache to be configured in 'Cached Exchange Mode' to provide a better user experience, helping employees stay productive during migration to Windows 10 or Office 365. This can be further extended to similar applications such as Java Cache, OneDrive, and Skype.
Lower IT Migration Efforts
Migration is easier when you combine Parallels RAS and Ivanti. User profiles, settings, and files are decoupled from the desktop environment and applied dynamically each time an application loads, so users get personalized settings even if they're migrated or on-boarded to Parallels RAS or a different version of Windows. User profiles, settings, and files can be moved and extracted between Windows version easily and consistently. Productivity is maintained—users hit the ground running and help desk staff can focus on more critical issues even during a migration.
Simplify Compliance and Improve Security
In addition to the Parallels RAS granular filtering, Ivanti adds pervasive application security by restricting user access to the application even if the application has been published to the end user. Parallels RAS and Ivanti enable organizations to meet regulatory compliance objectives and improve security, without sacrificing end-user productivity.
Learn more by watching this short video.
Conclusion
The deficiencies of virtual desktop environments are a thing of the past: you have to combine the right solutions. Parallels RAS and Ivanti together are the perfect match.