The Parallels Team Sparking Up Tech Enthusiasm at Microsoft Ignite 2019
Orlando, Florida has always been known to be a magical place. Just think of amazing theme parks, breathtaking beaches, delightful food and wine festivals, fabulous concerts and sporting events—you name it, Orlando's got it. But guess what? This city is no longer just a go-to destination for families, eager tourists, and outdoor adventurers. It's time for Microsoft Ignite 2019!
Over 25,000 tech leaders and practitioners are expected to attend Microsoft Ignite 2019 to be held at Orlando's Orange County Convention Center on November 4 to 8. It's bound to be a rewarding and valuable learning experience for developers, IT implementers, enterprise decision makers, and just about anyone setting their sights on being at the forefront of technology.   
Meet us at Booth 2626
Where tech and innovation are, the Parallels team is sure to be. After all, we would never miss an opportunity to share the valuable tools in our range of products that can help with today's workplace challenges and demands. At Ignite 2019, you'll find us at booth #2626, where we're raring to present a preview of the newly minted Parallels Remote Application Server (RAS) 17.1.  
Parallels RAS is the easiest way to deliver virtualized applications and desktops to any endpoint device (PCs and other physical desktops, laptops, phones, Chromebooks, tablets, and even thin clients) from any location, including on-premises data centers, hyperconverged infrastructures, and even public clouds like AWS and Azure.
Enter our Raffle and Win at Microsoft Ignite 2019!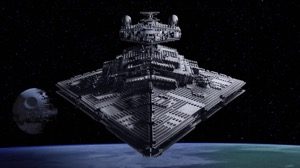 We're offering visitors a chance to take home this Star Wars Imperial Star Destroyer (Ultimate Collector Series) LEGO Building Kit. Avid fans should easily recognize this highly-detailed 4,700-piece LEGO as the same ship that appeared in the opening scene of Star Wars: A New Hope. Schedule a meeting with us now to have the chance to add this to your collection.  
Not so keen on building stuff but interested in throwing things? Well, axes to be more specific! If that's the case, we've got you covered. Parallels is sponsoring a cocktail party at Stumpy's Hatchet House that's guaranteed to bring in food, drinks, and fun conversation, while leaving stress at the door. Oh, and did I mention it already? Axes are on us, too. Reserve your spot today and we'll see you on the night of November 5.  
Just talking about all this makes us look forward to the event even more. So, see you at booth 2626 at Microsoft Ignite 2019!