Gen Z at Work: How the Next Generation Is Transforming the Workplace
Generation Changes and Gen Z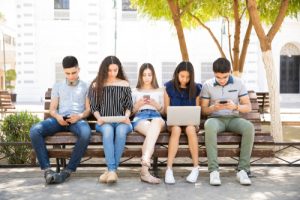 Every generation has its preferences for working that eventually reshape the prevailing structure of the workplace. Changes happen when companies adapt their workplaces to suit the desires of the younger generations in the hopes of attracting and retaining the best and brightest from that talent pool. Today, the youngest working generation is Gen Z, and you might want to know what suits them.
Who Is Gen Z?
Gen Z consists of individuals born between the mid-1990s and mid-2000s. The oldest members are in their lower-mid-20s and the youngest in the lower mid-teens. Some of them are just starting their professional careers, while the rest will gradually join the workforce within the next 10 years. Because Gen Z follows right after Millennials, the two generations have several similarities.
Burning Desire for Work Flexibility
One characteristic shared by these two generations is the strong preference for work flexibility. Like the Millennials before them, Gen Z-ers not only want flexible working hours—they are also more inclined to work wherever they want. Unfortunately, older generations often mistake these preferences for laziness.
But on the contrary, a survey conducted by the employment website Monster.com revealed that 58% of Gen Z respondents were "willing to work nights and weekends for higher pay" compared to only 40% of Baby Boomers. Yes, they want freedom, but they're by no means lazy.
Remote Work Is Here to Stay
Remote work, which rose in popularity when Millennials started joining the workforce, is expected to become even more mainstream as more Gen Z-ers come in. Even now, as revealed in a joint study by HR research firm Inavero and freelancing site Upwork, 74% of Millennial and Gen Z managers have team members who spend a lot of their time working away from the office.
A Global Marketplace for Talent Fuels the Rise of Remote Staffing
The emergence of Gen-Z—along with their inclinations toward flexibility and freedom—coincides with the arrival of fast Internet connections and cloud-based tools. This combination has paved the way for freelancing throughout the globe, which in turn is enabling companies in the US to hire contractors in Southeast Asia. Businesses that have seen the benefits of tapping into this global talent pool have started embracing remote staffing.
Dependence on Mobile Devices
Millennials are widely known for their affinity to mobile devices, and the fondness for technology and connectivity is also strong with Gen Z-ers. Starting as toddlers, Gen Z grew up with a tablet or phone in their hands. So it's not surprising that, like Millennials, Gen Z-ers have made mobile devices and apps an integral part of their lives.
When Gen Z Ascends to Managerial Positions
Upwork's Future of Workforce Report predicts that, by 2028, Millennials and Gen Z are going to comprise 58% of the workforce. By that time, many of them will have ascended to managerial positions. These managers will understandably be more empathetic to the inclinations of their generations. Whether we like it or not, work practices like telecommuting, remote staffing, work flexibility, and bring your own device (BYOD) will eventually be the norm.
Challenges Faced by Businesses in Addressing the Needs of Gen Z
Businesses must start laying down the foundation for the incoming batch of workers and managers. This is easier said than done, however, especially for IT teams who will be tasked to build and administer an infrastructure designed to support a fluid, agile, secure, highly connected, and available workplace.
Meeting Gen Z Workplace Preferences with Parallels RAS
Companies who are looking for robust but affordable solutions to meet the needs of the Gen Z workforce should try Parallels® Remote Application Server (RAS). Parallels RAS is a virtual application and desktop delivery solution that enables companies to deliver applications and desktops to any mobile device from a central server(s).
Designed to simplify administrative tasks associated with managing endpoint devices used by a highly mobile and geographically dispersed workforce, Parallels RAS is the perfect fit for organizations who wish to add Gen Z-ers into their rosters.
Would you like to experience Parallels RAS firsthand and see if it's right for a Gen Z-powered workforce? Download a FREE 30-day trial of Parallels RAS now.
---
References
Monster.com | https://www.monster.com/career-advice/article/gen-z-boss-0816
CNBC | https://www.cnbc.com/2019/03/05/how-millennials-and-gen-z-are-reshaping-the-future-of-the-workforce.html
Upwork | https://www.upwork.com/blog/2019/03/millennials-genz-future-workforce-report/
HRD | https://www.hcamag.com/nz/news/general/how-generation-z-is-altering-todays-workplaces/152682
Silicon Republic | https://www.siliconrepublic.com/careers/millennials-gen-z-employees-cheryl-cran