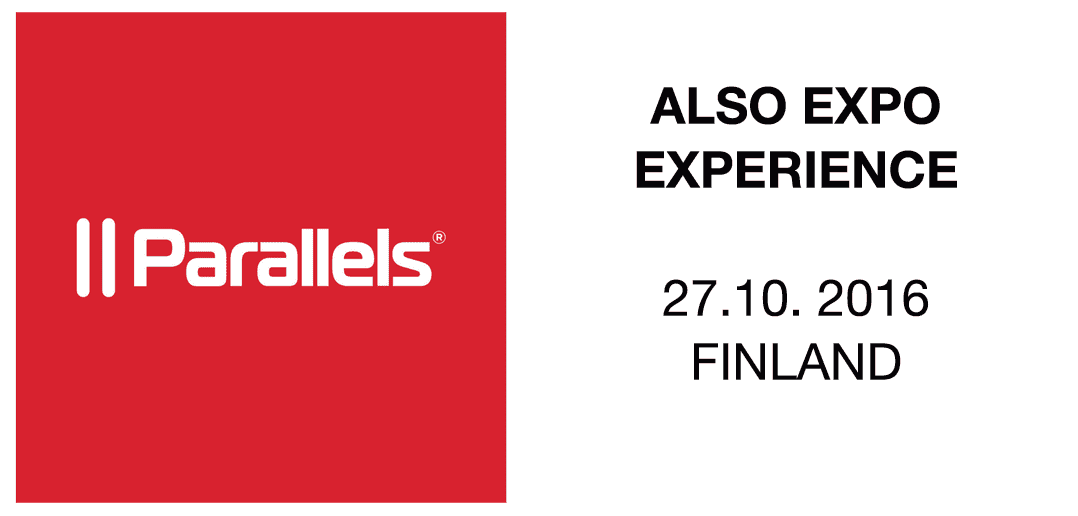 Meet the Parallels team at ALSO Expo 2016
---
2016 has marked the beginning of an extremely successful collaboration between Parallels and ALSO, the largest IT B2B specialist in Finland. As we approach the tail end of the year, ALSO is preparing to celebrate its many business partnerships and solutions at the ALSO Expo Experience, which will be held on October 27 at Tampere Hall in Tampere, Finland.
With over 1,300 exhibitors and resellers projected to attend the 20th ALSO Expo Experience, it is sure to be an event jam-packed with exciting technologies, as world technology leaders convene on Tampere Hall for a day of entertainment, presentations, and networking opportunities.
Parallels will be will be in the Duetto Hall presenting the latest versions of our cross-platform solution portfolio: Parallels Remote Application Server, Parallels Mac Management, and Parallels Desktop for Business. We will demonstrate our products' new features and will  help businesses and channel partners gain a better understanding of the advantages that come with choosing a Parallels product.
"We are delighted to be present at this event," said John Leahy, head of sales for Parallels EMEA. "Over the last few months, we have tightened our collaboration with ALSO to improve the support to our channel partners and customers. With the high level of professional and technical skills of our Finnish channel partners, we know that we have the foundation necessary to support prospects and customers embracing the advantages of cross-platform solutions. Our mission is to help businesses and channel partners take advantage of the best technology out there to deliver published applications and remote and virtual desktops to any device in a network, anywhere, whether it's on a Mac, Windows, iOS, Android, or in the cloud."
The ALSO Expo Experience is simply an opportunity that cannot be missed by those who have a genuine interest in the technologies that will shape tomorrow.
About ALSO
ALSO is a Finnish company, and a leading B2B services provider. It is well established throughout Europe, especially in the North, and has offices in many different countries, from Germany to Switzerland to the Scandinavian region. ALSO is well known in the services and ICT industries, where it helps businesses expertly tailor their enterprise to cater to the needs of the most particular customers.
We hope to meet you at ALSO EXPO in Finland to give you a demo of our solutions. Our booth will be in the Duetto Hall. Don't hesitate to contact us to arrange a meeting during the conference or drop by our booth.