How to Pick the Best Virtual Client Computing Solution in 2020 to Deliver Windows Applications and Desktops to Any Device
IT leaders for Service Providers (SPs) and Enterprises can't afford to waste valuable time with unnecessary complexity or be extorted with skyrocketing costs when it comes to mission-critical software for delivering virtual Windows applications and desktops to any device. Whether you are looking to embrace VDI, want to switch from your current costly and complex virtual client computing (VCC) solution, or find the best simple and cost-effective VCC solution for your business, we've got informative new research and tips to help you succeed.
Download a FREE licensed IDC MarketScape: Worldwide Virtual Client Computing 2019-2020 Vendor Assessment report (doc # US457523419, January 2020) excerpt right now at parallels.com/IDCreport which features invaluable IDC MarketScape analysis and buyer perspective insights. This IDC MarketScape report excerpt includes all or parts of the following sections: IDC Opinion, IDC MarketScape Vendor Inclusion Criteria, Essential Guidance, Vendor Summary Profile, Appendix and Learn More. Also included is Figure 1, pictured below.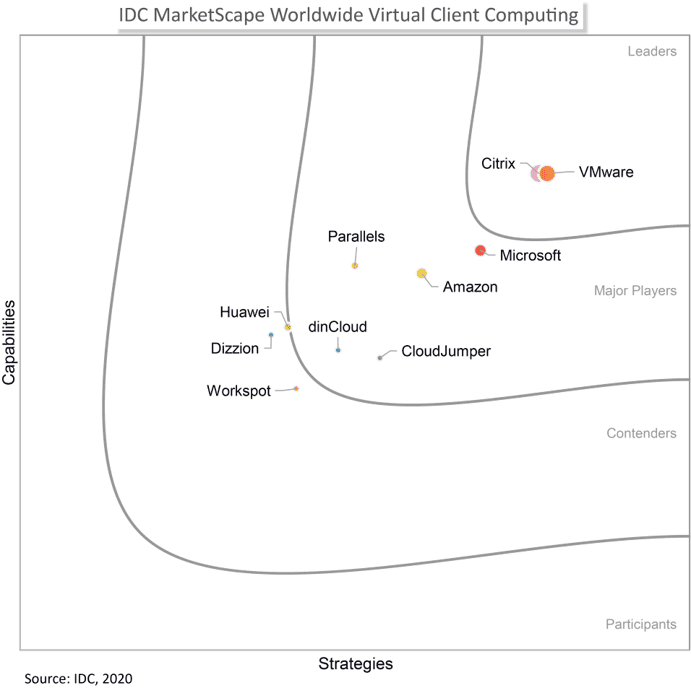 MarketScape vendor analysis model is designed to provide an overview of the competitive fitness of ICT suppliers in a given market. The research methodology utilizes a rigorous scoring methodology based on both qualitative and quantitative criteria that results in a single graphical illustration of each vendor's position within a given market. The Capabilities score measures vendor product, go-to-market and business execution in the short-term. The Strategy score measures the alignment of vendor strategies with customer requirements in a 3-5-year timeframe. The vendor market share is represented by the size of the icons.
Parallels is honored that this new IDC MarketScape report positioned Parallels as a "Major Player" in Virtual Client Computing (VCC). The IDC MarketScape report states:
"Customers consistently cite Parallels' operational simplicity and cost as differentiating factors. The company provides solid, effective, easily operated application and desktop virtualization at a comparatively low cost and across a range of endpoint device platforms."
Why Parallels Remote Application Server (Parallels RAS)?
Superior user experience – Parallels RAS enables users to productively work on applications and data from any operating system (OS) and platforms, such as Windows, Linux, Mac®, iOS, Android, Chromebook™, thin clients and HTML5 clientless web access. Ultra-fast login and fast application response—in addition to effortless multitasking, hassle-free printing, and full RemoteFX support—contribute to streamlining processes and increasing productivity. Simplicity is critical – such as the ability to use familiar native iOS and Android touch gestures on tablets and phones to easily work with virtual files and applications from anywhere. Complexity can kill productivity, breed dissatisfaction, generate more IT help desk tickets to resolve, and waste everyone's valuable time.
Enhanced data security – Deploying Parallels RAS reduces the risk of data loss and malicious activity by using policies that limit access based on user, group permissions, locations, and devices. Parallels RAS supports FIPS 140-2 encryption and multifactor authentication (MFA), as well as SSL/TLS which prevents hackers from intercepting credentials through man-in-the-middle attacks. Parallels RAS includes a multi-tenant architecture that's specifically designed to support multiple organizations in one infrastructure, segregating data to prevent a customer from gaining access to another customer's data in the same infrastructure. Additionally, Parallels RAS provides SAML SSO support, which enables SPs to easily provide customers with Single Sign-On without being burdened with identity management responsibilities.
IT agility and business readiness  – Parallels RAS allows organizations' IT to quickly address business demands by supporting heterogeneous Windows Servers OS environments (2008/R2, 2012/R2, 2016 and 2019), virtualization platforms (VMware ESXi, Microsoft Hyper-V, Nutanix Acropolis, and Scale Computing HC3) and cloud platforms such as Microsoft Azure.
Easy to deploy, configure and maintain – Parallels RAS streamlines the deployment and maintenance of IT infrastructures. A unified and intuitive management console, configuration wizards and customizable set of tools can be used to configure Microsoft Remote Desktop Session Host (RDSH) and VDI, reducing IT workhours. Moreover, auto-provisioning and auto-scaling are available out of the box.
Reduce total cost of ownership (TCO) – Parallels RAS is an all-in-one solution, saving resources, reducing the hardware footprint and lowering overhead costs. A single licensing model incorporates all the product's comprehensive features, and the learning curve for admins is faster due to a minimal amount of free training needed. Parallels RAS includes the ability to deploy on public clouds like Amazon Web Services (AWS) and Microsoft Azure, as well as on hyperconverged infrastructures (HCI) like Nutanix, SKALA-R, Scale Computing HC3, and HPE Hyperconverged. These deployments will allow you to enjoy minimal CAPEX and flexible pay-as-you-grow pricing.
Experience a Free Evaluation of Parallels RAS in Minutes; Stop Analysis Paralysis Time Wasting
Go online to parallels.com/ras right now, and you can be up and running in minutes with a free full-featured Parallels RAS 30-day evaluation that includes 50 concurrent user licenses. Quickly experience how Parallels RAS can simplify implementation, delivery and management of virtual applications and desktops to any device without breaking your budget, instead of spinning your wheels. Trial options include:
In the Cloud: Get up and running in minutes with a pre-configured Parallels RAS trial, hosted on Microsoft Azure or Amazon Web Services (AWS), to experience a fully configured Parallels RAS environment in just a few clicks.
On-Premises: Download, install, configure, and customize a Parallels RAS trial on your own servers and infrastructure. Easily integrate Parallels RAS with your organization's Active Directory from the get-go to create a testing and Proof of Concept infrastructures similar to your production environment.