Parallels Remote Application Server 15.5 Update 2
The latest release of Parallels Remote Application Server provides several enhancements to simplify further the use of application and desktop delivery for both IT administrators and users.  The inclusion of Microsoft PowerShell API and session management improvements enable IT staff to automate Parallels RAS deployment and configuration and have a better view over their Parallels RAS farm activities. Parallels RAS 15.5 Update 2 extends the capability of the HTML5 Gateway to allow mobile devices to access applications and desktops via a mobile device web browser. This latest version of Parallels RAS also supports VMware vSphere Hypervisor (ESXi) 6.5. Learn More. 
Parallels RAS Adds Microsoft PowerShell API
Parallels Remote Application Server now enables administrators to manage their Parallels RAS deployments using Microsoft PowerShell. The PowerShell module allows Parallels Remote Application Server administrators to automate various configuration operations, and create automatic scripts for repetitive and complex tasks.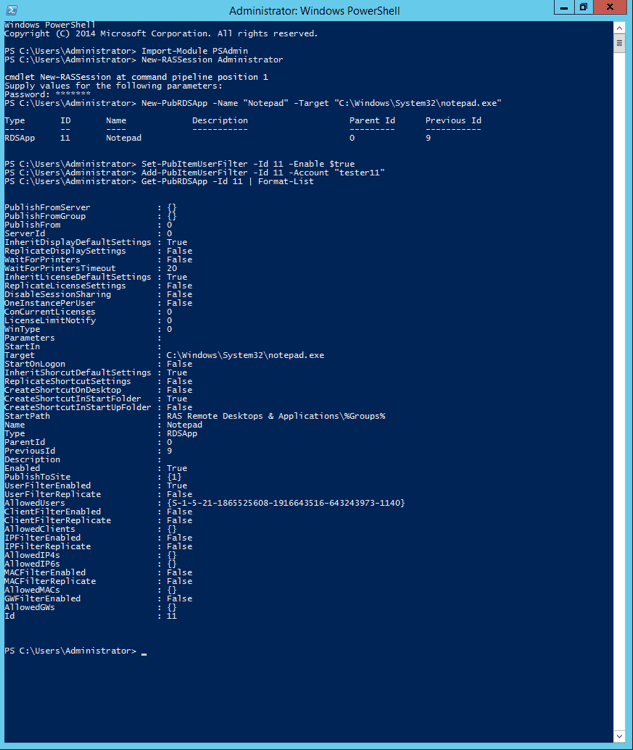 HTML5 access to business applications and desktops
The Parallels HTML5 Client enables organizations to add any applications onto any device, and any operating system. Parallels RAS customers also have the opportunity to offer their employees seamless access to their business applications on any HTML5 capable browser, including mobile devices.
Parallels RAS Adds VDI Support for VMware vSphere Hypervisor (ESXi) 6.5
Parallels is committed to ensuring that Parallels Remote Application Server functions with the latest versions of VMware, Microsoft, and Citrix hypervisors. By supporting VMware vSphere Hypervisor (ESXi) 6.5, Parallels RAS allows customers to embrace what VMware calls "next-generation infrastructure" with a powerful, flexible, and secure foundation for business agility that accelerates the digital transformation to cloud computing. With Parallels RAS and vSphere 6.5, customers can now run, manage, connect, and secure their applications in a common operating environment, across clouds and devices.
Session Management improvements
In the latest release, additional information was added to the Session Manager such as device name, resolution and color depth, logon time, and idle time to facilitate the monitoring of sessions and activity. See screenshot below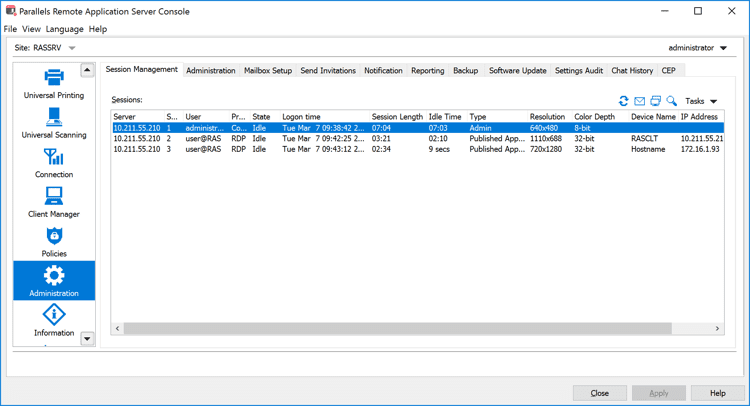 We also added a user name column to the show running processes window and we provide an additional operation to better control the user session such as disconnect, send a message and log off commands. See screenshot below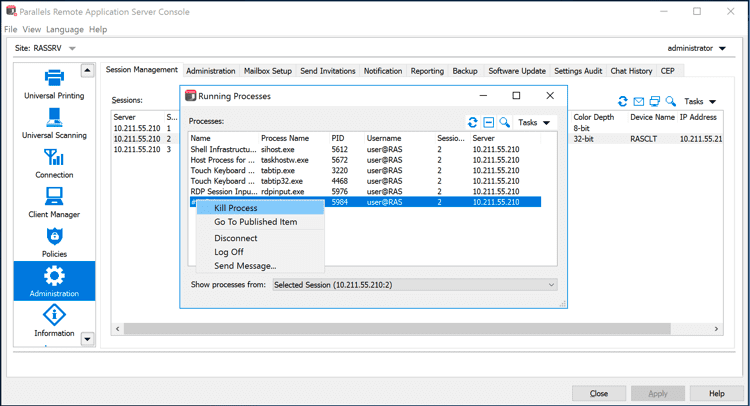 Other Enhancement
Parallels RAS v15.5 Update 2 contains, in addition to the mentioned new features above, many under the hood optimizations to increase further the overall performance. New versions of desktop and mobile native clients are also available for Mac, Windows, Linux, Chrome OS, iOS, Android and Windows phone.