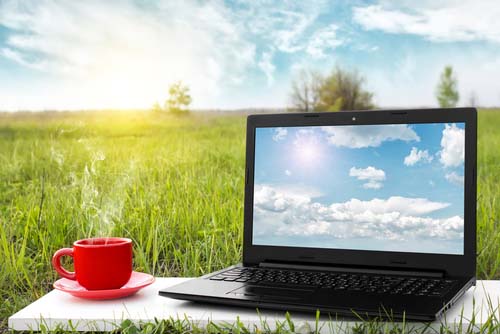 Remote PC Is Back in Fashion
The remote PC is back! It isn't surprising with the spread of the coronavirus outbreak that many organizations are looking for solutions to allow employees to work from home.
The organizations that use VDI technologies are already prepared for such an event; however, what about organizations that still rely on PCs in the office, with local apps, documents, and internal resources?
The first thing that comes to most IT admins' minds is to create an old, but gold virtual private network (VPN) to provide access to their users, by connecting through RDP to their workstation PC.
The downside of VPNs is that a possible security risk could ensue due to home PCs having malware or a virus entering the organizations' network. Also, a keystroke logger could be capturing everything that's viewed or typed on the home device. On top of that, opening the internal network to any remote employee, anywhere, presents additional hazards many organizations won't risk, resulting in delayed deadlines and profit loss.
Parallels RAS enables Remote PC functionality
Parallels Remote Application Server (RAS) has a feature called Remote PC.  This capability allows any domain-joined physical or virtual workstation to become securely accessible to remote employees without a VPN.
In addition to RD Session Hosts and VDI guest VMs, Parallels RAS enables resources to be published from a standalone remote PC running supported versions of Windows. A remote PC can be a physical box or a virtual machine treated as a physical PC, but typically they are physical computers.
Parallels RAS can convert any workstation, physical or virtual, on your infrastructure to a Remote PC without any additional hardware or licensing requirements. This way, the organizations can switch from a typical office infrastructure style to either a completely remote work environment, or a hybrid – both from the office and remotely.
What is a Remote PC?
A Remote PC is a computer that end-users have no physical access to but can rather access it remotely via the Internet from another device and location. Remote connections go through a network that connects the remote computer and the local device.
End-users leverage remote access software to control the Remote PC just as if the computer is right in front of them. Parallels Client, TeamViewer, VNC, and Remote Desktop are all examples of currently used software.
How Remote PCs work?
The TPC/IP protocol is used for the connection between the remote computer and the end-user. Since a computer's IP address is unique on each network, it is used to gain access remotely through a public network or the Internet.
Remote computers are generally handy since there is no need for an underlying infrastructure and can be enabled or disabled on-demand. They are helpful when you forget some of your files home or at the office and want to access them even though it is no longer physically possible.
Remote PC Benefits
Providing remote access to a workstation or a personal computer can benefit organizations on several aspects such as:
Employees can access their files in case of an urgent matter while they are not at the office.
Organizations can provide remote access to particular users such as the CEO or IT admin so they can resolve possible issues from any location, at any time.
In an unpleasant event, which could be either a family or personal matter, a sudden weather change, or a problem at the office, the end-users can keep working with the same productivity as if they were in the office.
Keep your files local, without having to move them between clouds, emails or external devices (which tend to get lost). Access your files from anywhere, anytime, although they are located in your work or personal device.
Make sure that your files are secure and cannot be copied or altered from unauthorized access. In case of external intruders, all you need to do is switch off the Remote PC access until the case is resolved.
Fend off potential attacks and ransomware that could target the accessing device and not the target Remote PC. If the device used to access the Remote PC is infected with a virus or malware, it will not pass over to the Remote PC.
What are the Security Risks of Remote PC?
There are security risks in using remote PC, including: 
Using home PCs for remote access

: 

At

 the start of the pandemic

, 

more people 

started 

working remotely, 

and 

home PCs 

were

 given access 

to corporate networks. If not properly configured

, such machines 

could

 leave 

y

our network open to potential hacking attempts.

 

Lax 

security 

policies: 

I

f you don't update firewall rules and don't require strict p

assword

s

, 

your 

network 

may be 

vulnerable to hackers

.

 
Infection with v

iruses and 

other 

malware: 

If remote computers are not subjected to 

regular 

s

ecurity scanning, they can potentially infect the other machines in your network.

 

Non-monitoring of 

remote user activity: 

If you

 do

n

't

 log all activities from your remote users

, you're leaving your network open to attack.

 
Security of the Parallels Remote PC solution
Parallels® RAS offers many options when it comes to security. These include:
All communication is double encrypted to provide ultimate security
Parallels RAS supports SSL or FIPS 140-2 protocol, offering organizations a foolproof system that complies with policies such as HIPAA, PCI DSS, and GDPR.
All communication passes through the Parallels protocols
By default, Parallels RAS installs with a Secure Client Gateway and a Publishing Agent. This eliminates the need for additional firewall rules, potentially saving IT teams the backbreaking setup process.
User policies can be set up to restrict what applications are used remotely
Parallels RAS secures corporate data by enforcing user policies based on their IP addresses, end-devices, and location. This improves IT's efforts to support users and allows new users to be incorporated easily.
Auditing and reporting on the activity of the user
Parallels RAS has a Reporting Engine that audits and reports users' activities, Active Directory (AD) groups, devices, servers, and events.
Download your 30-day trial of Parallels RAS and convert all your desired workstations to Remote PCs without any effort.
---
References: