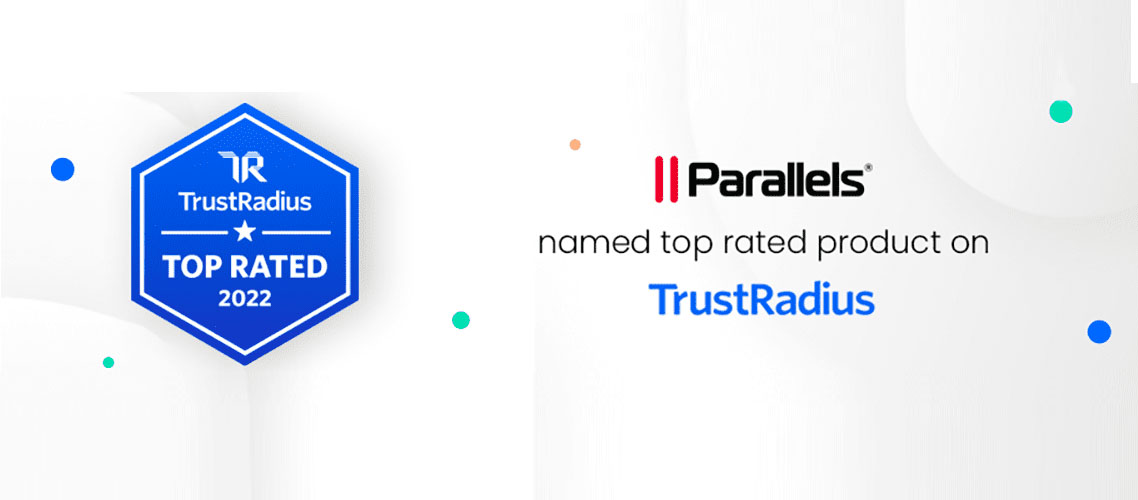 Parallels RAS Wins TrustRadius Top Rated 2022 Awards for VDI and Application Virtualization
We're pleased to announce that Parallels® Remote Application Server (RAS) won TrustRadius Top Rated 2022 Awards for Virtual Desktop Infrastructure (VDI) and Application Virtualization. Corel considers this another major achievement in our ongoing pursuit of providing the best solutions on the market for our customers.
Moreover, at a time when VDI and related virtualization solutions that enable remote, mobile, and hybrid work are more essential than ever, the Parallels and Corel teams are thrilled that Parallels RAS, a solution that is designed to address these problems, was honored with two prestigious, user-driven awards.
Why Did TrustRadius Recognize Parallels RAS for VDI and Application Virtualization Solutions?
Parallels RAS won a pair of 2022 TrustRadius Top Rated Awards: one in the Virtual Desktop Infrastructure (VDI) Software category and one in the Application Virtualization category.
TrustRadius is an independent, third-party review site used by over one million business-to-business (B2B) technology buyers each month (over 50% of which are from large enterprises) to make more informed purchase decisions.
These awards highlight just how much customers value Parallels RAS for its ability to enable companies and their IT teams to implement, deploy, and manage virtual desktops and applications that allow remote, hybrid, and on-site team members to stay connected and productive from anywhere, anytime, and in nearly any situation.
Why Did Parallels RAS EarnTop Rated Awards for VDI and Application Virtualization Solutions?
Parallels is often lauded for its ease of implementation and ease of use, along with its excellent technical support and relative affordability compared to competitors.
But don't just take our word for it; read what real Parallels RAS users have had to say recently…
Craig C., a verified user and IT manager for Anderson Power Products, stated that Parallels "takes your users' Remote Desktop Server experience to the next level."
Another TrustRadius verified user and manager in information technology recently reported that:
"Prior to using Parallels RAS, we were using a competitor product that was very complex and cumbersome when it came to needing to upgrade. We trialed Parallels RAS and were blown away by how easy it was to stand up the product and begin using the features. Employees have been very happy with the performance and ease of use. Upgrades are also very easy with Parallels and only take a fraction of the time of the competitor product to complete."
Chris G., a systems analyst at Peppersource, likes the "simple setup" of Parallels RAS, calling it an "intuitive app virtualization product with an amazing ROI."
He went on to write, "Standing up a Parallels environment is so incredibly simple compared to other remote desktop solutions I have used over the years. The fact that the gateway is so easy to configure and deploy is a great selling point."
"Also, love the fact that the licensing model is per concurrent user which makes it very competitive with the other players in the space. In a few years when the rest of my Citrix licensing expires, I will likely migrate the rest of our environment to Parallels and not look back!"
As of this writing, Parallels RAS has 148 reviews on TrustRadius and a ranking of 9.4 out of 10 stars.
What Is the TrustRadius Top Rated Award, and Why Is It So Highly Valued?
In most software categories, there are plenty of options to choose from. Top Rated awards help potential customers identify those products that have excellent customer satisfaction ratings. TrustRadius issues Top Rated awards each year in every category on their site.
The prestigious Top Rated awards are a culmination of many excellent, in-depth user ratings and reviews from the last 12 months.
Top Rated awards are based entirely on reviews. There is no paid placement or analyst opinion. To qualify for a Top Rated award, a product must meet the following three criteria for recency, rating, and relevance at the time the awards are issued:
Recency: The product must have 10 or more recent reviews (from the past year).
Rating:  The product must have a trScore* of 7.5 or higher.
Relevance: The product must earn at least 1.5% of the site traffic in the category.
*A trScore is an algorithm that calculates a product's scores based on a weighted average of reviews and ratings on TrustRadius, rather than a simple average.
Unlike other "top rated" awards out there whose recipients may be selected by partisan analysts, a TrustRadius Top Rated Award is chosen by the customers themselves and scored according to a customized algorithm developed to determine the best software solutions in each category, sans bias or outside attempts to influence reviews.
Learn more about the TrustRadius scoring methodology and why it is considered a trusted source of software reviews by leading industry professionals.
Learn More about Parallels RAS
Parallels RAS is a streamlined VDI solution that delivers virtual desktops and applications. Key benefits include:
Enables remote work by providing seamless delivery of virtual desktops and applications to any device, anywhere, thus helping increase employee productivity and satisfaction.
Enhances data security by allowing for centralized monitoring and restricted access that's customized according to your organization's unique policies.
Increases IT agility by allowing companies to deploy IT infrastructure quickly and on-demand with auto-provisioning.
Offers a flexible user-based licensing system that is both readily scalable and cost-effective.
With the latest version of Parallels RAS, 18.3, Corel continues to improve the end-user experience and provide new flexibility and security controls, now with complete support for Windows 11 and Windows Server 2022.
Discover the many benefits of Parallels RAS for your organization!