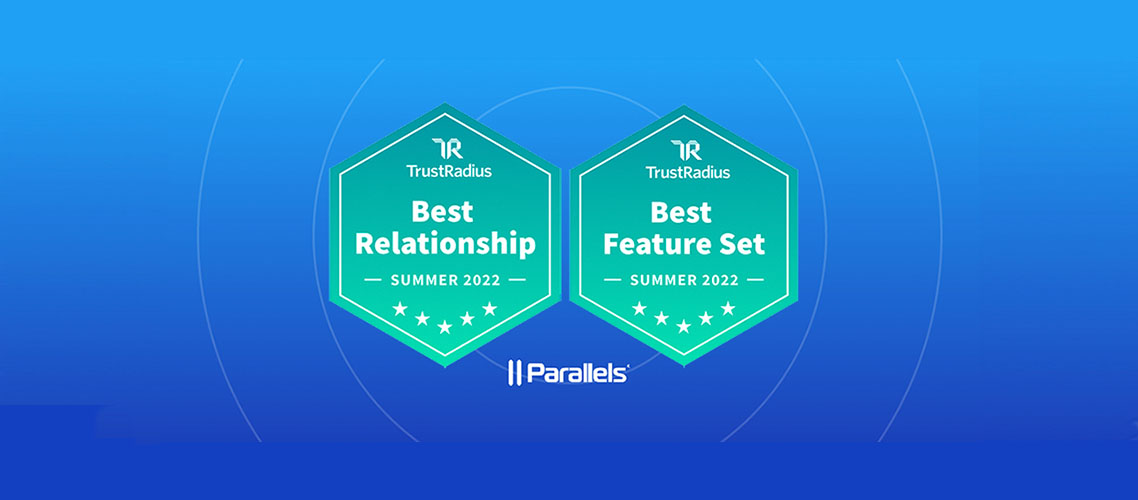 Parallels RAS Wins TrustRadius 2022 Summer "Best of" Awards for Best Feature Set and Best Relationship
We're excited to announce that Parallels RAS® has been awarded the TrustRadius 2022 Summer "Best of" Awards for Best Feature Set and Best Relationship from TrustRadius. TrustRadius is a research and review platform where business leaders can find and select the right software for their needs.
What Are the Award Criteria?
According to TrustRadius, criteria for the awards include that the product must:
Source 10 reviews between January 1 and June 30, 2022.
Score highly on the following Key Insight statistics: Best Value, Best Feature Set, and Best Relationship per category.
Be updated and accessed through the vendor portal before June 30, 2022.
As needed, additional vetting via textual review analysis is performed by the TrustRadius research team, and a product's newest review volume is heavily weighted.
TrustRadius bases the individual awards on the following criteria:
Best Feature Set. The Best Feature Set award is based on the highest percentage of respondents who were happy with the product's feature set.
Best Relationship. The Best Relationship looks at Key Insight data for Would Buy Again, Implementation Expectations, and Sales and Marketing Promises.
Why Are These Wins Important?
TrustRadius is an independent, third-party review site used by over one million business-to-business (B2B) technology buyers each month (over 50% of which represent large enterprises) to make more informed purchase decisions.
Why Do Customers Love Parallels RAS?
Parallels RAS is a simple, secure remote work solution that provides 24/7 virtual access to applications and desktops, on any device. End users can work remotely through the Parallels Client (locally installed) or the Web Client to access the files, applications, and desktops they need in a secure manner and via the browser of their choice, even when switching networks or devices.
Parallels RAS also enhances user productivity on any device with its simple, intuitive user interface with native gestures—users can swipe between applications and files, copy and paste, drag, and pinch to zoom with ease.
The latest version of this solution, Parallels RAS 19, adds Amazon Web Services (AWS) as a cloud provider, MSIX app attach integration, Let's Encrypt certificate management, and Parallels Client for Windows on ARM64, among other notable features.
For more information on this version, check out our What's New in Parallels RAS 19 blog post.
Discover the many benefits of Parallels RAS for your organization.