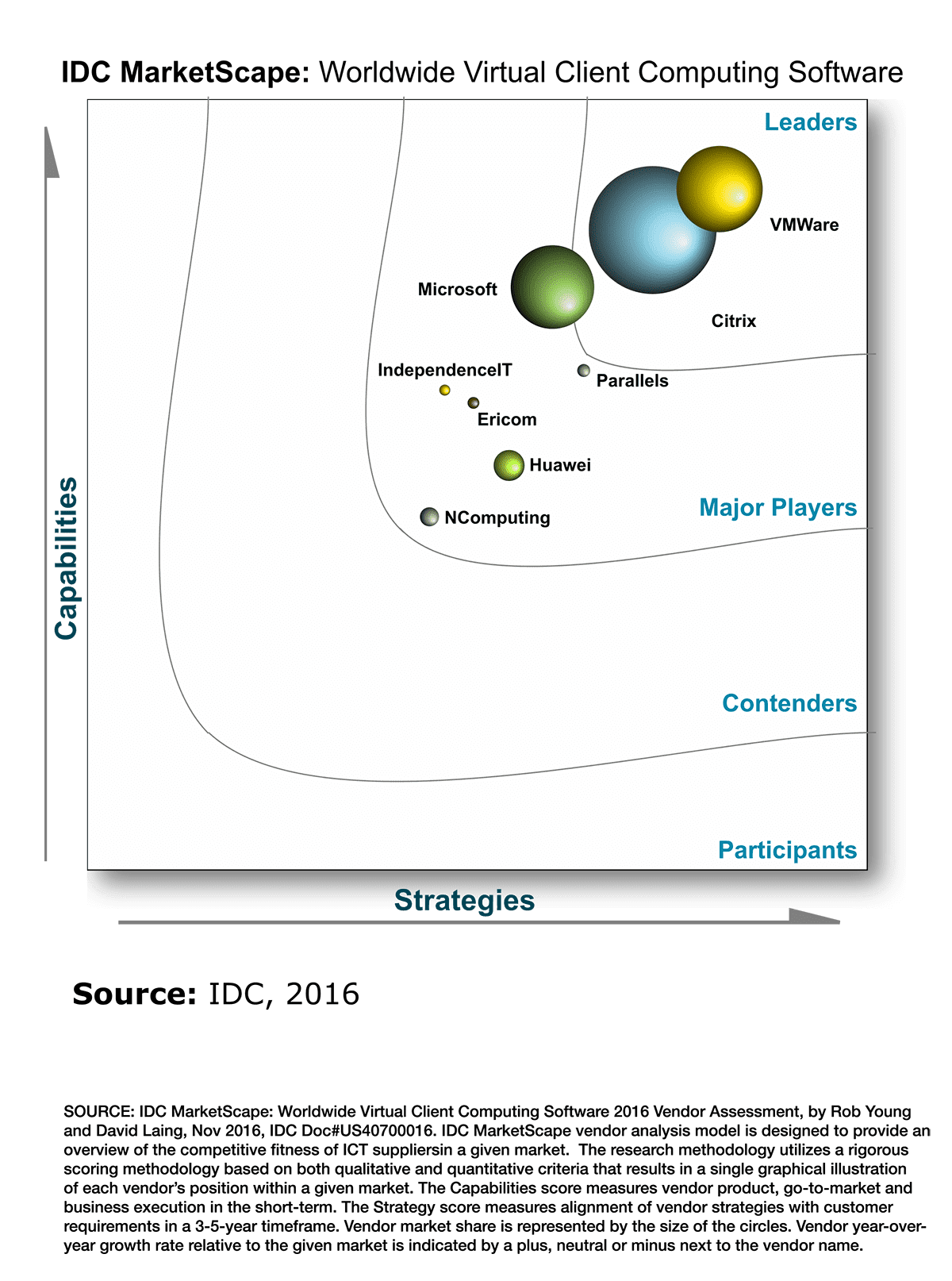 Virtual Client Computing in 2017: Tools and Tips for IT Success
Click here to download a free "IDC MarketScape: Worldwide Virtual Client Computing Software Assessment" excerpt which includes "IDC Opinion" and "Essential Buyer Guidance"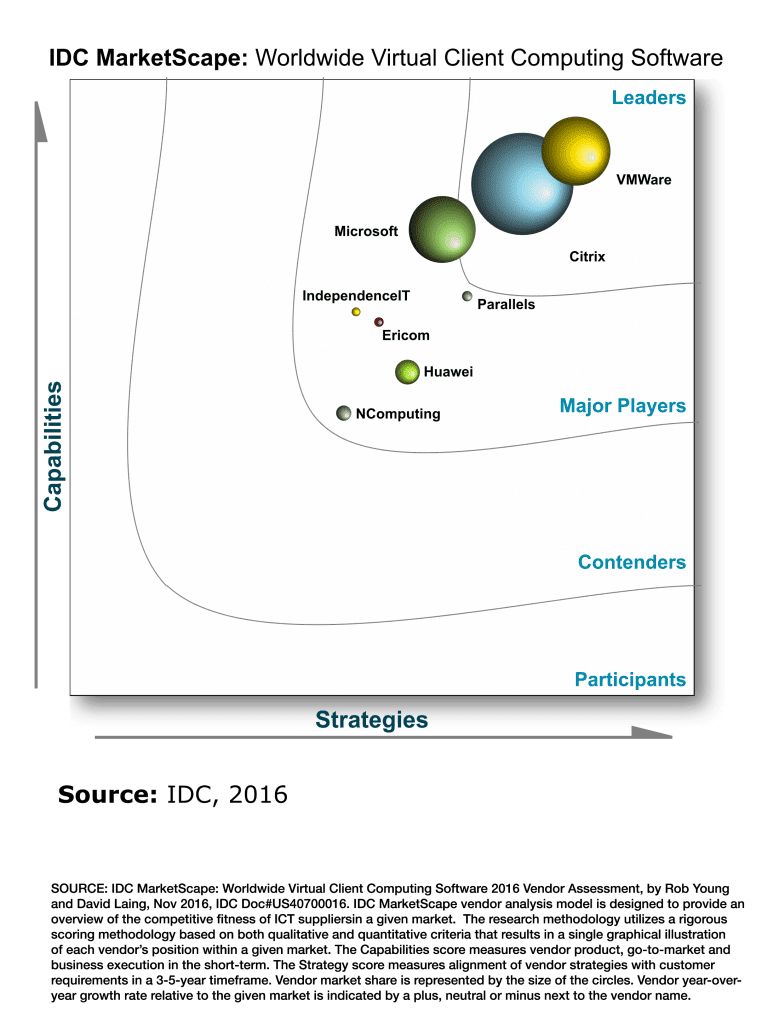 IT buyers considering software have a variety of options to choose from to deliver virtual desktops and applications to any device. That's why successful IT decision makers read the latest research, such as IDC MarketScape: Worldwide Virtual Client Computing Software Vendor Assessment (Doc #US40700016) which placed Parallels Remote Application Server (RAS) as a Major Player. A free download excerpt of this IDC MarketScape report, which includes IDC Opinion and Essential Guidance, is available for download here.
The IDC MarketScape report stated, "One of the biggest strengths that Parallels RAS brings to the market is simplicity." It also said, "IDC expects that these Parallels RAS features – combined with the fact that customers can leverage Parallels RAS to deliver full Windows virtual desktops using Microsoft Hyper-V, Citrix XenServer, and VMware ESXi hypervisors – position Parallels well to broaden market reach, particularly to small and medium-sized businesses that are resource constrained to take on the cost and complexity of advanced VDI configurations and RDSH."
Key features IT buyers should consider when selecting a Virtual Client Computing (VCC) software solution:
Up and Running in Minutes!
Fast installation is an important feature for any IT manager. Parallels RAS can be installed in less than 30 minutes and fully deployed and configured within hours. The IDC MarketScape report said, "This, by itself, was one of the reasons Parallels was highly rated by references – because of the integration of itsVirtual Client Computing (VCC) software." 
The Ultimate End-User Experience
While IT managers want to simplify their jobs by streamlining integration, the end-user experience is vital as well. Parallels RAS is the only solution that empowers mobile end users with iPad, iPhone, and Android tablet and phone devices to use familiar native touch gestures on virtual applications and files so they can be more productive. IDC reported, "This, by itself, was one of the reasons Parallels was highly rated by references – because of the integration of its Virtual Client Computing (VCC) software." for its end-user experience."
The Bottom Line
Price is top of mind for IT buyers, who are on the lookout for premium products at a fraction of the cost, according to the IDC MarketScape report. Good news: organizations with as few as 15 concurrent users and larger businesses with thousands of concurrent users can save up to 60 percent on licensing costs with Parallels RAS, compared to competitive solutions. The IDC MarketScape report stated, "A second strength is that Parallels RAS sells at a significantly lower cost point than premium products sold by largerVirtual Client Computing (VCC) vendors. Similarly, it's worth noting that Parallels also has a flexible 'postpaid' license model that fits many business cases including managed service providers (MSPs) and independent software vendors (ISVs) serving customers that have extremely variable usage."
Details of Parallels Partners Program benefits are available online for ISVs at parallels.com/partners/isv and for MSPs at parallels.com/partners/msp. Information about the Parallels Partners Program overall is available online at parallels.com/partners.com.
Mobile Integration
Today's employees need to be able to work effectively anywhere and anytime using their mobile devices; seamless support of virtual applications and files on phones and tablets crucial. Parallels RAS simplifies things by enabling IT to simply select and email employees instructions with links for them to easily install clients on their Android tablet and phone, iPad, iPhone, Windows Phone, PCs, Macs, Chromebooks and more. Parallels RAS is the onlyVirtual Client Computing (VCC) solution that enables people with iOS and Android devices to use native touch gestures when working with virtual Windows applications and files. In fact, IDC noted that these touch gestures can be particularly valuable when using a smaller device. Parallels RAS also enables employees to use any device with an HTML5 browser to access the applications and files they need from anywhere.
Flexibility, Scalability and the Parallels Partner Program
When shopping for a Virtual Client Computing (VCC), according to the IDC MarketScape report, companies and IT decision makers want flexibility for future growth. Parallels RAS can be hosted on premises, in the datacenter and/or in the cloud (Amazon Web Services and Microsoft Azure) to give IT departments seamless flexibility and scalability. Microsoft Azure users can add a preconfigured Parallels RAS 30-day, 50 concurrent user trial which can be set up with a click and be up and running in seven minutes. Parallels RAS also has partnerships with leading hardware manufacturers, including Hewlett Packard Enterprise (HPE) and channel partner SHI International, to offer a unified hyperconverged VDI solution that is ideal for SMBs because it can scale to support future growth. Additionally, the Parallels Partners Program (parallels.com/partners.com) is a valuable resource which can provide margins from 35 to 40 percent, making Parallels RAS a profitable solution for both distributors and managed services providers.
"IT departments today are increasingly seeking simpler and more cost-effective ways to deliver virtual applications and data to users on any device with on-location and device-specific features and security configurations," said Robert Young, Research Director, IT Service Management and Client Virtualization Software, IDC. "The availability of such a useful and cost effective solution has the potential to disrupt the market by enabling enterprises, SMBs, VARs and MSPs to efficiently support more devices, while realizing ongoing cost savings from streamlined IT support, extended hardware life, and increased productivity."
For more information on Parallels RAS, click here (parallels.com/ras) to speak to a reseller.