Windows 7 EOL – With the release of Windows 10, Microsoft changed its consumer licensing policy, resulting in a quicker adoption of the new operating system. However, many businesses still have a number of workstations running on Windows 7. In fact, the analytics and insights company Netmarketshare reported that more than 50% of desktops worldwide had not completed the upgrade to the latest Windows OS version as of February 2017.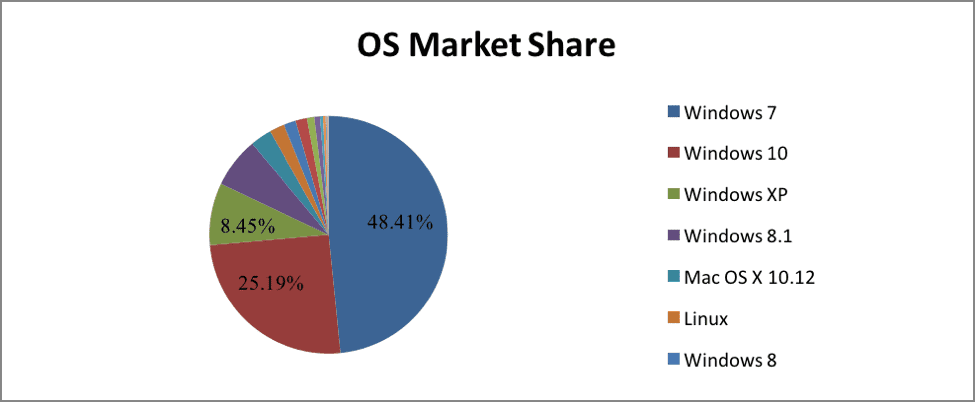 The OS migration issue requires action in the upcoming years, especially since Microsoft has announced that extended support for Windows 7 will end on January 14, 2020, with extended support for Windows 8.x ending on January 10, 2023.
The mainstream support of Windows 7 was dropped early in 2015, meaning that Microsoft has stopped telephone support and has also stopped creating non-security-based updates for the popular OS. In 2020, however, Microsoft will stop providing free security updates for the OS, and all Windows 7 devices will be at risk of exposure to new vulnerabilities.
Keeping corporate assets secure is a must for any organization. To continue enjoying the use of a secure OS, it is very important for companies to start thinking about upgrading to Windows 10 as soon as possible. Testing the compatibility of applications on newer OSes is a process that can take up to 18 months for larger organizations. Businesses that deal with line-of-business (LOB) or legacy applications are especially burdened by migrations to a new OS.
Moreover, the difficult part comes after testing the compatibility of these applications. Migrating an entire company from Windows 7 to a newer OS takes time. For larger companies, this process can take many years, and moving data to the new OS poses significant challenges.
Parallels Remote Application Server Can Help 
To counteract these issues, many organizations have decided to migrate to Windows 10 using the advantages of desktop and application virtualization solutions such as Parallels Remote Application Server (RAS). Using RemotePC and virtual desktops, end users can access their Windows 7 applications and desktops on their brand-new Windows 10 and vice-versa.
It is common to find many different Windows OSes in use in corporate IT environments. Furthermore, there are different images for each OS version to accommodate the different hardware and application configurations. As such, just to update the Windows Patch requires a lot of time. Standardizing to Windows 10 virtual desktops removes the need to keep these extra images. With a VDI solution like Parallels RAS, IT administrators are able to build all of the new Windows 10 virtual machine templates.
Extend hardware life span. Windows 7 PC hardware may not be powerful enough to run Windows 10.  Businesses can repurpose existing PCs to simply act as pseudo thin client machines that access virtual desktops running Windows 10. Parallels RAS allows organizations to achieve cost savings in hardware replacement by converting Windows XP, 7, and 8.X PCs into pseudo thin clients. Employees can continue using old workstations to securely run virtual desktops, while IT administrators can restrict access to native OS features. Learn more.
Enable application delivery on any device. Application delivery will continue to be one of the main innovations in IT over the coming years. Allowing users to virtually access LOB applications on any device changes the traditional way of working. Being free to connect to a virtual workspace from any location and on any device enables the workforce to stay connected and productive while on the go. Learn more.
Private, hybrid, and public cloud. Using Parallels RAS, organizations can go a step further and consider leveraging public hybrid cloud services. Parallels RAS support deployments on private, hybrid, and public clouds such as Microsoft Azure. Learn more.
---
References
Windows 7 EOL | Windows lifecycle fact sheet |Microsoft.com
https://support.microsoft.com/en-us/help/13853/windows-lifecycle-fact-sheet
Windows 7 EOL | Mainstream Windows 7 Support Ends Today, But Don't Panic | pcmag.com
http://www.pcmag.com/article2/0,2817,2475079,00.asp
Windows 7 EOL | When will Microsoft end support for your version of Windows or Office? | zdnet.com
http://www.zdnet.com/article/when-will-microsoft-pull-the-plug-on-your-version-of-windows-or-office/
Windows 7 EOL | Microsoft 'Ends' Windows 7 And Windows 8 | forbes.com
https://www.forbes.com/sites/gordonkelly/2016/11/03/microsoft-stops-selling-windows-7-and-windows-8-1/#343b8f4b50a8
Windows 7 EOL | The End of Life for Windows 7 | IRIS Solutions
http://www.irissol.com/2017/03/the-end-of-life-for-windows7/