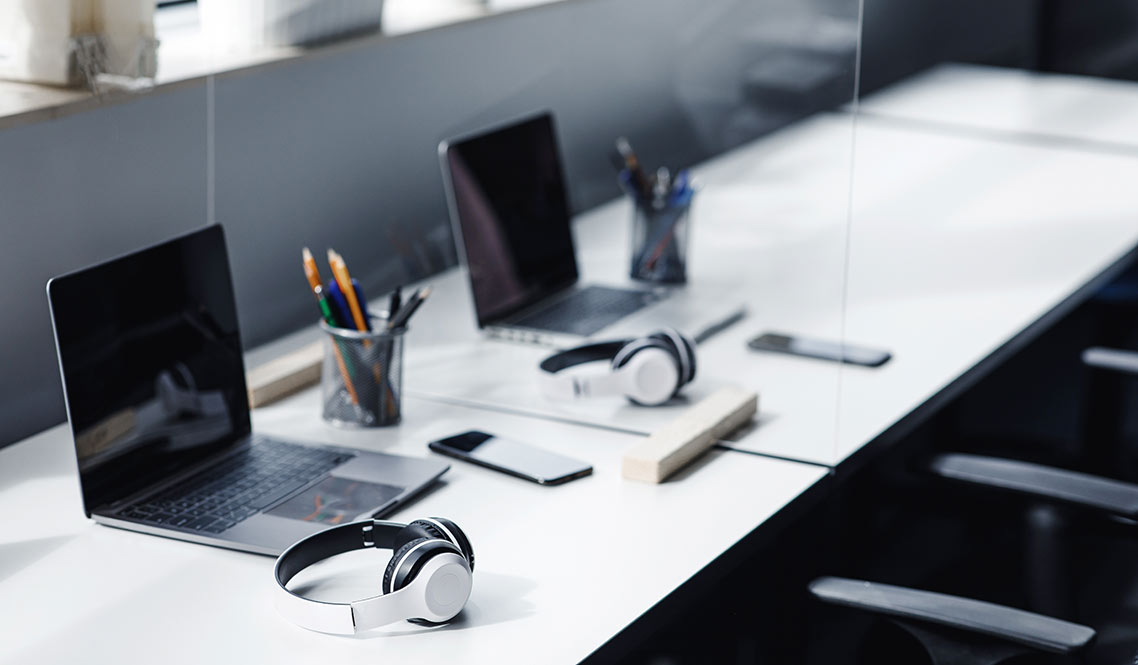 Work After COVID-19: Return to the Office or Adopt a Hybrid Approach?
For many organizations, the COVID-19 pandemic accelerated work policies that were already gaining traction. Faced with no choice but to send many workers home indefinitely, a large number of companies transitioned to fully remote work for most of their staff. And, perhaps surprisingly, employers learned that a remote workforce actually offers quite a few benefits.
As global vaccine rollouts help get us closer to what will be the eventual end of the pandemic, here are the million-dollar questions that company decision-makers face: What will work after COVID-19 look like? Should you bring everyone back to the office? Allow them to continue working from home? Or is there a middle ground?
Let's take a closer look at why a hybrid work solution might be the best option and what areas you need to focus on in order to manage a hybrid workforce successfully.
Why Hybrid Will Be the New Norm
What most companies introduced as a temporary business-continuity solution has now become a permanent reality; data shows that 82% of companies intend to allow some degree of remote work going forward. Over the past year, many companies have found a way to manage their remote workforces effectively. But now a new challenge awaits—managing a more complicated, hybrid workforce in which employees are allowed to switch between remote working sites and centralized office buildings, depending on their personal preference and the company's remote working policy.
Despite the many benefits of work-from-home deployments, there are some jobs that just can't be done remotely, e.g., in manufacturing distribution. And after spending nearly a year of working in isolation, even those who are capable of working remotely full time may look forward to working in the office alongside their colleagues, at least part time.
A recent survey conducted across 10 countries found that three in four employees are eager to return to the office, but would like to enjoy the flexibility of remote work a few days a week. As such, it appears we're heading towards another paradigm shift in company working models: adopting a hybrid model that can potentially bring together the best of both worlds.
But as with any transition, adequate preparation and planning are essential for it to run seamlessly. Let's look at three key areas to focus on when transitioning to a hybrid work model: retraining company managers, rethinking company culture and restructuring new employee onboarding.
Retrain Company Managers
Managing hybrid teams may seem daunting at first, but it doesn't have to be hard. With the right technologies, tools and skills, your team leaders can easily manage teams members that switch between onsite and offsite working. You'll also have to provide managers with the opportunities and resources to hone and adapt their existing leadership and management skills.
There should be a focus on learning and following established best practices for virtual team management—especially when it comes to striking the right balance between allowing for flexibility and holding employees accountable for their work. Let's look at three key areas to hone in on.
Technology
Collaboration tools like Microsoft 365 or G Suite, and team communication tools like Zoom or Slack are important for all employees. You may want to implement additional tools for team leaders that allow them to assign tasks virtually, share information and resources, track employee time and activity, measure progress, manage employee schedules and more.
Communication
Clear, consistent communication is the key to a successful hybrid working setup. Your team leaders should be able to create an environment of trust and open communication for all employees. This may require some extra effort for those leaders managing many remote staff members, such as scheduling regular one-on-one meetings in addition to team meetings or getting creative when planning team-building activities to include remote employees.
Inclusivity
This is especially important if a few of your employees are completely remote, i.e., they spend 100% of their time working from an offsite location. They may feel more isolated, less appreciated and left out compared to their in-office counterparts. Leadership will have to consciously include remote team members in day-to-day tasks, meetings and decision-making. Team leaders will also be responsible for ensuring that all team members have equal access to tools and other resources, and that everyone is given the same opportunities to advance within the company.
Rethink Your Company Culture
A hybrid workplace can be more fluid and less structured compared to a traditional office. Consequently, you may have to embrace an organizational culture that offers more flexibility, facilitates more communication channels and fosters an environment of continuous learning. You may also need to encourage employees to adopt a learning mindset and help them prepare for and adapt to a more flexible working environment.
For example, employees may need to learn how to use technologies that enable remote work and/or work on advancing their communication and task management skills to ensure they stay sharp. Here's what you can do to make sure that everyone stays on the same page and keeps thriving in a hybrid environment.
Provide Technology Training
Technology is at the center of modern remote and hybrid set-ups. According to an analysis by the McKinsey Global Institute, technology is one of the key areas where upskilling current and new employees is crucial for a successful hybrid work policy. Arrange training sessions for tools and technologies you plan to use for remote meetings and collaboration. This can help ensure that employees know how to do basic tasks such as scheduling and joining meetings via shared links, sharing screens, and handing over control during online meetings and presentations.
In a digitally powered workspace where not all team members will be sharing the same roof, employees will share information and resources back and forth over the internet. It may be a good idea to schedule cybersecurity training workshops to make sure that employees know how to use technology securely so your company doesn't become vulnerable to cyberattacks.
Promote Shared Collaboration Tools
Gone are the days when scheduling meetings was as simple as making an announcement or sending an email and all employees could make it to the conference room at a minute's notice. Once you transition to hybrid working, employees will likely be working from different locations, and possibly even be in different time zones.
Luckily, there are shared calendars tools and other applications that allow employees to indicate their work hours and availability, making scheduling a breeze. Enforce good calendar-management skills and encourage all employees to make sure their schedules are always up to date to avoid missed meetings and ensure everyone knows when and where they can be reached.
Offer Socialization Opportunities
One study found that 19% of remote employees say isolation is their biggest challenge when working remotely. To help employees feel more connected to their coworkers, you can do things like encourage them to turn on their webcams during virtual calls, encourage in-office attendance for certain meetings and/or company events or activities, and set up dedicated chat channels for celebrating birthdays or other life updates.
Restructure New Employee Onboarding
Extending a warm welcome to new on-site employees is relatively straightforward. But with a hybrid work environment, this can be a whole lot trickier, especially if your staff is geographically dispersed and can't physically greet a new team member on the first day. There may also be new remote work tools, technologies and policies to train new employees on that perhaps didn't exist pre-pandemic.
Even with these challenges, you can still create a successful onboarding process. Here are a few tips:
Even if new employees will be working primarily remotely, it's ideal to have them, their manager and their direct team members all physically present in the office on their first day (if possible). This helps familiarize them with your physical workspace and builds rapport for future interactions among team members.
If it's not possible to have the entire team on site simultaneously, include anyone who is remote via video conferencing.
Include as many typical onboarding elements as possible, such as basic training, introductions to co-workers, and a welcome lunch, even if you have to hold some (or all) of these sessions remotely.
In addition to introducing new employees to your overall company and its culture, review your hybrid work policy carefully with them so they're aware of any expectations regarding work hours, schedule flexibility and when they're required to be on site (e.g., for important meetings or events).
Arrange all necessary training sessions to familiarize the new employees with any equipment, tools and technologies necessary for working both on and off site. You should also assign them a dedicated IT team member to reach out to when facing any technical issues.
Simplify Hybrid Working with Parallels RAS
Investing in a virtual desktop infrastructure (VDI) solution can help you overcome the greatest challenge of hybrid working: providing all employees with consistent, unobstructed access to internal applications and resources across multiple devices and locations.
Parallels® Remote Application Server (RAS) provides an all-in-one VDI solution for granting access to the same applications and desktops employees are familiar with whether they're in the office or working remotely. Your employees can access corporate resources from multiple devices and locations—without your company's resources ever leaving your datacenter.
With Parallels RAS, employees don't have to download applications and customize settings on every device they want to use for work. Instead, they can toggle easily between in-office and remote work because they can use whatever OS and device they prefer, including laptops, tablets or smartphones.
For IT administrators, Parallels RAS simplifies provisioning, de-provisioning and remote management of desktops and resources. Administrators can enforce client group policies to secure corporate resources and manage access privileges and control settings for new and existing employees regardless of the device they use.
Finally, Parallels RAS is affordable, quick to implement and can be scaled easily to add new employees. No matter what your work-after-COVID-19 plan looks like, Parallels RAS can help you implement and enforce it successfully for all employees so your operations can continue to run smoothly.
Download a 30-day free trial to discover how Parallels RAS can help your organization enable a better remote working model.