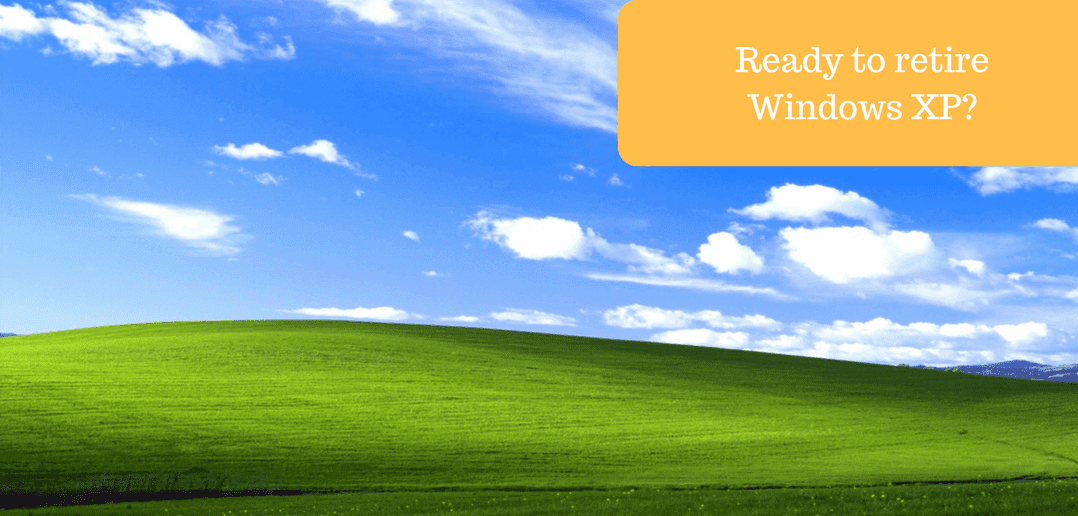 XP end of life migration survival guide | Parallels RAS to the rescue!
Windows XP end of life
Windows XP end of life: Microsoft stopped support for Windows XP in 2014; however, thousands of companies still use this old operating system on legacy systems. To safeguard against security threats and fix system bugs, these companies need to migrate to a new OS like Windows 10. While this migration may be achieved with a complete IT-hardware overhaul, in some instances, that's not feasible due to budget or technical issues.
Setting up a centralized virtualization network, on the other hand, offers a quicker way to address this problem without the cost, time, and compatibility issues that come with a full-blown, hardware-based reconstruction of your IT network.
XP end of life challenges
Staying with Windows XP presents many challenges to businesses. You're likely aware of the security issues at stake after Microsoft announced the end of support for XP. Since Microsoft won't be releasing any XP updates or patches, your system is vulnerable to attacks.
As you know, a successful attack on your system can result in losses to the budget, and even more problematically, cause brand reputation troubles. Moreover, your system must comply with government regulations, which are not possible with XP. For example, HIPAA requires healthcare organizations to have a secure patient information network in place, and banking and financial institutions must adhere to similar regulations.
Another issue when using an XP-based network is that it might not support new applications. Microsoft Office 2016, for instance, requires Windows 7, Windows 8, or Windows 10 to run on your network. Working between a range of smartphone devices is nearly impossible with XP, as well.
Staying with XP can reduce your organization's productivity, and the security of your employees and customers may not be adequately protected. Not only that, but having to deal with hardware failures, software issues, and maintenance hassles can result in increased costs. The time has come to upgrade; the only question that remains is how?
Secure, cost-effective workstations on a virtual network
Convert your legacy XP machines into secure, consistent, and manageable workstations. By creating a virtual environment that is capable of hosting any Windows OS, Parallels RAS allows you to replace the Windows shell with a limited interface, allowing access only to applications and desktops published from the server. You won't have to reinstall any drivers or other applications to run your up-to-date Windows 10 workstations on your old XP machines' hardware.
Windows Desktop Replacement
Parallels RAS creates a VDI or RDS environment where legacy hardware is securely managed. This means you can run the latest version of Windows or Windows applications on legacy hardware scattered across your IT network. It supports Windows 7, onwards.
Parallels RAS offers flexible licensing models to accommodate small and medium businesses. Even better, it's easy to deploy and manage. From a centralized location, you can remotely publish applications and desktops and easily monitor and manage the entire infrastructure. No matter what devices exist on your system, whether it's an iPhone, iPad, Android Phone, or Chromebook, your virtual machine integrates well with any device working on any platform or OS.
In addition to leveraging existing infrastructure, Parallels RAS also optimizes resources securely and productively. There's no need to keep worrying about the "XP end of life" challenges, hardware inadequacies, or security threats; your XP machine serves as a powerful workstation, and you can take it one step at a time.
Parallels Remote Application Server (RAS): Make the migration easy
With the Parallels RAS virtualization solution, you can run the latest Windows OS on top of old XP machines and hardware as a thin-client device. This option doesn't require an expensive IT system overhaul and reconstruction process for budget-conscious small and medium businesses. It makes your XP system secure, productive, and compatible with any Windows application. Additionally, it allows you to migrate at your own pace.
Want to give Parallels RAS a try? Download your 30-day evaluation period today and get those XP machines back to work!
---
References
XP end of life | http://searchenterprisedesktop.techtarget.com/news/2240179817/IT-shops-put-off-Windows-XP-migration-to-Windows-7-Windows-8
XP end of life | http://www.zdnet.com/article/microsoft-why-the-windows-xp-show-is-finally-over/
How Windows XP end of life affect your desktop applications | http://searchvirtualdesktop.techtarget.com/opinion/How-Windows-XP-end-of-life-will-affect-your-desktop-applications
Windows 10 review | http://www.techradar.com/reviews/pc-mac/software/operating-systems/windows-10-1267364/review
Support for Windows XP ended | https://www.microsoft.com/en-us/WindowsForBusiness/end-of-xp-support