Access Windows Apps and Desktops with Parallels RAS Chromebook Remote Desktop Client
With Parallels RAS Chromebook Remote Desktop Client it's possible to use Windows applications and desktops on Google Chromebook, allowing on-the-go access from anywhere.
Chromebook: The Next Big Revolution
The popularity of Google Chromebook™ is at an all-time high. According to TrendForce, Chromebook accounts for 25% of total quarterly notebook sales. Virtual desktop infrastructure (VDI) and application virtualization solutions such as Parallels® Remote Application Server (RAS) help users leverage this technology trend without changing software, processes, or procedures, which seamlessly maintains employee productivity.
Access Any Windows Applications or Full Windows Desktop
Parallels RAS allows employees with Chrome OS™ to access line-of-business (LOB) applications, desktops, and data seamlessly over any network—while at the same time improving security and reducing endpoint management and maintenance costs.
Easy Deployment & Management
The Parallels RAS centralized console minimizes IT efforts to deploy and manage Windows applications and desktops, while also providing end users with a secure, reliable, high-performance experience.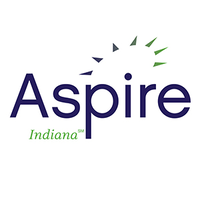 "We have replaced about 90% of our devices with Chromebooks and Chrome-boxes thanks to Parallels RAS."
Brandon Patton
System Administrator
Aspire Indiana
Enhanced Security
Chrome OS is one of the most secure and easy to manage endpoint platforms. Parallels RAS synergistically builds on Chrome OS capabilities by extending them to Windows and Windows applications, helping organizations to maintain compliance while accessing corporate data and applications.
For Chromebooks and any other devices used for remote access, all corporate data and applications reside on the centralized servers in the corporate datacenter or on the cloud, where it can be audited, controlled, and secured easily. Granular access control policies, two-factor (2FA) authentication, and smart card authentication let you determine exactly how, when, and where selected users access applications and data.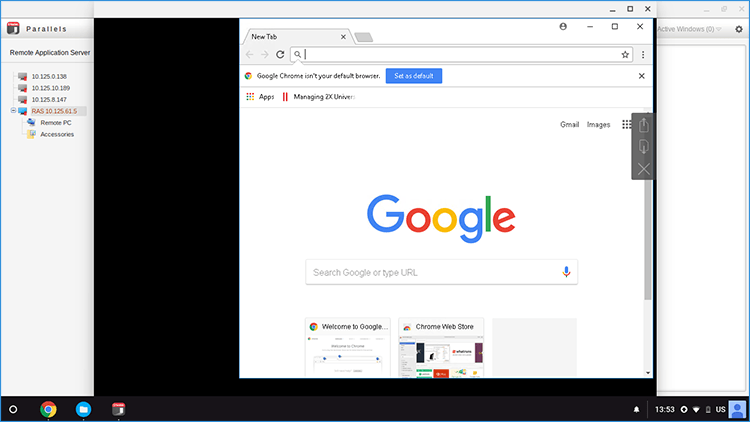 Increase Employee Productivity
Parallels Client for Chrome OS delivers desktops, apps, and data with a seamless, high-performing, and reliable user experience. Parallels RAS creates a dynamic, modern, web-based workspace by allowing employees to simultaneously run their Windows-based, Google, and SaaS apps.
Any Location, Any Device
Parallels RAS enables employees to access their workspace from any location, anytime, using the device that suits their needs. PC, Mac®, Linux, thin clients, Chromebook, smartphones, tablets, or web browsers—it all works with Parallels RAS.
Windows Desktop Experience
Parallels RAS provides employees with a fast, intuitive, easy-to-use Windows desktop experience to increase productivity while performing common tasks, such as accessing applications, printing, coping and pasting, or dragging and dropping files. This cuts down the volume of helpdesk tickets, leaving the IT staff more time to concentrate on other projects.
Reduce TCO
Enjoy the best of Windows and Chrome OS by enabling users to access the corporate applications with an unmatched total cost of ownership (TCO). The ease of use, simple deployment, and no-hassle management of Parallels RAS helps you embrace the cost-efficient Chrome OS platform without compromising one of the main benefits—low cost and TCO.
Switch to Hosted Applications
Parallels RAS supports RDSH-based hosted applications and virtual desktops. With hosted applications, you can leave your traditional workstation behind and jump directly to your applications and run them with ease from Chromebook.
Unmatched Performance
Parallels RAS fully supports RemoteFX graphics acceleration, making your virtual desktop and applications fast and responsive regardless of whether you're connecting over your corporate network, at an internet café, or over a 3G connection.
Parallels Client for Chrome OS or HTML5
Users can access their virtual workspaces on Chrome OS using the native Parallels RAS Chrome OS client or with universal HTML5 web client.